7. Pet Pavilion Dog House:
You won't be sending your dog into outer space, although it may appear so! 
The Pet Pavilion Dog House is a new invention displayed at the Korean Trade Show.
This small pod has features never heard of before for dogs or humans! 
It contains a carbon heating element which allows you to set the temperature and humidity to your dog's demands.
Believe it or not, it also boasts an antibiotic air filter for dust-removal and a carbon filter for those nasty odors dogs are known to leave behind!
Check out all the benefits of the Pet Pavilion Dog House to see if it meets the standards of your four-legged friend!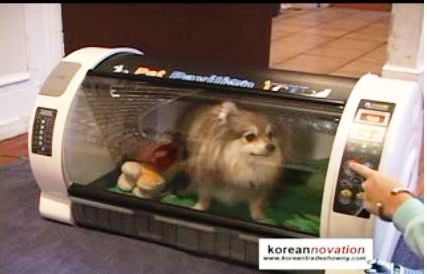 For more unique, strange & luxurious dog houses that make you go hmmmm… go check out the original article at The Pets Central.
Source: The Pets Central
If you thought the above were strange and unique, you gotta check out the dog houses that are even more unique, strange and luxurious on the next page!
Go On To The Next Page: