This Pit Bull, later named Duncan, was found after he was abandoned on someone's porch in Georgia after Hurricane Irma pounded the state. The poor pup was covered in wounds. His rescuers believe he was either used as a bait dog or attacked by other dogs on the streets. He had no way of defending himself due to a severe overbite.
After Duncan's rescue, he was brought to Lifeline Animal Project, an animal shelter in Atlanta. There he finally received the hugs he's been desperately craving. With proper medical care and tons of affection, Duncan has made enormous strides.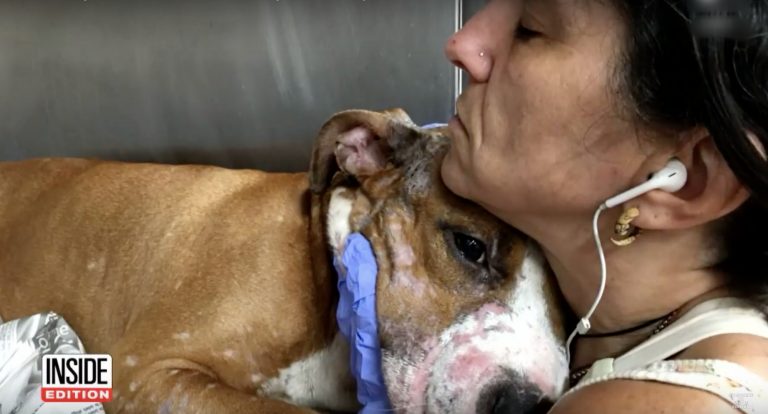 When the shelter manager, Sarah Rosenberg, met Duncan for the first time, she was amazed by how happy he was to see her. He wagged his tail like crazy then went in for a giant hug, resting his head on Rosenberg's shoulder. To finally feel safe was such a relief to a dog that had obviously been through tremendous trauma.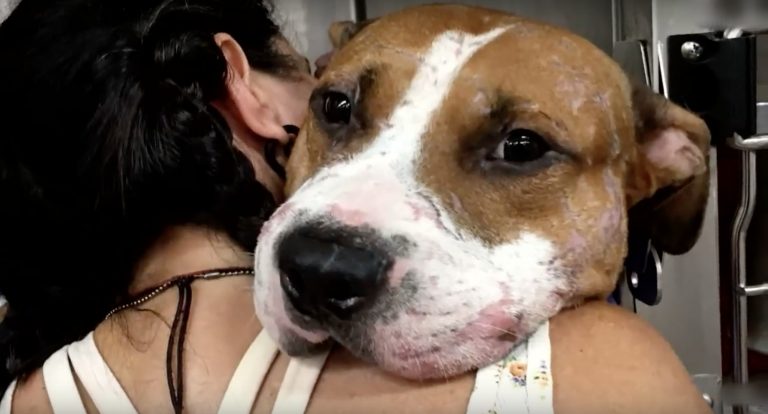 It's amazing how dogs, like Duncan, can be so mistreated then trust humans once again. It takes tremendous strength to forgive. Duncan is such an inspiration! Watch Duncan's story below!
UPDATE: Duncan has found his forever family! Watch his freedom ride below!
Duncan came into our care with scars and wounds all over his body. We have no idea what happened in his past, but we do know it wasn't good. The minute we laid eyes on his precious face, we knew he was special.We are so happy to share that today Duncan found his people! Thanks to your support, Duncan will live in a family home, where he will spend his nights snuggling in the bed and his days giving lots of big slobbery kisses. We couldn't be happier for this sweet boy!You can help make more happily-ever-afters happen with your support today >>> LifeLineAnimal.org/donate

Posted by LifeLine Animal Project on Tuesday, September 26, 2017
Please 'SHARE' to pass on this story to a friend or family member