Hannah is an adorable senior dog that 39-year-old Jamie Hegge rescued from a shelter a few years ago. The woman is a military veteran and works as a military contractor.
In her spare time, she and Hannah loved taking long walks and hikes together. As time went on, the pair developed a bond that strengthened when Hannah began to show signs of trouble.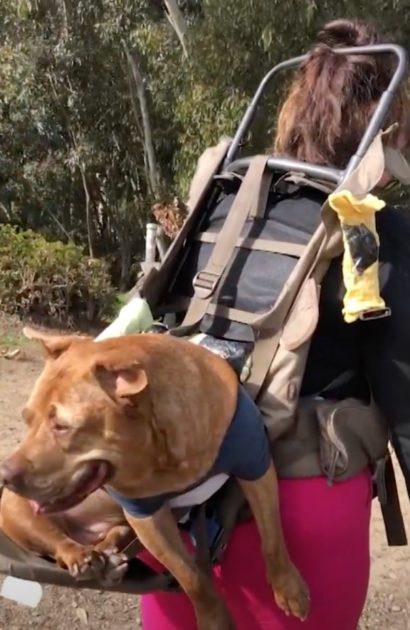 Source: Caters Clips/YouTube
Due to her age, leg surgeries, and arthritis, Hannah is unable to walk very far or very fast these days. That doesn't stop Jamie and Hannah from making the most of their situation, however.
Jamie bought a doggie backpack of sorts and puts Hannah safely and comfortably into the apparatus before putting it on.
As Hannah hikes with her mom, she lights up like a Christmas tree with the biggest smile across her face. People who see the duo on their walks are instantly smitten with the bond of love and how happy Hannah seems to be.
The dog is estimated to be anywhere between 12 and 14 years old, but her mind and spirits are intact. In her heart, Hannah is a puppy despite what number the calendar says.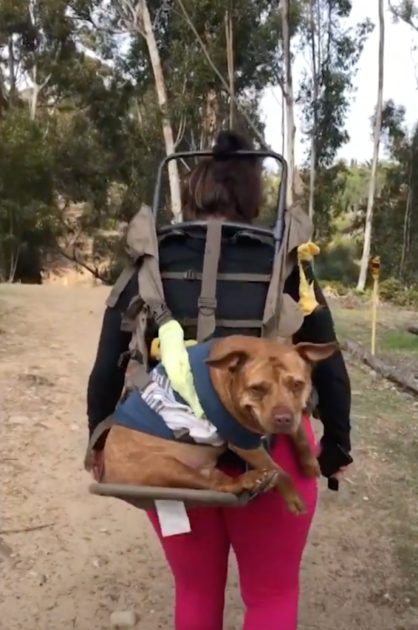 Source: Caters Clips/YouTube
We remind our readers to reach out to your local shelter or pet rescue groups if you are interested in bringing a dog into your life. There are millions of awesome dogs waiting for their forever homes who are just a mouse click away.
Press play on the video below to see Hannah and Jamie in action. Happy trails, you two!
Please 'SHARE' to pass on this story to a friend or family member