Wherever there is darkness there is light, wherever there are villains there will be heroes. That latter contrast was proven beyond doubt when four young boys from Detroit went above and beyond the call of duty to save a dog in dire need of help.
Brothers, Kevin, Kenneth, and Kenny, along with their friend Andrew Daniels, were going about their own business, helping a local elderly woman who was moving house, when they came across a shocking sight.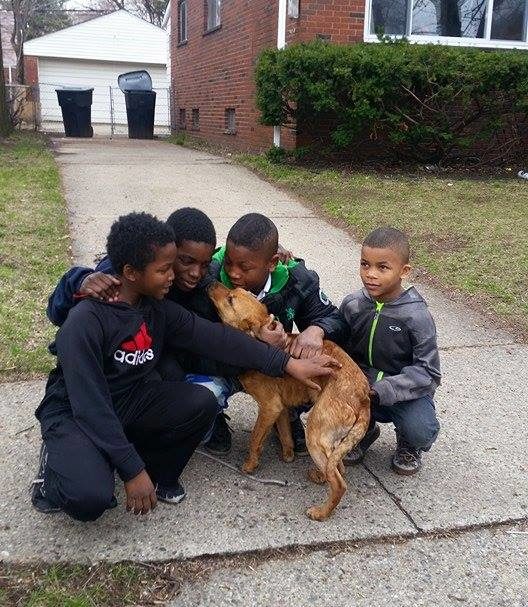 Credit: Detroit Pit Crew Dog Rescue
Towards the back entrance of a house, they discovered an abandoned and starving dog. The poor pooch had been tied up with bungee cords. Emaciated and shivering from exposure, the dog was in a seriously bad way.
The boys knew they had to act fast. They quickly untied the dog from the ropes, wrapped her in a jacket, and they brought her to one of their own homes for some food. Ever so slowly, she warmed up to the boys. They named her Sparkles and played with her for hours before calling Detroit Pit Crew Rescue, a local nonprofit, to make sure she had somewhere safe to go.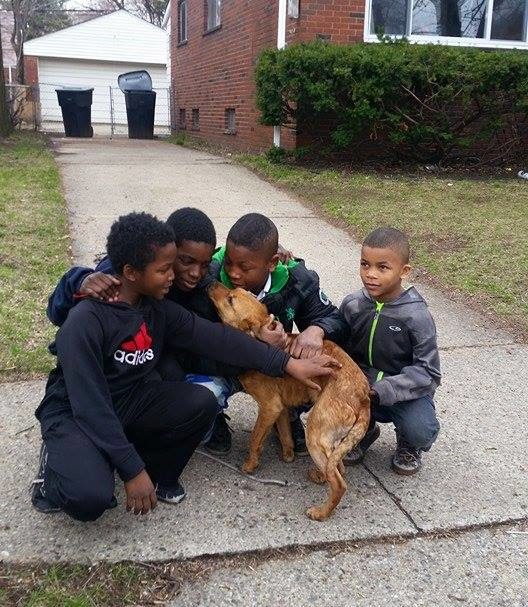 Credit: Detroit Pit Crew Dog Rescue
When the rescue team arrived, they thanked the kind-hearted boys for their hard work. Of course, the kids' primary concern was that Sparkles would be taken care of, and she was. Theresa Sumpter, the organization leader, said in her interview with WDIV;
"You could tell they really love this dog, they were protective of the dog and wanted to make sure the dog was going to a good place."
After the short interview, the boys hugged and kissed Sparkles and the rescue team took her in. Sparkles was swiftly taken to the vet and after a few more routine checks, she got her "go ahead" signal and she was sent to her new foster home. Pet Tales Rescue, a sister organization, oversaw the process, placing Sparkles with a foster mom who would give her all the love she needed.
Credit: Detroit Pit Crew Dog Rescue
Amazingly, that's' not the end of the story. The rescue team asked the boys to call them if they ever came across another animal in need, and they enthusiastically agreed.
Just a few months after they rescued Sparkles, they made good on their promise and helped save two more dogs from abandonment!
We can all learn from the selfless actions of these young boys by looking for ways to lend a hand to anyone in need. What shining examples they are for us all.
Please SHARE this article to give these boys the praise they deserve!