A Kansas family is furious and searching for answers after their dog was run over by a mail carrier's car in their Douglass home's driveway. Their ten-year-old black Labrador, Blue, was napping on the front lawn with his doggy brother, Bear, when they heard the mail carrier coming down the driveway.
They ran out into the driveway to see who it was as the mail carrier sped down without stopping, hitting Blue. Instead of stopping, she kept driving as Blue limped away in pain.
The whole incident was caught on the family's surveillance camera, which you can watch below. The mail carrier drives up about 3 minutes into the video.
Warning: this video may be disturbing to some viewers.
It takes about 3 min in to see the mail carrier pull in the driveway…and not slow down!!!

Publicado por Shannon Howerton en Viernes, 15 de febrero de 2019
Blue's owners, Brian and Shannon Howerton, say he is now timid of people and is 'constantly whining' because he is afraid. He will barely go outside now because of the whole ordeal.
At first, they had no idea what had happened. When they saw how injured Blue was, they took him to the vet, who said it seems like he was hit by a car. That's when they watched their surveillance footage.
When the Howertons first watched the footage, they were shocked and horrified.
Facebook
"I didn't believe it at first. You kind of look at it. me and her went 'oh.' (gasp)," Brian told KTEN. "It was horrifying; it's just hard to imagine that somebody could do that and not care."
After hitting Blue, the mail carrier continued driving up to the house before parking. Blue was so nervous that he tried to jump in the carrier's car to hide.
That's when the carrier began yelling at him and pushing and shoving him.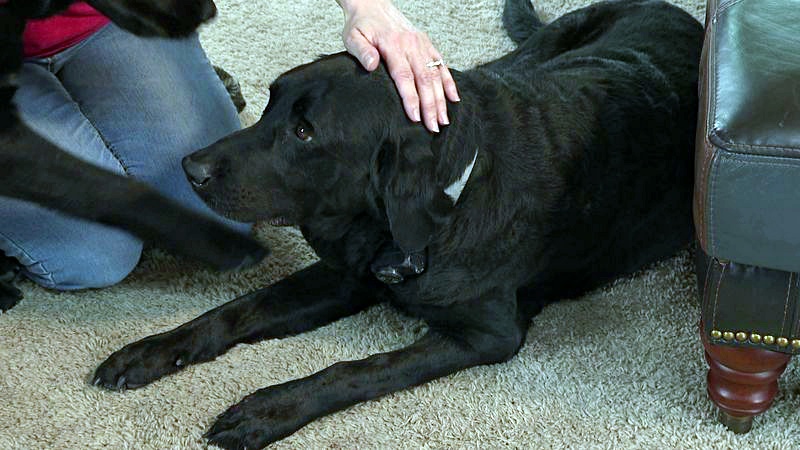 KTEN
Blue suffered multiple injuries to his body ear and paw, but is otherwise okay.
The family filed a report with the post office as well as Butler County Sheriff's Office, who is now investigating the incident.
The post office has issued the following statement:
"These actions are not consistent with and don't represent the values of the Postal Service and will not be tolerated. Since this is an active investigation we are unable to comment further, but will take all appropriate actions based on the results of the investigation to ensure that the integrity and values of the USPS are upheld."
Please 'SHARE' to pass on this story to a friend or family member