First impressions, to most, are everything. When we meet someone for the first time and they're stand-offish, we assume they're rude… not shy.
The same goes for dogs. If a dog behaves aggressively, we assume they are, well, aggressive. We fail to see that most often, they're petrified.
This story is about a Pit Bull named Diesel. Diesel lashes out in such a manner that he was deemed aggressive. A young woman explains what happened.
Her (now) ex-boyfriend beat the dog when he 'misbehaved.' Diesel now responds as most dogs would. He sees a man that could potentially harm him, and he wants to hurt him first.
That is not Diesel's fault.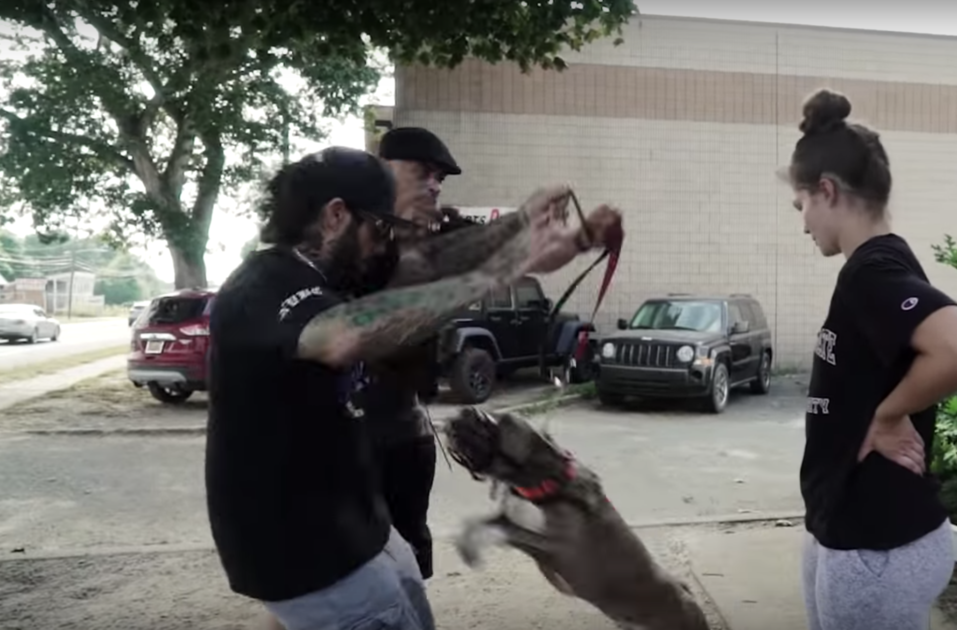 Source: New York Bully Crew
The woman surrenders Diesel to New York Bully Crew hoping they can rehabilitate him. The trainers know instantly that his behavior is strictly out of fear.
They load him into the car with a muzzle on to protect themselves and take him to their training center.
In just a week, Diesel is able to walk alongside one of the volunteers. He still has a muzzle on just in case, but you can see he's already beginning to trust these men, knowing they would NEVER hurt him.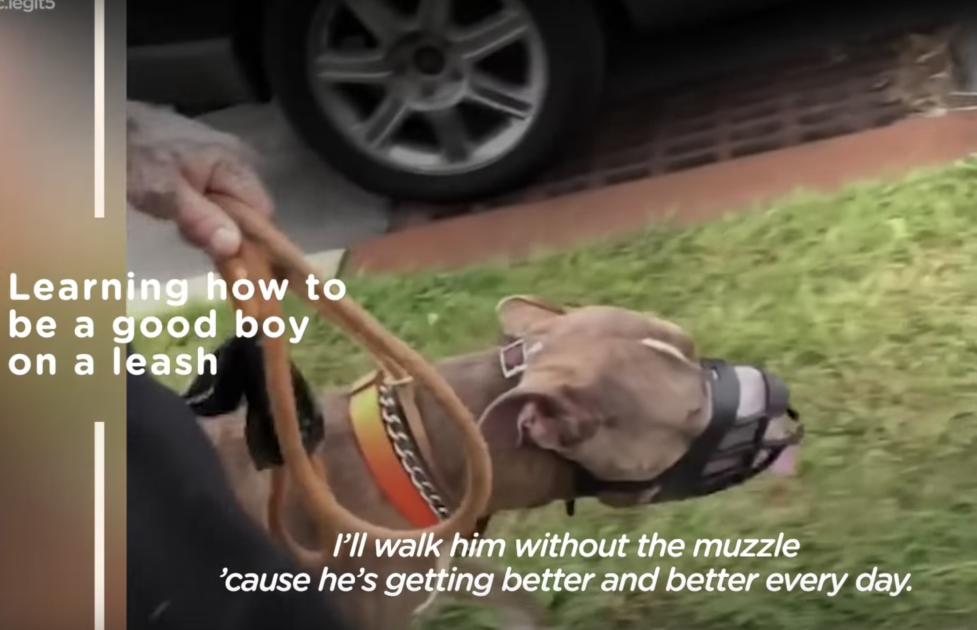 Source: The Dodo
Two days later, Diesel goes for a walk again. This time without a muzzle. As the volunteer says: "With love time and patience, any dog can be fixed. There is no such thing as a broken dog!" We couldn't agree more.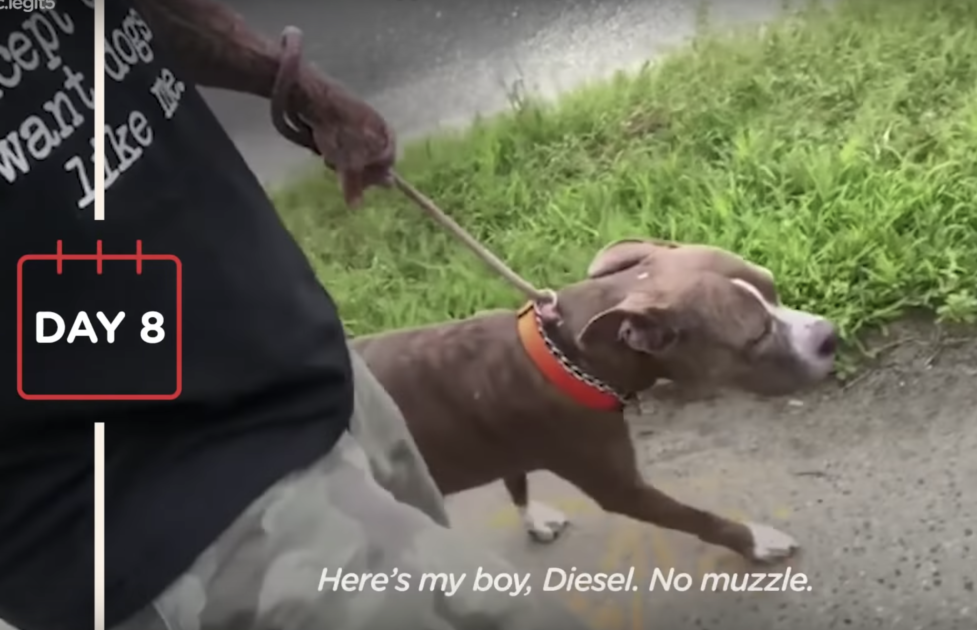 Source: The Dodo
Look at Diesel now! They're sitting on a park bench and his trainer is waiting for him to seek attention. He's not putting any pressure on him. He's waiting for Diesel to feel comfortable.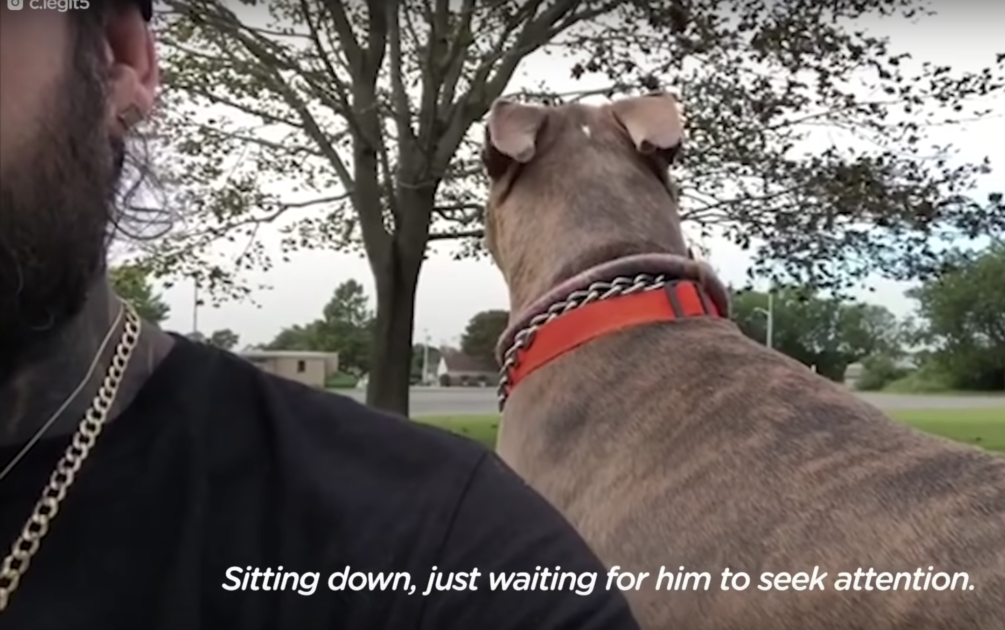 Source: The Dodo
By the 9th day, Diesel is asking to be pet! By a man! The same man he lunged at trying to attack him! You can see by Diesel's body language, he is relaxed. He's really getting to a point where he understands that not all men are bad.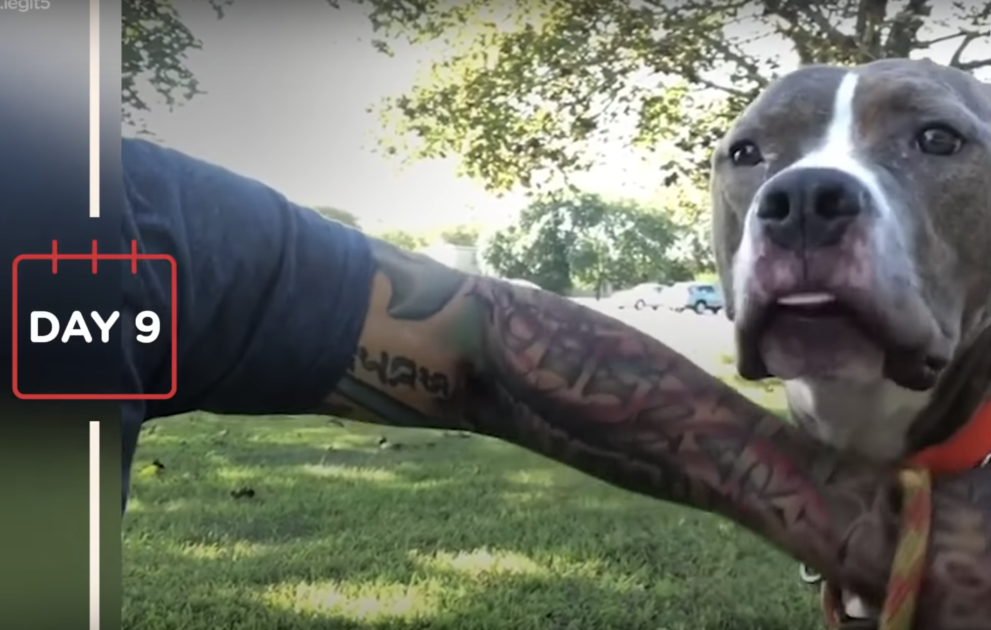 Source: The Dodo
On the 11th day, Diesel goes for a walk with another Pit Bull. His new friend's calm demeanor teaches him that it's okay to be around other dogs.
Remember, dogs are pack animals and they learn from one another! He enjoys being around the other dog and he was also deemed aggressive around other dogs.
Goes to show us all that too many assumptions are made when a dog is traumatized and scared.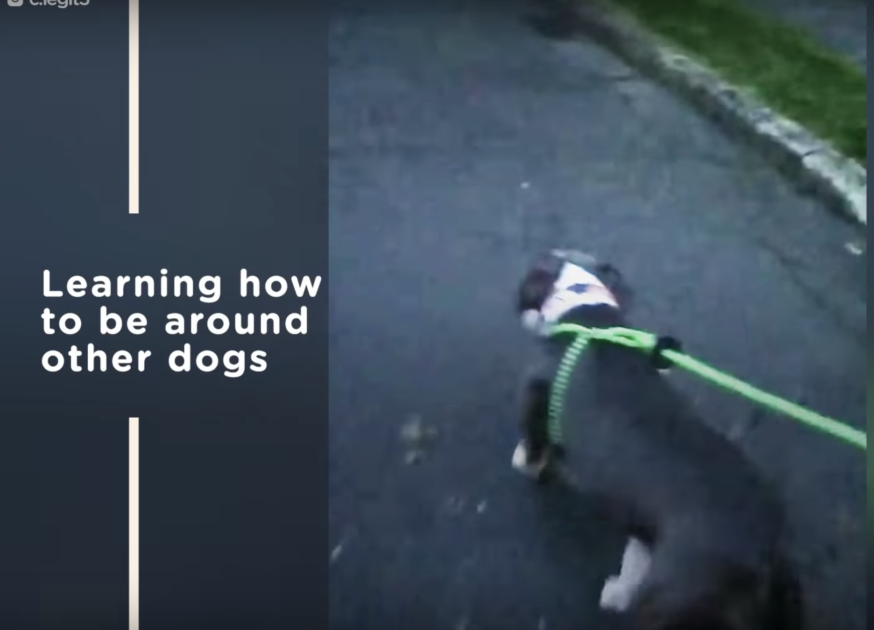 Source: The Dodo
In two weeks, Diesel is now wagging his tail, rolling onto his back asking for belly rubs, bringing his new caregivers his bone and his toys.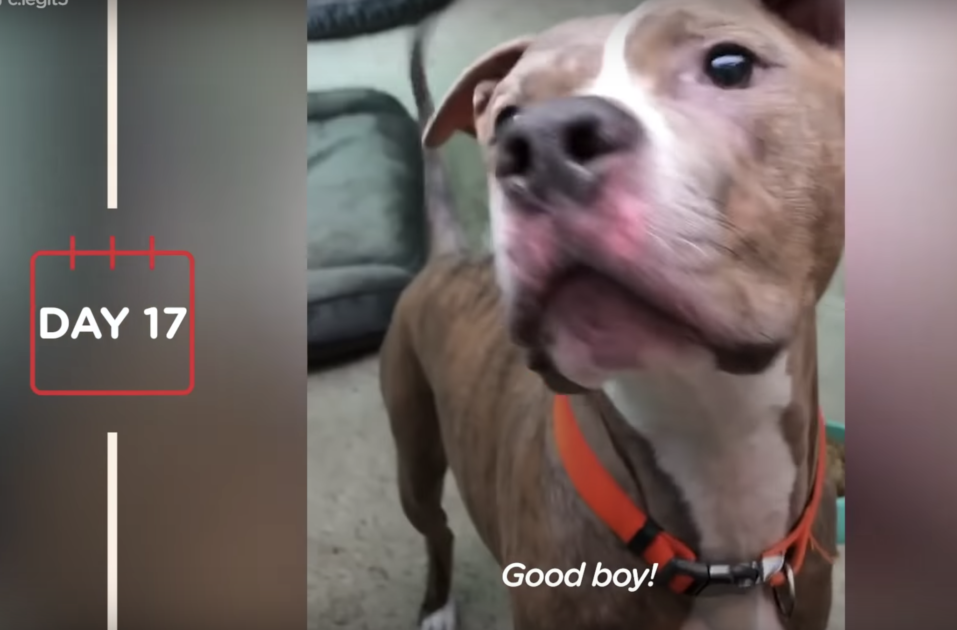 Source: The Dodo
His transformation is truly OFF THE CHARTS! He even gives his bone to the trainer. This is huge. He trusts people so much now that he gives up his food. Wow. Just wow!
Diesel is currently living with one of the other experienced trainers to continue his rehabilitation. He's also owner possessive so he has to learn that it's okay to let others near the ones he loves most.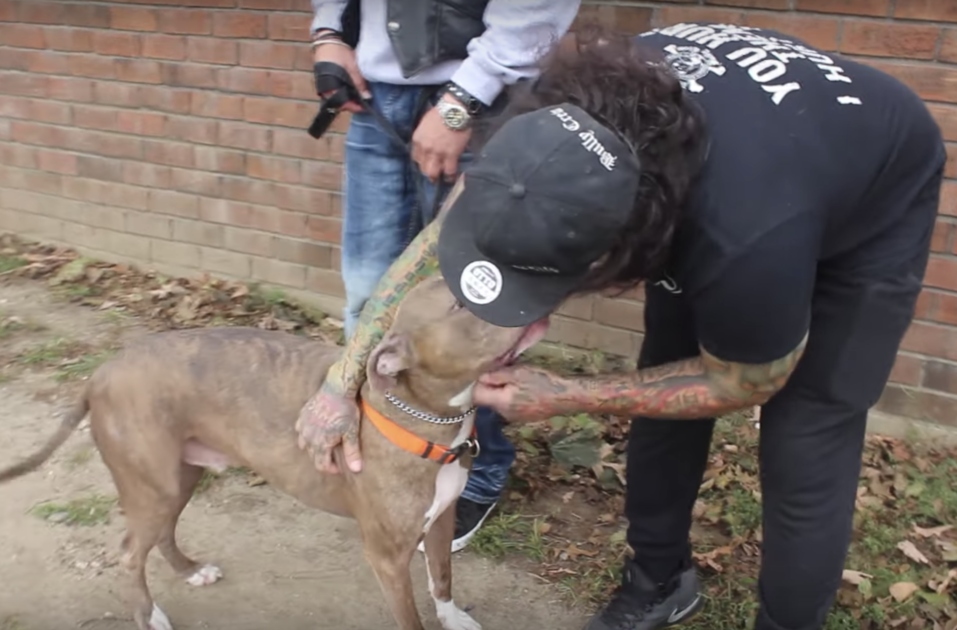 Source: New York Bully Crew
Diesel is not a bad dog, he was just exposed to a bad person. His trauma should not be a reason to put him down. Sadly, this happens more often than we realize.
Please, if you know of someone mistreating their dog, do something about it. Make a call, email a rescue group. Sitting by and doing nothing makes you guilty too.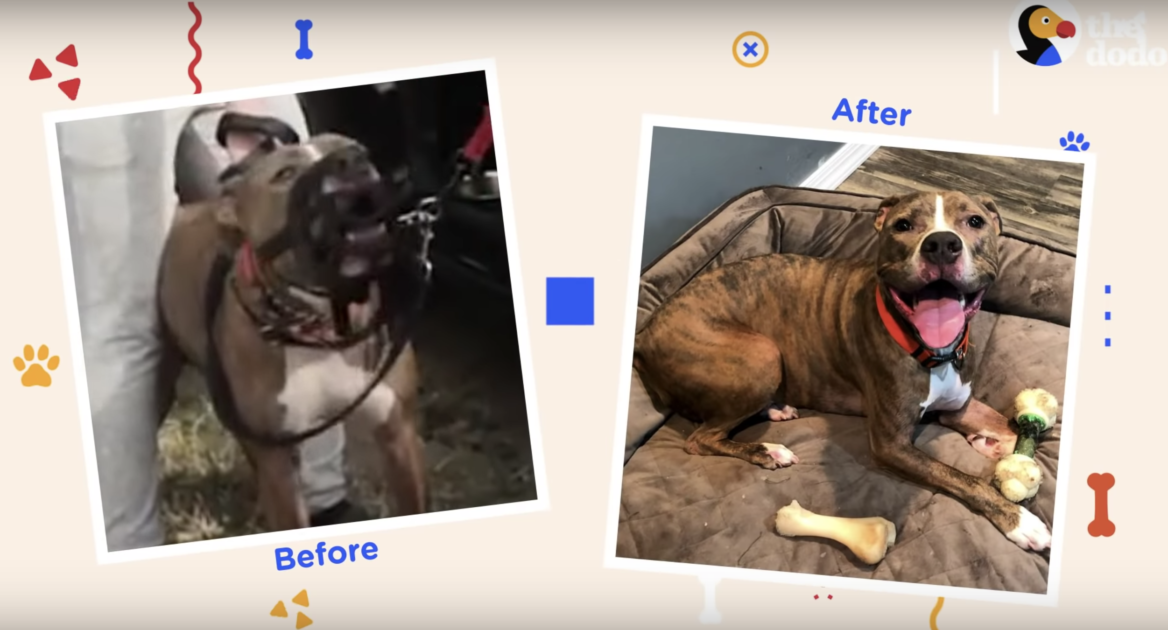 Source: The Dodo
We pray that Diesel continues to heal and eventually goes to a good, loving home where he can thrive. He deserves it! The Dodo did an amazing story on Diesel and his new friends. It's posted below!
Please 'SHARE' to pass on this story to a friend or family member