This is Negão. He's a very good boy. He has a great job at a Shell gas station and he loves it.
He's very good at his job. That's why he's everyone's favorite gas station attendant.
But things weren't always going so good for Negão. In fact, he wasn't always as loved as he is now. Thankfully, a couple came across this sweet guy and saw how wonderful and loving he was. So, they decided to give him a sweet gig at their gas station.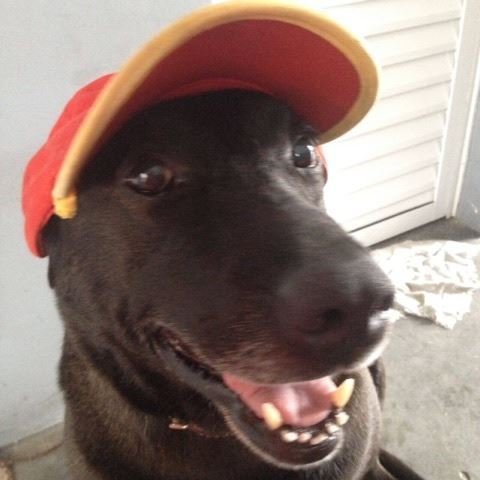 Source: Sabrina Plannerer
Negão's new life began when Sabrina Plannerer and her partner bought a Shell gas station in Mogi das Cruzes in Brazil.
Plannerer grew concerned when she kept seeing an adult dog roaming around the gas station which was still under construction.
The dog had been abandoned there by his owner but the poor pup was too scared to leave the spot, hoping that his owner would return.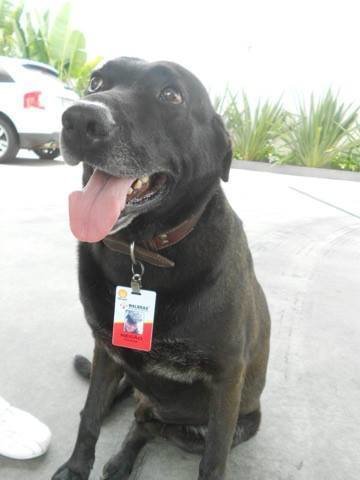 Source: Sabrina Plannerer
Plannerer's heart went out to this poor dog and she didn't want anything bad to happen to him.
But she wasn't about to just shoo this dog away and leave him on his own. She decided she wanted to help this dog.
"We adopted him immediately and got him all the care animals need," Plannerer tells The Dodo. "We took him to the vet to get vaccinated and de-wormed. We bought him food, a dog house, and a leash to take him on walks."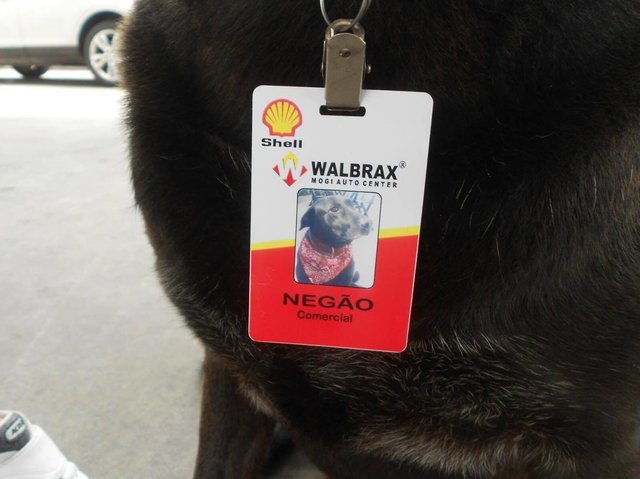 Source: Sabrina Plannerer
Not only did they take care of Negão's healthcare needs but they also decided to give him a job.
When the gas station finally opened up they gave him an employee badge and everything.
They weren't sure if Negão would need some employee training or how he would handle working in a busy convenient store inside the gas station. But Negão was a total natural.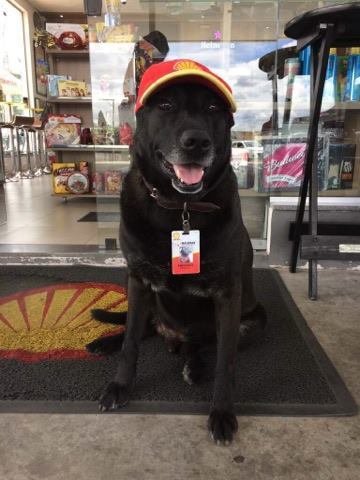 Source: Sabrina Plannerer
This cheerful dog always provides first-class customer service with a smile. He's really good at greeting all the customers.
He is a big hit with them. They love him so much they even bring him treats.
"Negão waits for people to arrive, and then goes up to say hello, winning them over with his charms," Plannerer said. "Customers love him. Some people even bring him toys."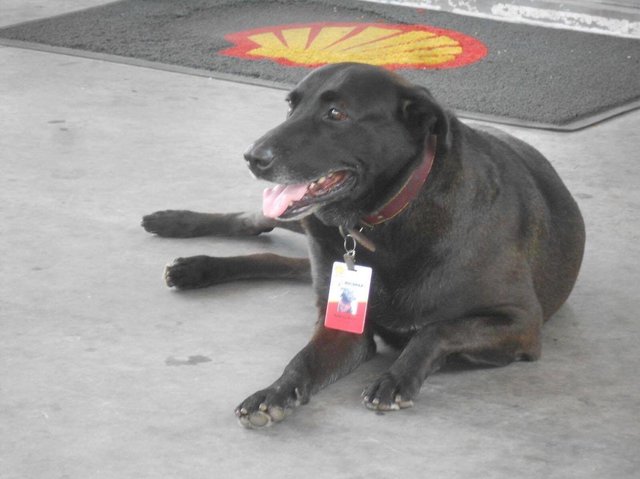 Source: Sabrina Plannerer
And Negão always has company. Employees take turns bringing him on walks.
And since the gas station is open 24/7, he always has company and someone making sure he's safe and well taken care of.
Negão has now got a second job. He's basically a spokespup for Grupo FERA. It's a group that encourages businesses to pair up with stray dogs who can't find a forever home.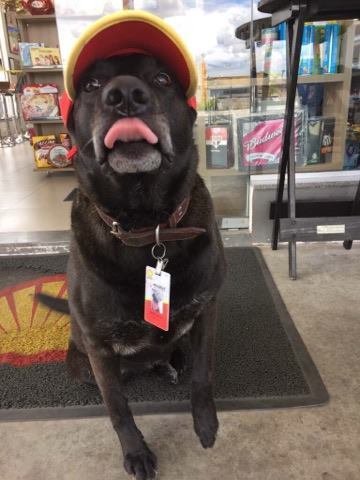 Source: Sabrina Plannerer
"It's been sensational, encouraging people to have more respect for animals," a spokesperson from Grupo FERA told The Dodo. "And workers enjoy having the companionship of a four-legged colleague."
She hopes that Negão's story will encourage businesses to "hire" stray dogs and give them where they could feel safe and loved. And honestly, it seems like a really good business strategy. Who wouldn't want to go to a store or gas station where there are dogs. Group FERA applauded Plannerer for taking in Negão.
"Congratulations to the post owners who were not indifferent to an abandoned animal. Negão is treated with all respect," they wrote on Facebook.
Please SHARE this with your friends and family.