<!– 336×280 ad unit –>
4 – Big Splash – Tibetan Mastiff (Also world's most expensive dog)
We all are usually willing to make a big financial commitment to  man's best friend.  But would you ever spend $1,500,000 on your pup companion? China's wealthy would. Tibetan Mastiff's are a status-symbol in China, and as a result the pups fetch a great amount.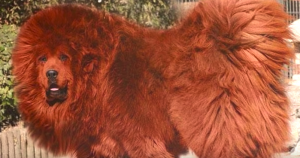 At only 11-months-old and weighing an incredible 180 pounds, Big Splash sold for $1,500,000 in 2011, becoming the world's most expensive dog.
But not only was it a purchase of a "perfect" Tibetan Mastiff for the dog's owner, identified only as a man who made a fortune in the coal industry, it was an investment.
More: 25 Most Expensive Dogs Money Can Buy
As more and more of China's increasing wealthy class try to get their hands on status-symbols, the prices on things like Tibetan Mastiff are being consistently driven up. As a result, breeders could potentially be willing to pay hundreds of thousands of dollars just to use some of Big Splash's genes.
Tibetan Mastiff's are usually on the more expensive side, anyways, but they typically range from $2,000-$7000, a more reasonable price point for the non-millionaire.
Sadly, though, the once-prized Tibetan Mastiffs are discarded as fad ends in China.
Next Up: Big Splash – Tibetan Mastiff