<!– 336×280 ad unit –>
Is there anything more adorable than a baby panda trying to hang out with her keeper? I guess, not! Pandas are sweet, chubby, and lovable. They are little babies who need love and lots of cuddling and hugs.
According to the scientists, pandas grow on us because of several reasons such as their cheeks, snub noses, and toddling gaits which are unique and have a 'cuddly power' on humans.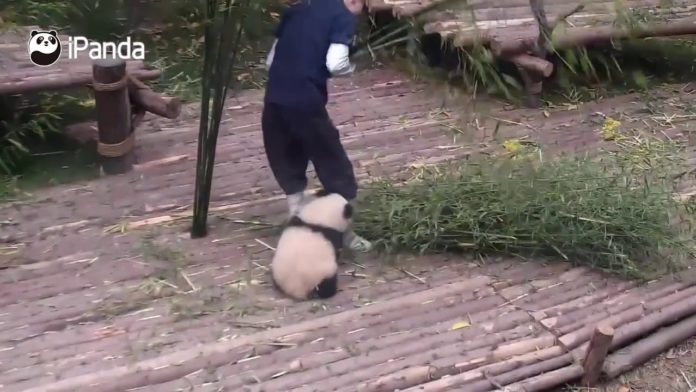 As this keeper is trying to clean the place, the panda won't let go of him. She wants to play with her caretaker by trying to grab the plants and his leg. But, he is not mad at the cutie pie, he also enjoys the panda's company.
Take a look at this lovely footage of a day of a panda's life.
#MoodBooster–Nanny, play with me, no working!–Baby, just a minute.–hmmm, I will stop you with my cuteness!

Posted by iPanda on Wednesday, February 22, 2017