<!– 336×280 ad unit –>
Is this another story about a loyal dog? YES! But this time the story is so incredible it's being covered all over the world!

Twitter/Queensland Police
17-year-old Max is a partially blind, totally deaf Australian Cattle Dog.
His tiny human, three-year-old Aurora, wandered away from home in Warwick, Australia, Friday evening.
Max never left her side.
The family's property is vast, making it easy for the tot to get lost yet still be on the property.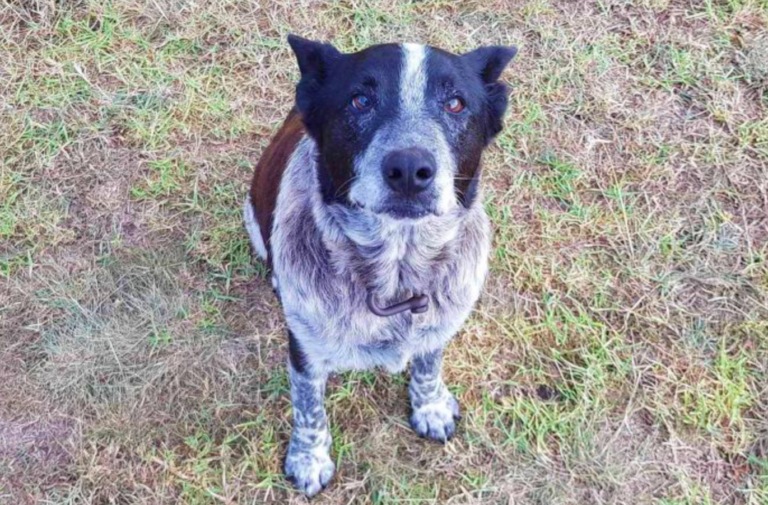 Twitter/Queensland Police
State Emergency Services area controller Ian Phipps told ABC News that Max and Aurora were found just a mile away from home, but were still technically on the family's property.
"The area around the house is quite mountainous and is very inhospitable terrain to go walking in, so she'd traveled quite a distance with her dog that was quite loyal to her," Phipps said.
Leisa Bennett, Aurora's grandmother, told ABC News that she called out repeatedly to her granddaughter while searching on Saturday morning and could faintly hear her calling back.
Twitter/Queensland Police
"I shot up the mountain and when I got to the top, the dog came to me and led me straight to her," the grandmother said.
Max stayed with Aurora for over 16 hours! The senior pup didn't stop to think about himself; he persisted and remained with the person who needed him most.
Queensland Police commended Max for his loyal efforts on Twitter, making the dog an honorary member of the force.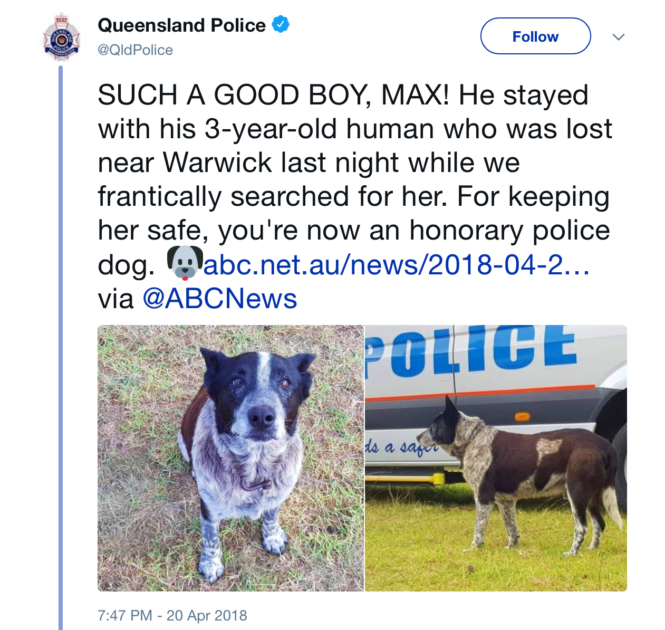 Twitter/Queensland Police
"SUCH A GOOD BOY, MAX! He stayed with his 3-year-old human who was lost near Warwick last night while we frantically searched for her," police said. "For keeping her safe, you're now an honorary police dog."
Twitter followers praise the four-legged hero:
https://twitter.com/BeeBeeBeeLeaves/status/988168011268833280
Max deserves all the treats!

— Peter Hynes (@pakhynes45) April 23, 2018
Max does deserve all the treats!
Please 'SHARE' to pass on this story to a friend or family member