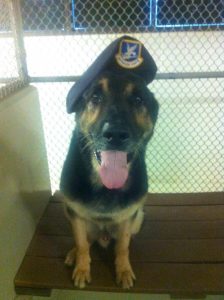 Source: The Dodo
A dog and his owner who had spent time 189 difficult days in Kyrgyzstan are showing the entire world what true love means with their recent photos, which see Kyle Smith say goodbye to his longtime friend Bodza.
Bodza and Smith met back in 2012, six years after Bodza began working with the U.S. Air Force as an explosive detection dog. The two quickly bonded and spent a lot of time together both in and out of work.
"Bodza was a goofy and gentle dog," Smith reminisced. "We had horse stables directly beside our obedience yard and when [the horses] were out, no obedience was going to be done. He'd run the fence line continuously."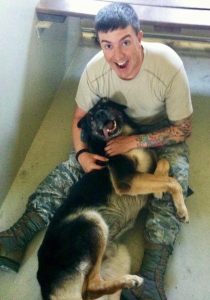 Source: The Dodo
After some time together, it came time for Bodza to retire, and Smith didn't hesitate in adopting the dog and bringing him home.
"He was even more loyal at home," Smith said. "He followed me around everywhere. He would lay his head down flush with the bed and tell me good night, every night."
They were inseparable, but in 2016 Bodza was diagnosed with degenerative myelopathy, an incurable disease in the spinal cord.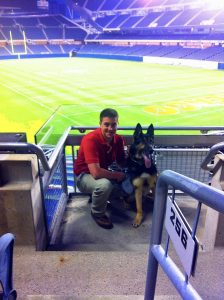 Source: The Dodo
"His hind limbs lost their use and he could barely stand up anymore, much less walk," Smith explained about the disease. "He couldn't handle the stress on his body and using the restroom was a task."
Seeing how much suffering Bodza was experiencing, he knew that it had come time to say goodbye to his friend.
"I was holding Bodza as he passed," Smith said. "It was a rush of so many things. It was just overwhelming."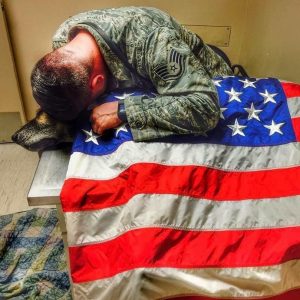 Source: The Dodo
Along with nine coworkers, Smith spent a large amount of his time making sure his friend was as comfortable as possible.
"They let me sob like a baby," Smith said. "They pat me on the back and let me know it was going to be all right. My boss immediately went and grabbed a flag, and draped it over him and let me have a final moment."
Smith continued to say, "It was incredible. There was heartache and peace all at once that came over me."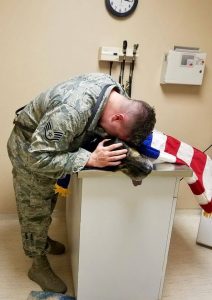 Source: The Dodo
He finally notes, "I will never forget how loyal he was. He was selfless — more than any human I've ever known. He's done so much for next to nothing and did it with a smile. I miss him every day."
The two best friends will always have their memories to cherish one another, and the dog will be truly remembered for his service to the country and for his dedication to his best friend. It's always a tough road living on without a loved one, but Bodza will never be forgotten!
Please SHARE this with your friends and family.
[Source: The Dodo]