<!– 336×280 ad unit –>
Maui suffered catastrophic wildfires last month: with a reported 115 deaths, it is one of the most devastating natural disasters in Hawaii's history.
But even amidst all that devastation there have been positive stories to give people hope. Recently, a cat was discovered in the remains of a house was saved and reunited with his family.
The Maui Humane Society has been hard at work these past few weeks, with a major uptick in new animals: as the fires blazed, many pets were separated from their owners, and often were suffering from burns and smoke inhalation.
In the aftermath, the humane society has been working hard to reunite these displaced pets with their owners. This included one cat, who was recently found near the rubble of a burned-down home.
According to a Facebook post, the orange cat was found by search and rescue teams in Lahaina, and was caught in the last trap they set out.
Thankfully, the cat had a microchip. They learned his name was Finn, and quickly contacted his owner — who was overjoyed to learn her cat was alive.
The owner, Danielle, had to separate from her two cats during evacuations and felt guilty: "I cried everyday feeling guilty I couldn't break down the door to save them," Danielle said, according to Maui Humane Society. "I held out hope even though it had been weeks now. My partner and I just pictured their faces and hoped beyond hope they would make it by some miracle."
"Getting the call my Finn not only survived but was okay was the happy news we needed in these uncertain times," she said.
Danielle and her family rushed over immediately to pick up Finn. The humane society says Danielle was "over the moon" to have her cat back. Finn showed them some love, rubbing up against Danielle and her partner. She says that after being missing for weeks, Finn is "skinny" but still has the same personality.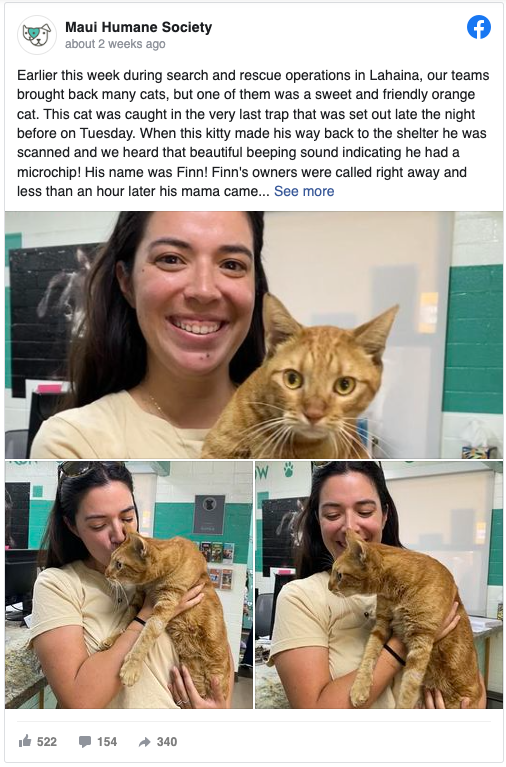 Finn's brother Bali is still missing, but after Finn's reappearance the family has renewed hope that they may be able to reunite with both their cats.
The Maui Humane Society remains busy trying to identify and reunite all the lost pets, and continues to ask for the community's help in making it happen. "Continue to have hope, continue to file lost and found reports, continue to call our Humane Enforcement dispatch and continue to take care of each other," they wrote on Facebook.
Last month, they reunited a dog named Roman with his family after he went missing during the fires; they reported he was "safe and with his ohana." Roman was reportedly the first dog to be reunited with his family after the fires.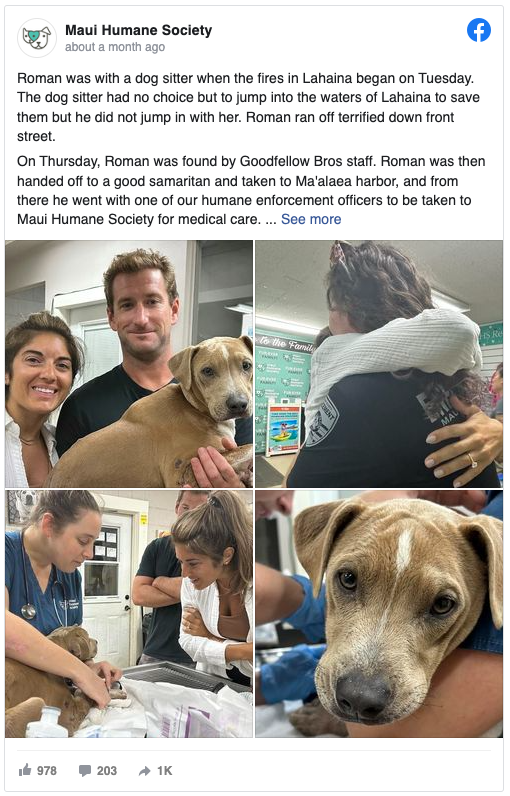 Our hearts are with the people of Maui as they continue to deal with the aftermath of these devastating fires. We are so glad Finn was reunited with his family, and hope all of Hawaii's displaced pets get back to their owners soon ❤️
Please share this inspiring news!