North Carolina Master Deputy Gonnelli first met Daisey the Bulldog while on a domestic dispute call. He was escorting her owner, Brett Kozlowski, to his home to collect his belongings after he bonded out of jail. Brett had been arrested earlier for assault on his girlfriend. At the home, Gonnelli instantly connected with Daisey.
He learned the cute Bulldog was deaf but she understands sign language. When Gonnelli left the home, he didn't think he would see Daisey again and continued on with his day. But he would later return to the home under heartbreaking circumstances; his actions would help save her life!
A few hours later, Gonnelli was called back to the home on a cruelty to animals call. When he arrived he saw a deputy arresting suspect Lorraine Villanueva. That's when he saw Daisey on the floor. She was bleeding from stab wounds and a slash to her throat!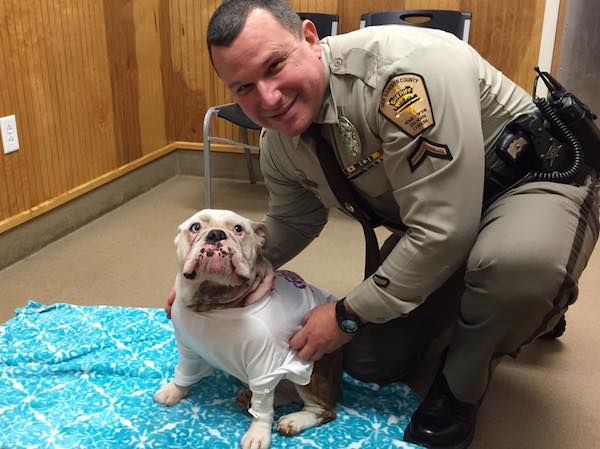 Photo credit: New Hanover County Sheriff's Office
Villanueva had allegedly cut Daisey's throat and killed Brett's other dog, a Pit Bull named Jane.
Deputy Gonnelli rushed to Daisey's side and tried to stem the bleeding, placing his hands over the wound. He comforted her until help arrived.
"Deputy Gonnelli quickly closed the wound with his hands and calmed her until Animal Services Unit and the owner Brett arrived to rush her to the animal trauma center," wrote the New Hanover County Sheriff's Office on Facebook.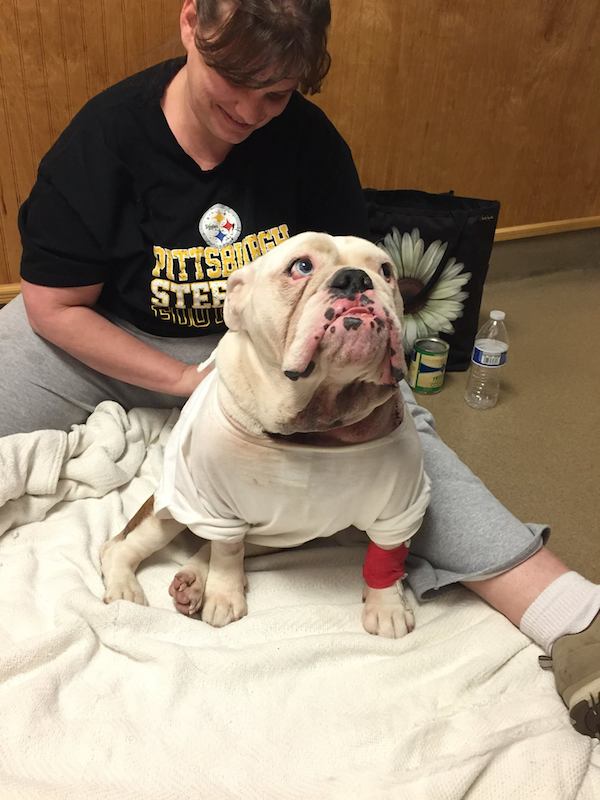 Photo credit: New Hanover County Sheriff's Office
Deputy Gonnelli made sure to go to the detention center to ensure that Villanueva's bond was raised from $10,000 to $100,000.
Later, Deputy Gonnelli checked up on Daisey's condition, which was touch and go. But Daisey didn't give up and she pulled through. "It is a miracle she survived," said the Sheriff's Office.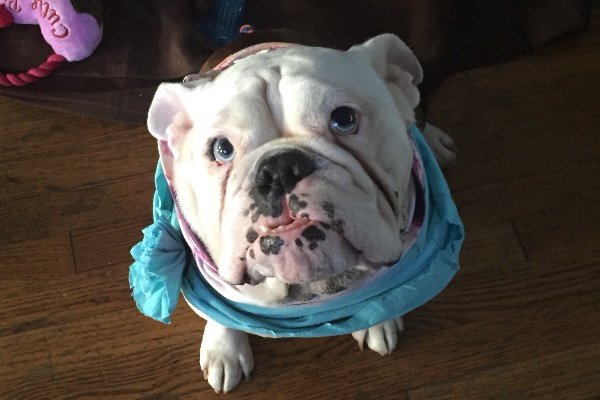 Photo credit: Facebook/Daisey Kozlowski
Brett decided to relinquish custody of Daisey to his ex-wife Sheila, who has lived with Daisey and the two already share a bond. "Mr. Kozlowski admitted he was just not in a position to give the care to Daisy that she needs although he still loves her very much," said New Hanover County Sheriff's Office. A GoFundMe page was set up and enough funds were raised to help cover Daisey's medical expenses. Once she was able to eat again, she was released from the vet hospital. Sheila will make sure Daisey is well looked after and provide her a "happy forever home where she can learn the true meaning of peace and love."
I'm so glad Master Deputy Connelli was able to assist Daisey in her desperate time of need. Share this story with your friends and family!