<!– 336×280 ad unit –>
Molly is the resident dog at Carolina Equine Rescue and Assistance (CERA), and she has taken it upon herself to make sure all of the abused and neglected animals that come into their care feel right at home.
Dogs, cats, pigs, goats, horses — it doesn't matter. The Golden Retriever comforts every new arrival to the sanctuary and lets them know they have a friend in her.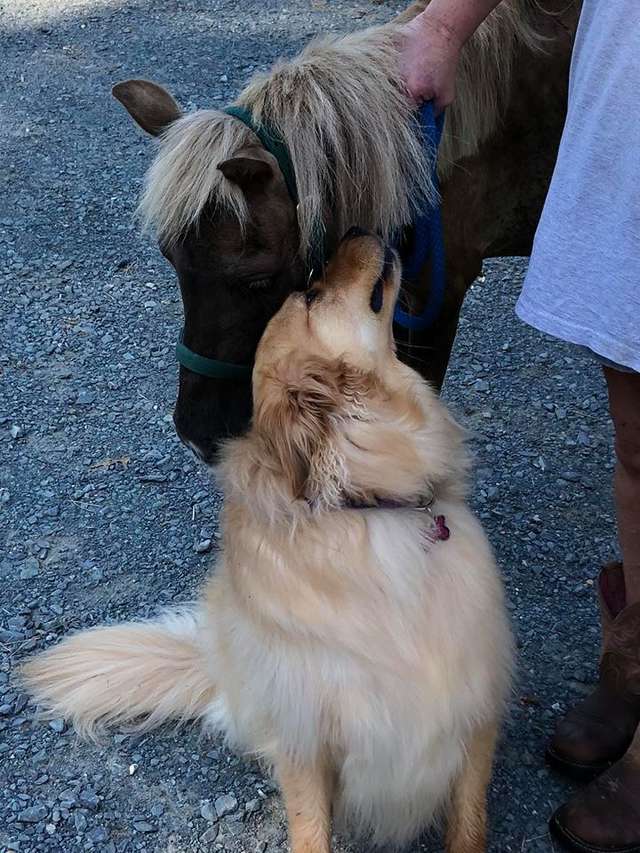 Darlene Kindle
So when an emaciated silver dapple miniature horse named Sammie arrived at the rescue, the three-year-old dog did her thing.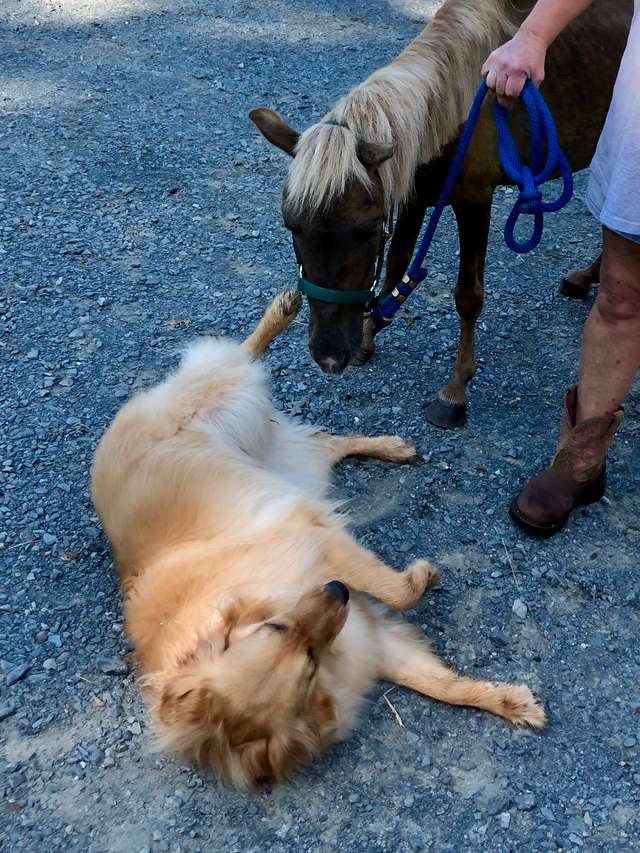 Darlene Kindle
The little horse was found by animal control wandering the streets of South Carolina 100-pounds underweight with painful dental issues and a possible birth defect causing issues with his hind legs.
It would take a lot of time and money to bring the horse back to health, so one vet suggested Sammie be euthanized if they couldn't find a rescue to take him in.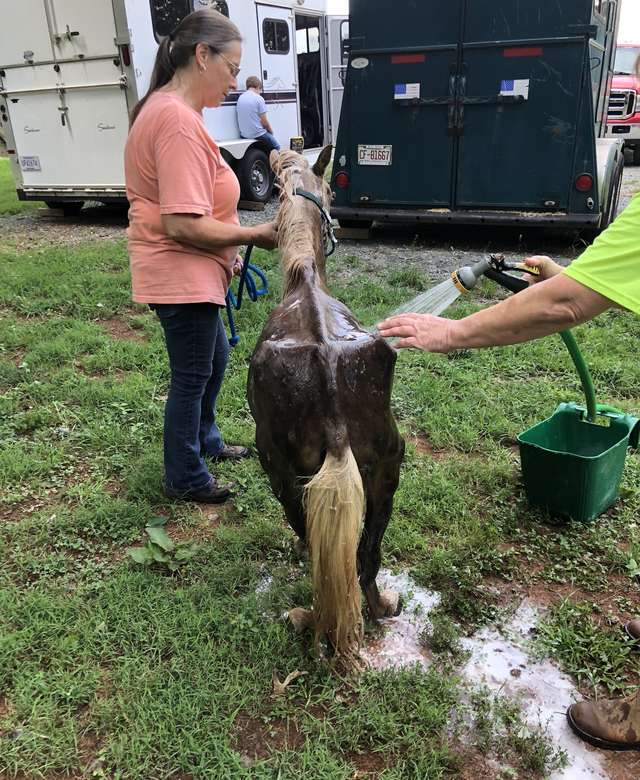 Darlene Kindle
The shelter contacted Darlene Kindle, founder of CERA, in hopes of finding Sammie a home. She asked what it would entail to treat the horse and if he had the will to live in his eyes. The vet said yes, and that's all it took.
Sammie arrived and immediately started gobbling at the grass showing his eagerness to get better. 🙂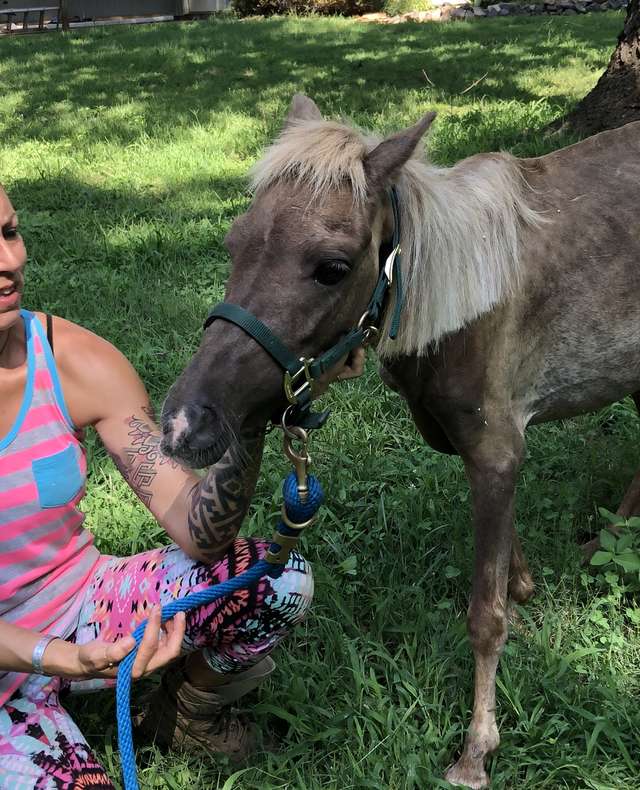 Darlene Kindle
And of course, Molly was there to welcome the newest member. As Darlene sat there in a rocking chair, she watched Molly walk over to Sammie and comfort him as if to say, "Everything is going to be all right."
She pulled out her phone and captured the sweet moment on video:
Hey everyone. I have to tell all of you never in a million years did I expect this little video to have so much popularity. I just put it out there with no caption so let me add a little background to this. This is Molly my 3 year old golden retriever who was a gift from my dad. She is my second golden and I just love their personalities. Always happy and Molly is your typical Walmart greater. She loves everyone including all the animals we have on the farm. She especially loves the minis she can reach them much easier. Sammy the mini that she is comforting just came into CERA's program. He is nothing but skin and bones and scared. Molly truly has an exceptional sense of knowing when one of the animals doesn't feel good or sad. So she very gently introduces herself. This is her job and she is very good at it as you can see. Please follow Sammy's progress on our Carolina Equine Rescue & Assistance page. Sammy has a long ride of rehab to go and I will keep everyone informed.

Posted by Carolina Equine Rescue & Assistance on Monday, August 6, 2018
"She was telling him, 'It's going to be OK, and you're going to be OK. This lady over here is going to help you, so just be patient,'" Darlene told The Dodo. "[She was] comforting him, and making sure he's happy being here."
The video caught on when posted to Facebook and has since been viewed over half a million times!
Molly the Golden Retriever has an unbelievable knack for knowing when others feel down and out, and it shows in her work every day at the rescue.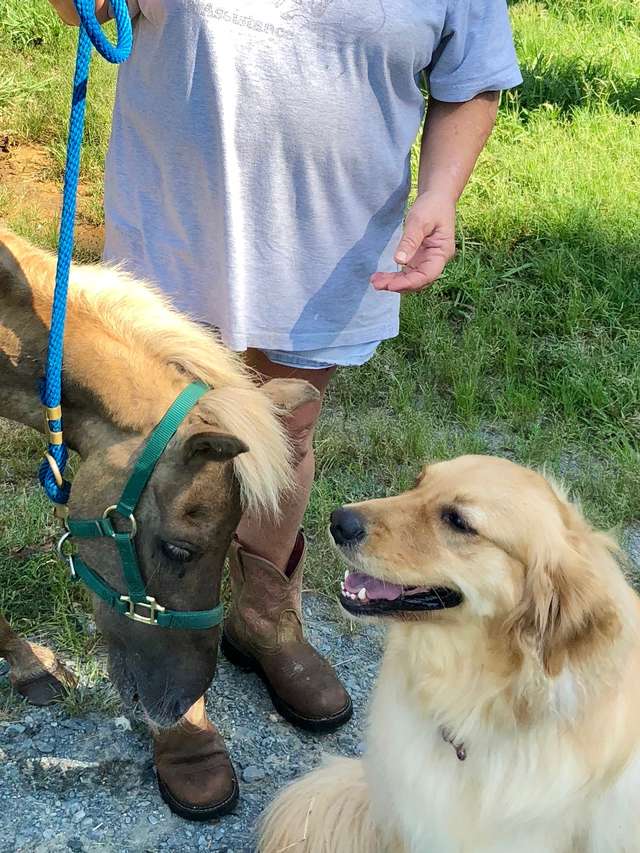 Darlene Kindle
Sammie still needs to gain some weight before some of his other medical issues can be addressed, so he's eating three healthy meals per day. He's also taking short "power walks" to help build up the muscles in his back legs. It's going to be a journey, but at least Sammie has Molly there by his side for support.
h/t The Dodo