<!– 336×280 ad unit –>
#9 – Kuvasz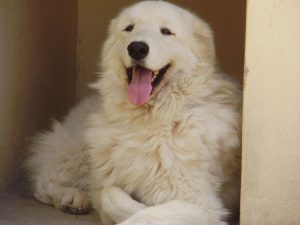 Originating from Hungarian roots, this breed was known to guard livestock. In recent years, Kuvasz's have served well as house pets. Kuvasz's are an intelligent breed that has a clownish sense of humor. They are loyal pets that appreciate attention with a streak of aloofness and independence. The combination of their large size and loyalty to their family makes this breed a suitable guard dog.
More: 10 Healthiest 'People Foods' You Should Be Feeding Your Dog
They are extremely loyal, courageous and powerful dogs that still need a job today, even if they aren't on farmland. They make wonderful companions for those that are looking for a strong, active breed.
Next Up: Rottweiler