<!– 336×280 ad unit –>
A cat, a rat, and a dog might sound like the beginning of a joke, but that's the last word anyone would use to describe the incredibly dynamic relationship between this trio of unlikely friends.
Sasha the dog, Tweaks the rat, and Jack the cat were surrendered to a shelter by their owners. "They had to downsize their home, and they weren't able to take the three animals with them, so they brought them here," said Cheryl Rosenthal of the Oshkosh Area Humane Society. "A lot of people would say, 'Why would you do that?' But not every place will accept pets, let alone three of them."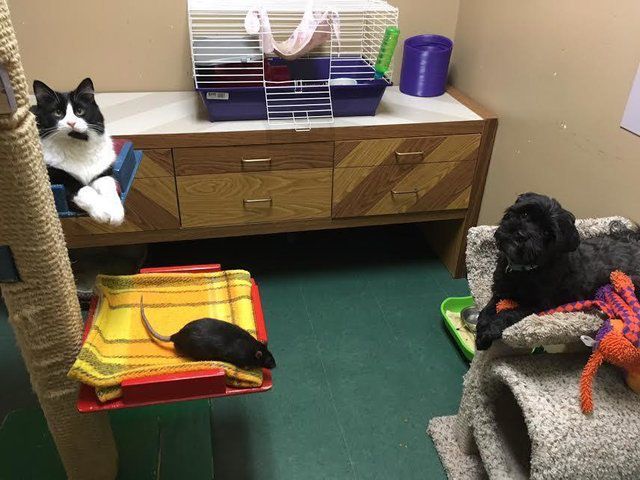 OSHKOSH AREA HUMANE SOCIETY
Each of the animals had to undergo a medical examination after their surrender. When it was Jack's turn, he wasn't too keen on being separated from Sasha and Tweaks.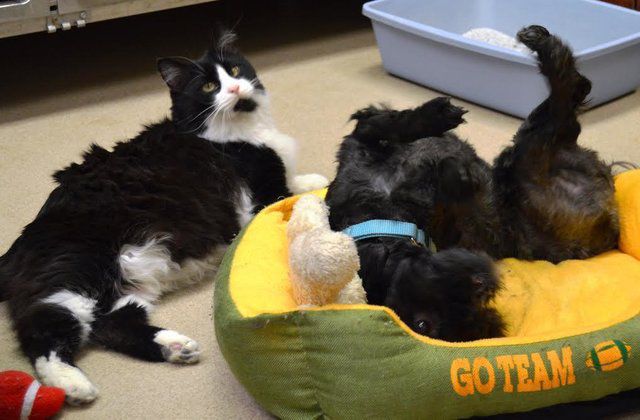 OSHKOSH AREA HUMANE SOCIETY
"He became very frightened and was growling and not very cooperative at all," Rosenthal said. "So one of the staff said, 'Why don't we try to bring the dog in?' And it was just amazing. As soon as the dog came in, he was like a totally different cat. He just became more relaxed knowing that his buddy was there."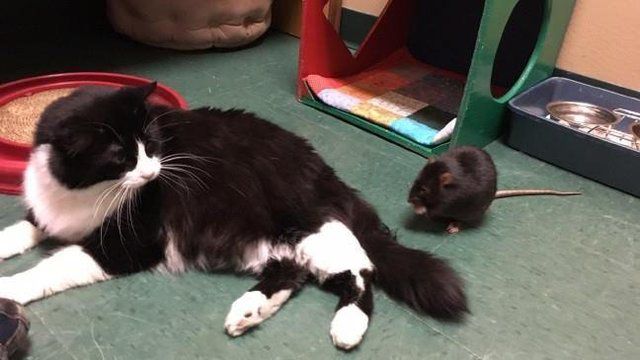 OSHKOSH AREA HUMANE SOCIETY
Jack the cat has a vision impairment, and it turns out that he relies a lot on Sasha the dog to guide him around. Tweaks the rat is the oldest of the three but is perhaps the youngest at heart. At first, the staff worried about putting Tweaks in the same enclosure as his buddies, but they soon realized there was no separating this team nicknamed The Rat Pack.
"We thought, 'Well maybe we should bring the rat in,'" Rosenthal said. "So we did. We put the rat down, and right away the rat was running all over the dog, and going up and licking his face, and the dog was licking the rat. So it was like, 'OK – I guess they really are friends.'"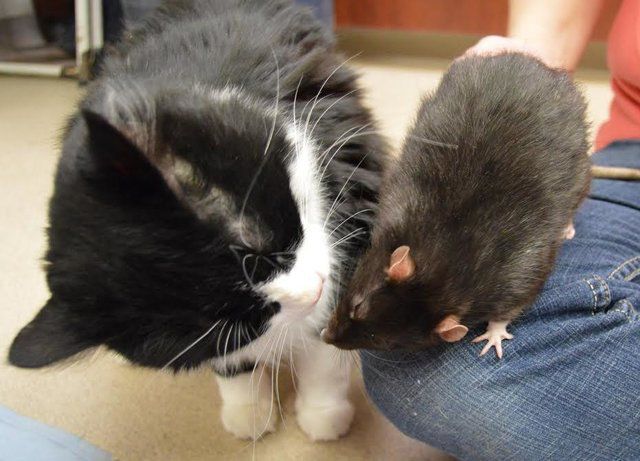 OSHKOSH AREA HUMANE SOCIETY
The bond between these three friends could not be severed, and so the rescue staff hoped that someone would be willing to adopt all three animals together. Thankfully, one day Kathy Berens and her daughter stopped by the shelter and overheard the Rat Pack's story.
"They had adopted a cat from us, and they were thinking about getting another cat, but they also wanted a dog," Rosenthal said. "So Kathy kind of overheard some of our staff talking about Tweaks and Sasha and Jack, and she's like, 'This sounds like a ready-made family. This might be ideal for us.'"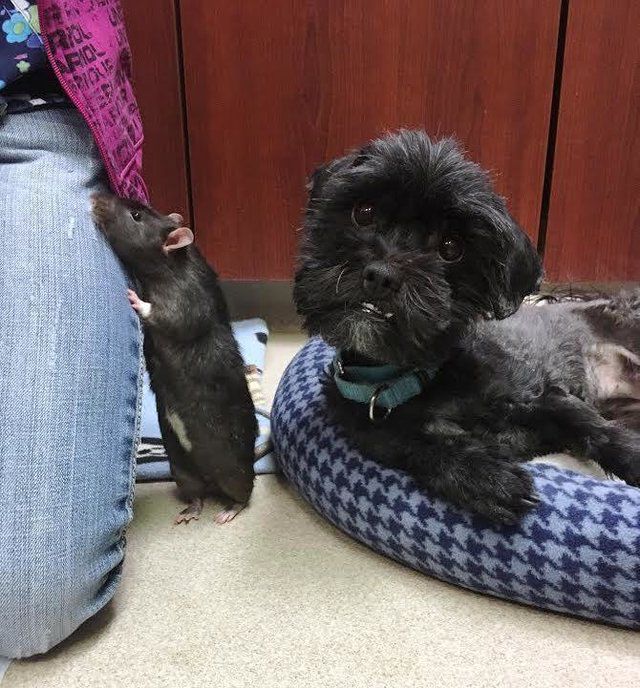 OSHKOSH AREA HUMANE SOCIETY
The Berens fell in love with all three animals, and soon the Rat Pack was headed off into the sunset to a new, permanent, loving home. The OAHS staff was so happy for the team, but also sad because of how much they missed their company and antics.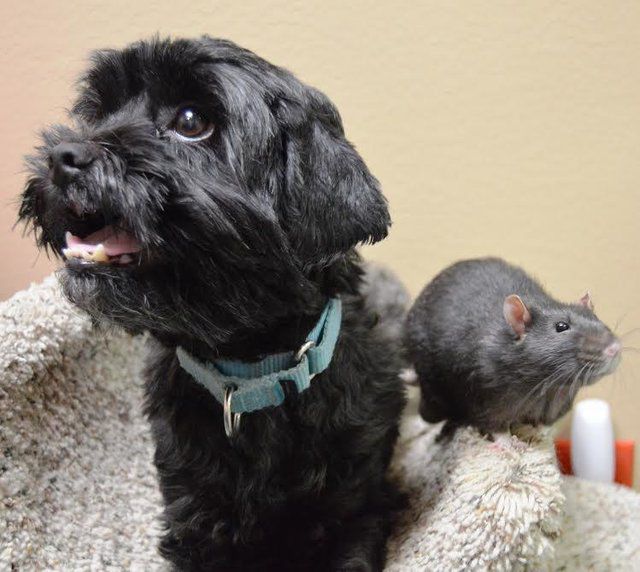 OSHKOSH AREA HUMANE SOCIETY
Berens was moved by the strength of the relationship between these three unique souls. "They have touched a lot of hearts other than just mine and I am grateful and feel very privileged to be able to be a part of this," Berens told The Dodo.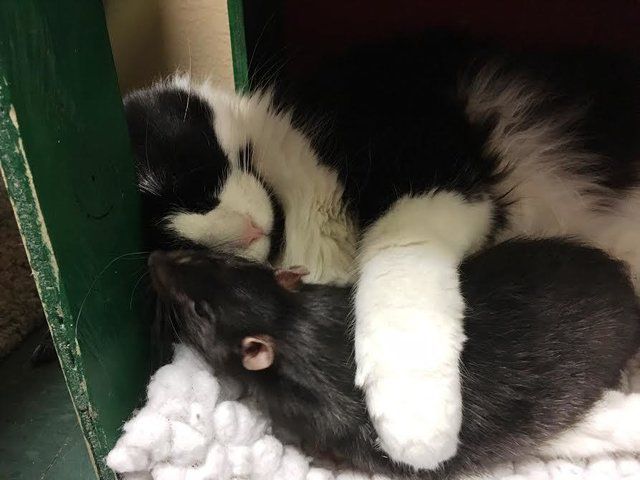 OSHKOSH AREA HUMANE SOCIETY
We thank everyone who was involved with taking care of and adopting the Rat Pack, and for their efforts to keep these three friends together forever. Share the Rat Pack's amazing story with your friends and family on Facebook.
RESOURCES HAPPY ANIMALS, OSHKOSH AREA HUMANE SOCIETY, THE DODO, AND BORED PANDA