<!– 336×280 ad unit –>
A shelter dog was hailed as a hero after donating blood to save another dog's life — but nearly lost his own life because no one would adopt him.
Thankfully, this sweet dog has been spared from euthanasia after being rescued at the last minute.
Stanford is a two-and-a-half-year-old Rhodesian Ridgeback who has been at Smith County Animal Control & Shelter since December 15 after losing his home.
Stanford has lived a hard life, but despite everything he has given back in a big way, and even saved the life of another dog by donating blood.
"He is a hero dog. He has donated blood to the animal emergency clinic to save another life of a dog," Smith County Animal Shelter Supervisor Amber Greene told WFAA.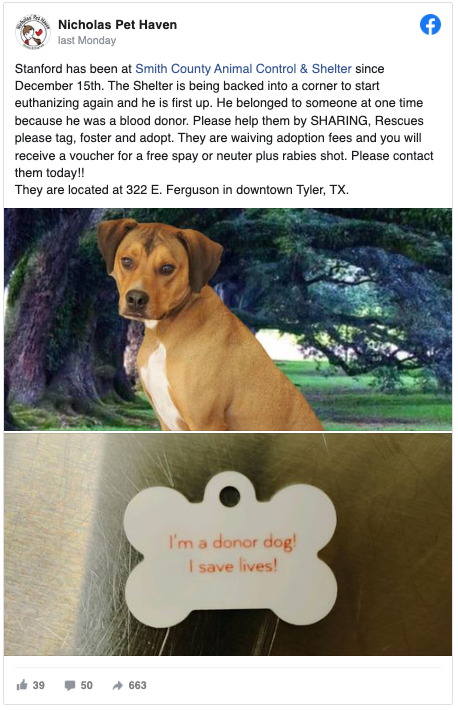 But even after saving a dog's life, Stanford found his own life in danger. The shelter was becoming overcrowded, and they would soon need to start euthanizing dogs to make space. Despite only being there for a few months, Stanford was their longest resident, putting him first in line to be put down.
"The only way they get out is either being adopted, transferred out, or they have to be euthanized," Greene said. "It's nothing that none of us want to do. We would rather get them into a home or out to your rescue."
It's tragic to think that this life-saving hero dog was nearly put down just to make space. Smith County Animal Shelter shared his story online and in the media, hoping someone would step up to save his life.
In an update, the shelter wrote that they received an "outpour of calls, emails and messages" about Stanford… and shared some great news: Stanford has been rescued!
Stanford was taken in by Let Love Live, a nonprofit animal rescue located in Northeast Texas. He doesn't yet have a home, but he's no longer in danger of being euthanized. Hopefully, he will be adopted soon!
It's heartbreaking to think this hero dog was nearly put down, but we're so glad he has been taken in by a rescue.
It's a reminder of the importance of adopting pets — overcrowded shelters can leave animals' lives in danger, even ones as special as Stanford.
Please share this story if you love animals! ❤️