<!– 336×280 ad unit –>
You're probably thinking that a celebrity dog does not really qualify to be considered as an important dog in history. After all, what kind of contribution did they give? Well, they may not have been contributors to science or major historical events, but they did make families happy while watching the films together, which is honestly, not a bad contribution.
We're here to talk about the story of a dog that captured the hearts of many and became an instant celebrity, Terry. The Cairn Terrier pup-tress is one of the most prolific dog actors of all time, but she never actually got credit for most of her films.
Terry was born in Altadena, California in 1933, in the midst of the Great Depression. Her owners began training her after her anxiety led to one too many accidents inside the home. They then eventually asked the legendary trainer Carl Spitz to coach her.  He used an innovative technique of silent hand signals specifically made to direct dogs on film sets. Spitz also started the Hollywood Dog Training School in 1927, which, amazingly, still exists today.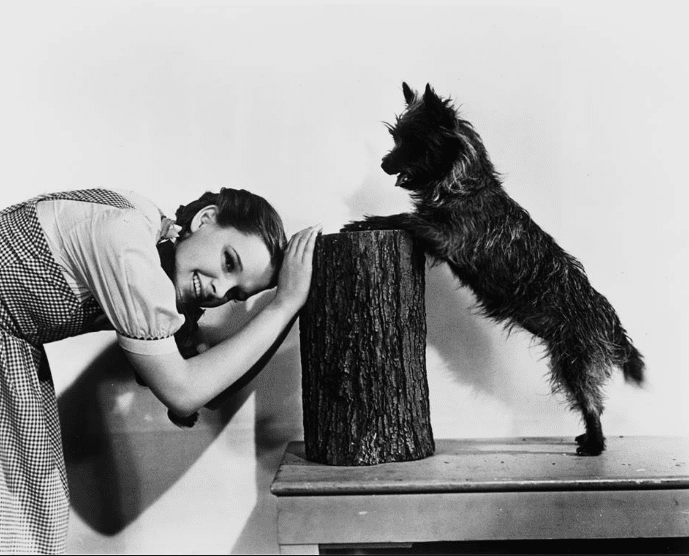 Terry gained her fame when she was first seen as Dorothy Gale's trusty friend Toto in the 1939 Hollywood classic, The Wizard of Oz. The film was based on Frank L. Baum's iconic book The Wonderful Wizard of Oz. In the film set, Terry was well loved by everyone, including Judy Garland herself!
Back in 1939, there was no CGI. So, Terry did her own stunts and excelled at all the "direction" that was given her – from listening intently to Judy as she sang or to withstanding three wind machines mimicking a tornado. The set was surrounded by people in massive costumes, but that didn't seem to faze Terry at all.
According to an article in American Girl Magazine in March 1940: "The hardest thing this little dog ever had to do was during the drawbridge scene in the Wizard of Oz, when she was chased by the huge Winkie guards of the Wicked Witch. Toto had to come running out of the castle and was trying to cross the drawbridge. She had almost reached the middle when the drawbridge was pulled straight up. The only safety Toto had was by clutching the edge of the bridge with her little paws and balancing herself thirty feet in the air. One of a dog's greatest fears is the fear of falling, so it took a great deal of courage to follow her master's orders that time."
She was generally safe throughout the film, but there was, however, one incident that put Terry in danger. While shooting. One of the large Winkie guards accidentally stepped on her foot, breaking it.
The silver lining to this was that she spent the entirety of her two-week recovery at Garland's residence. After those two weeks, Terry returned to the set to resume production. She was truly a  trooper!
Judy Garland developed such a close attachment to her that resulted in her wanting to adopt Terry, but to her disappointment, Spitz refused.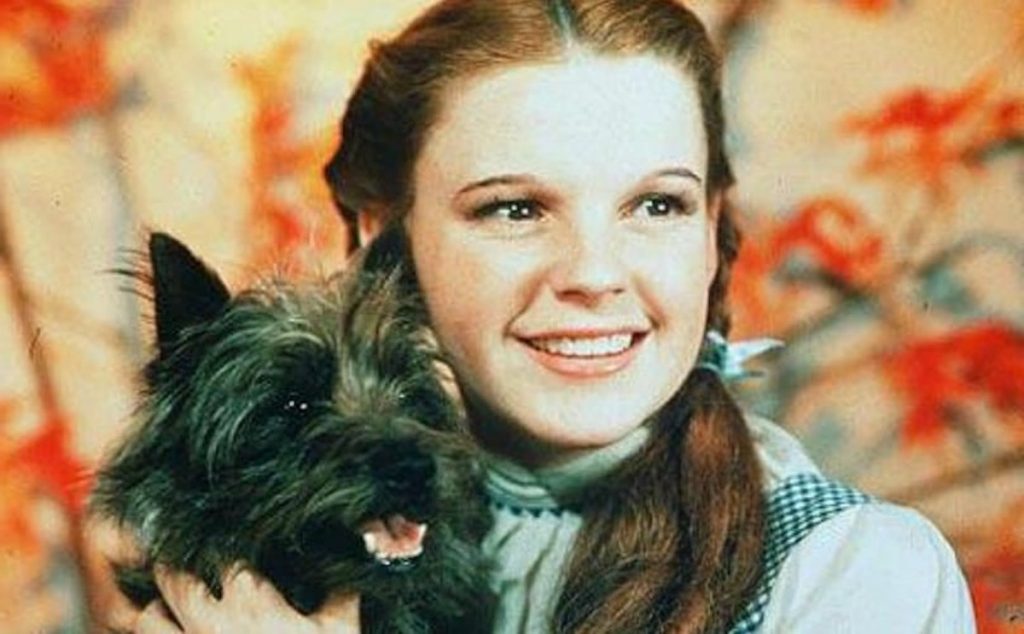 Something you might find absolutely mind blowing is that Terry was paid more than the munchkins and other actors. On the film's set, Terry earned a lucrative salary of 125 dollars per week. It was more than many human actors in the film, munchkins, and other townsfolk got. It was also more than what most working Americans, at the time and now, received as salary.
By the end of the film, Terry became a celebrity dog. They were calling Terry by her name in the film, Toto. At that point, Spitz decided the only thing to do was to officially change Terry's name. In 1942, they changed it, and from then on she was known as Toto.
Terry as Toto was so popular and well loved that everyone was so delighted when she attended the 1939 premiere of the film at Grauman's Chinese Theater in Hollywood.
She became a mother to another movie Cairn terrier named Rommy — who appeared in other films including Reap the Wild Wind (1942) and Air Force (1943).
Terry then proceeded to star in several films. Terry appeared in the 1934 Bright Eyes with Shirley Temple, and the 1942 Tortilla Flat with Spencer Tracy. She was also reunited with Oz director Victor Fleming and Frank Morgan. Terry's final film role was in Easy to Look At, released three weeks before her death. Her penultimate film, Adventures of Rusty, was released posthumously just five days after her death. She was uncredited in both films and only ever received credit for Oz.
She lived comfortably in the Spitz household on Riverside Drive until the autumn of 1945 when she crossed the rainbow bridge at the age of 12. The Spitz family buried Toto in their backyard, never thinking that one day they would have to leave her behind.
In 1958, the Ventura Freeway was being built and the Spitz family were forced to find a new location, eventually buying a kennel property that belonged to Rudd Weatherwax (trainer of Lassie) — the location on Vanowen in North Hollywood where the Hollywood Dog Training School is still located. With a heavy heart, the family moved, having to leave behind Toto and the remains of other dogs buried in their pet cemetery.
Today, if you ever want to visit Toto, there is a permanent memorial for her and was dedicated at the Hollywood Forever Cemetery in Los Angeles. There's also an autobiography that you can read to know more about her entitled "I, Toto: The Autobiography of Terry, The Dog Who Was Toto."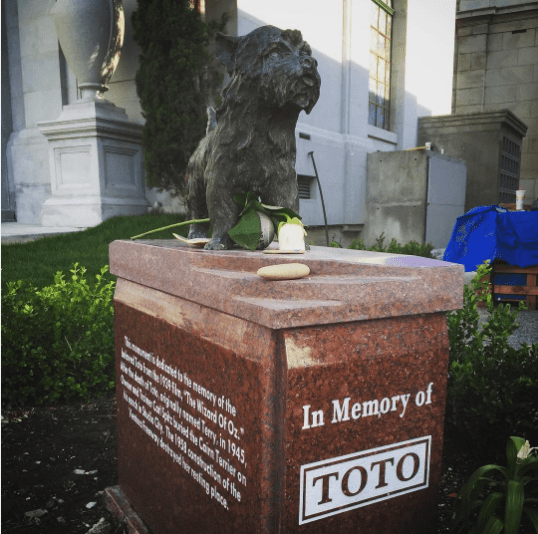 It's honestly quite amazing how many dogs like Toto became a part of our childhood and lives and we didn't even know their names and stories. You'd be surprised at the number of films you watched in your life that had these lovable furry friends in them.
We hope that this brought you back in time or gave you something new to check out! There are lots of movies with and about dogs in history waiting to be watched.
Please 'SHARE' to pass on this story to a friend or family member