<!– 336×280 ad unit –>
Beagles are known for their relentless howls. The way they push their heads back and let out their signature howl is something most Beagles learn on their own.
But Nick, the 3-week-old Beagle puppy in this video, gets an adorable howling lesson from Dad instead!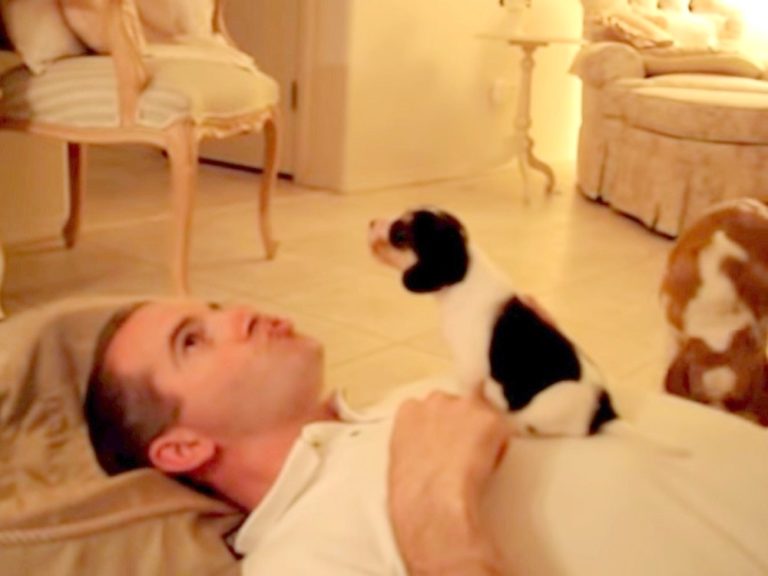 Source: GodHelpUsA11/YouTube
Ever since Nick was born, Dad has been spending all his free time with him. Dad wants to be there through all of Nick's firsts, especially his first howl.
But when Nick shows no affinity for howling, Dad decides it was time for him to channel his inner Beagle and teach Nick how to howl!
In this video, we see Nick comfortably perched atop Dad's chest. He curiously observes Dad's attempts at howling, and instinctively realizes that he can do it too.
Within seconds, Nick starts howling with perfection. Dad flashes a wide grin at the camera as his mission is finally accomplished!
Source: GodHelpUsA11/YouTube
We can't help but notice the other cute dog lurking around in this video. We think he was feeling a bit left out during the howling session, as he immediately runs to embrace Dad when the lesson ends.
What a cute family!
Click the video below to watch Nick the Beagle adorably howl for the first time after a hands on lesson with Dad!
Please 'SHARE' to pass on this story to a friend or family member