<!– 336×280 ad unit –>
Firefighters are always there to help those in need in their community, whether they be human or animal. We've seen many stories of firefighters going above and beyond to help pets get out of some pretty tricky spots.
Like one crew, who recently braved a 30-foot crawl through a storm drain to help a trapped kitten get to safety.
According to a post from Orange County ESD 1, in Vidor, Texas, staff members at a local walmart heard the sound of a kitten's cries coming from a nearby storm drain.
The fire department responded and arrived on the scene, and were soon able to locate the cat in the drain. However, reaching her was not an easy task.
"Fire crews had to climb down through a manhole into the storm drain and then crawl 30 ft into the drain to retrieve the kitten," the department wrote on Facebook.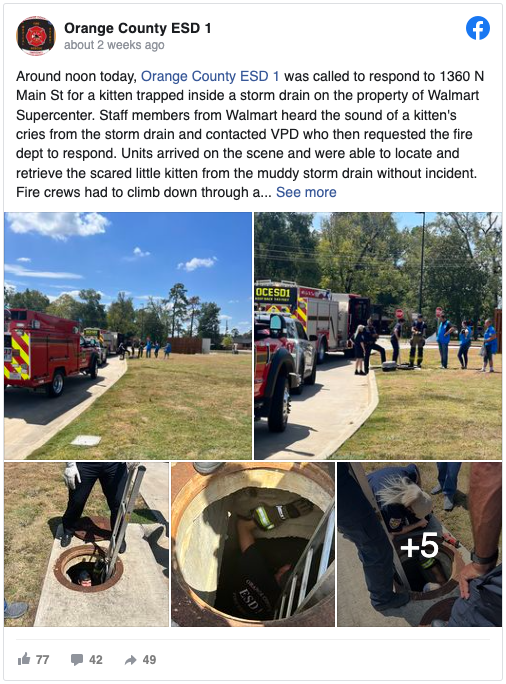 Crawling through such a tight space is never a fun task, and the firefighters were reportedly working during a heat wave. But thankfully, they successfully retrieved the kitten.
It was an unusual case for the department but they were happy to help: "Contrary to popular belief it's not an everyday thing that we get to help out a kitten in a tight situation," the department wrote, adding that they don't often have to "save cats out of trees" either.
The cat was apparently a stray — one person involved commented on the post with a photo of the cat, saying that she was "cleaned up, fed and ready for a new home."
Thank you to these firefighters for saving this cat! Please share this story to thank them for their good deed ❤️😸
READ MORE: