<!– 336×280 ad unit –>
A major pileup took place on Interstate 35W in Fort Worth, Texas, recently, with at least 75 to 100 vehicles involved. Sadly, five people perished in the massive collision, and many others were injured.
The collision backed traffic up for miles, and one person reported their dog was trapped in a truck for hours after the multi-vehicle crash.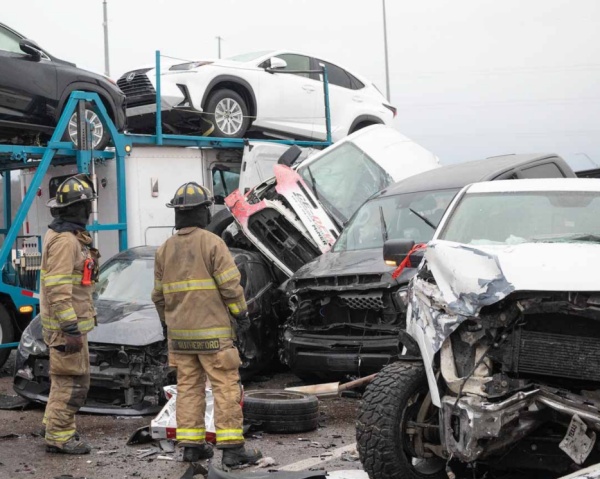 Source: @FortWorthFire/Twitter
As firefighters worked the scene, one of the men attempted to rescue the trapped dog before he died. As 36 people were transported to area hospitals, the brave firefighter walked onto the scene and moved toward the black pickup truck.
The dog's worried owner feared his pup might have died in the wreck, but the crew was determined to do everything they could to save the helpless animal.
Two firefighters approached the truck, which was stuck between several cars. They hopped up into the back of the truck, and they discovered the dog as if he were waiting for someone to help him out.
The dog seemed to understand the brave men were there to take him to safety. One of the firefighters scooped the sweet dog up and walked him toward a police vehicle on the other side of the median.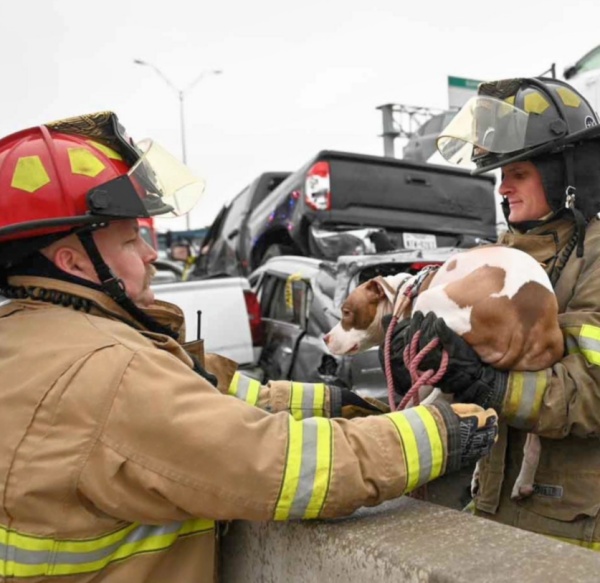 Source: @FortWorthFire/Twitter
The entire scene unfolded as a helicopter honed in on the crash scene from above. A veterinarian was on-site and was able to assess the dog's medical condition.
As that dog was saved, the crew headed out to another vehicle to free another dog. Thanks to the brave men and women who gave their all to help the dogs in peril. We extend our deepest condolences to the families of those who perished at the scene.
Press play on the video below to see the dog rescue.
H/T: WFAA
Please SHARE to pass on this story to a friend or family member