<!– 336×280 ad unit –>
We've all been taught to think before we act, but sometimes we find ourselves in circumstances so dire that we aren't afforded the time to think. In moments like this, when time is of the essence the best thing to do is trust your instincts and hope for the best.
And that's exactly what Swindon's' very own action-man, 58-year-old, Bill Morris did when an ordinary trip to the shops turned into a rescue mission straight out of our favorite feel-good movie.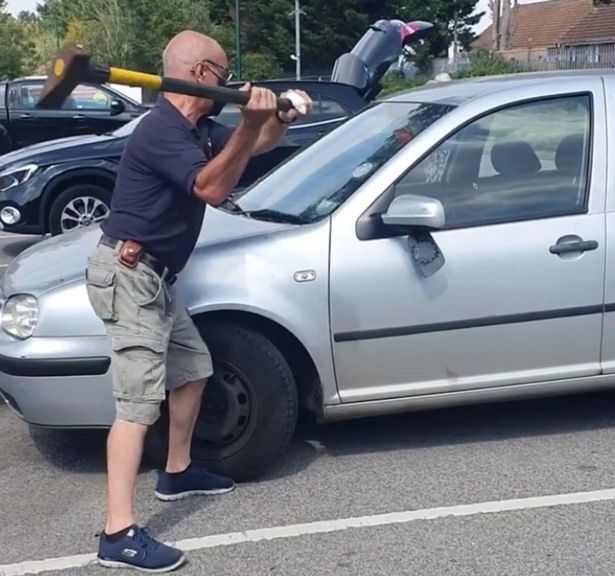 Image Credits: Samantha Heaver
When Morris, who had just finished attending a doctor's appointment noticed a small crowd gathered in Newham retail car park he didn't take much notice, that is until concerned by-standers Samantha Harvey and her husband, Eddie alerted him to what was unfolding.
Trapped in a navy blue Volkswagen Golf was a Yorkshire Terrier suffocating under the sweltering heat.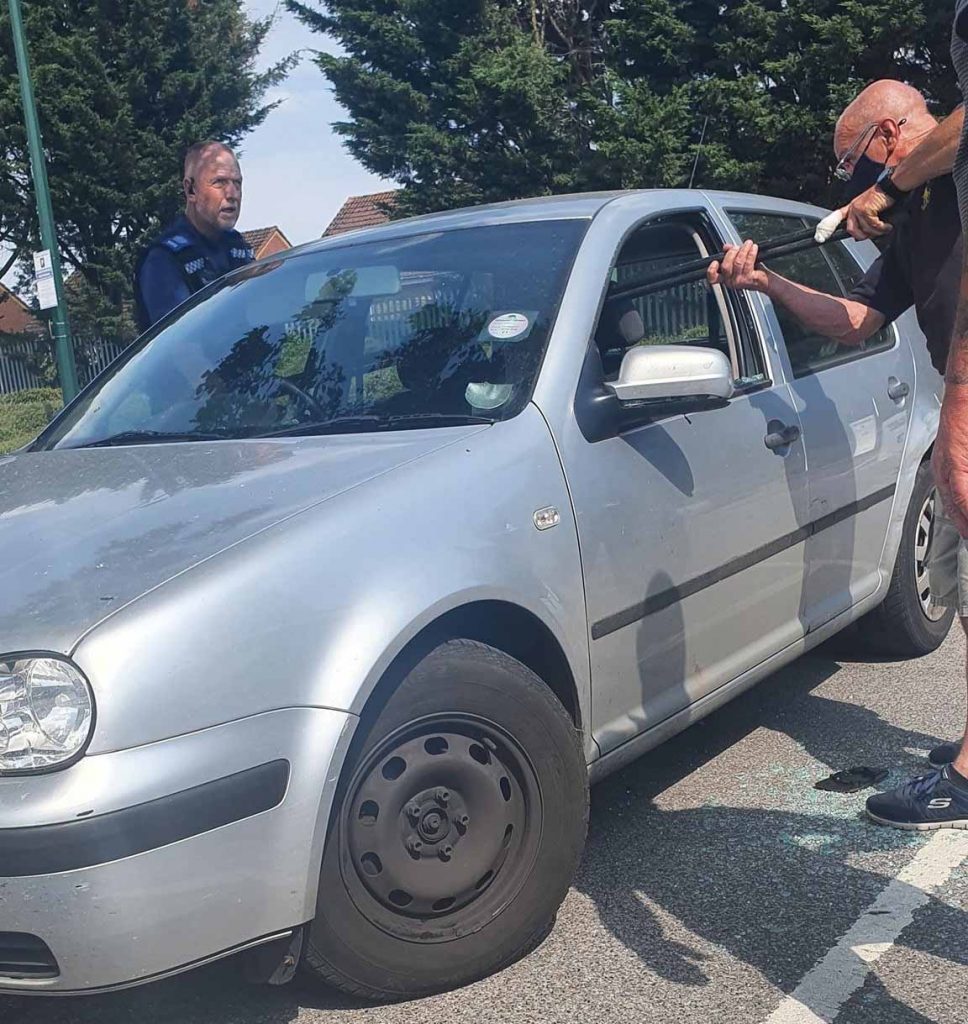 Image Credits: Samantha Heaver
An owner of three Dogs himself, the Thameside police arms dealer immediately knew something  was awfully wrong as the dog ' was leaning up against the window – on its side,  heavily panting'
With the owner of the vehicle nowhere to be found and not much else that could have been done Bill decided to call the police but frustrations began to grow, after calling 999 and being referred to 101. By now Morris had been left on hold for more than a few minutes all the while the small pups condition was deteriorating.
It was like it had become lifeless – its eyes were closed – it looked completely exhausted, Morris told The Sun.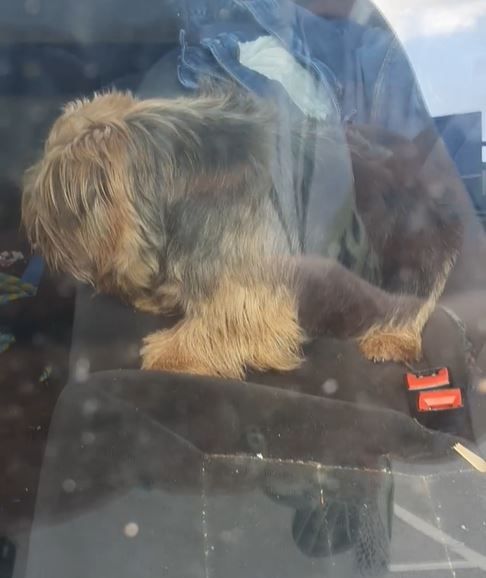 Image Credits: Samantha Heaver
Without a second to spare, Bill handed the phone to Samantha and ran back to his car to fetch his axe. Arriving back at the scene Bill asked Samantha to be a witness to what he was about to do, knowing the risk they were about to undertake, she began to film.
As seen in the clip in the footer of the article, after taking eight huge blows to the passenger side window, on the ninth, it finally shatters, without hesitation Bill is seen in the video leading the dog out of the backseat of the scorching hot vehicle by its lead.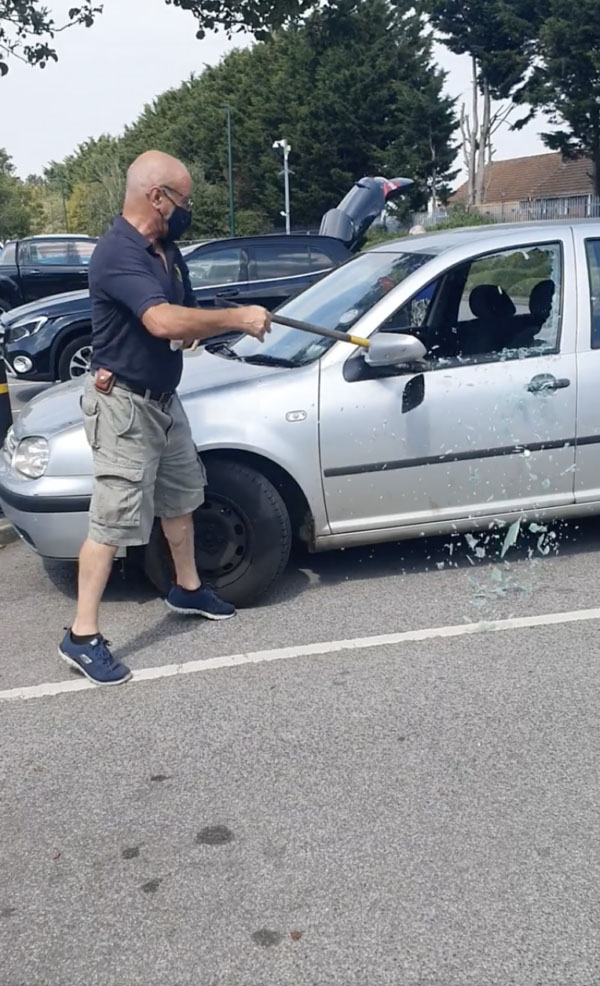 Image Credits: Samantha Heaver
With the Dog now out of immediate danger, Bill who had previously seen a pair of officers close by, left the pooch with Samantha and others to report everything that had just taken place.
He explained to them that he did something that he "felt was humane but that they might think otherwise", Bill was ready for any consequences he may have had to face but after local PSCO took the rescued dog to the vet for treatment and after exchanging details with the officers on the scene, thankful Bill was not charged or cautioned with any criminal offense.
Image Credits: Samantha Heaver
As for the owner, after 45 whole minutes, she arrived on the scene with her daughter, appearing shocked although not very emotional over what had happened to her Dog.
When Bill, who was understandably furious asked her if she would have left her child in the car for just as long she simply replied 'no' admitting she didn't know what she was thinking.
Despite endangering her dog the owner was not charged with any offence but was given advice by the officers at the scene and hopefully learned a lesson.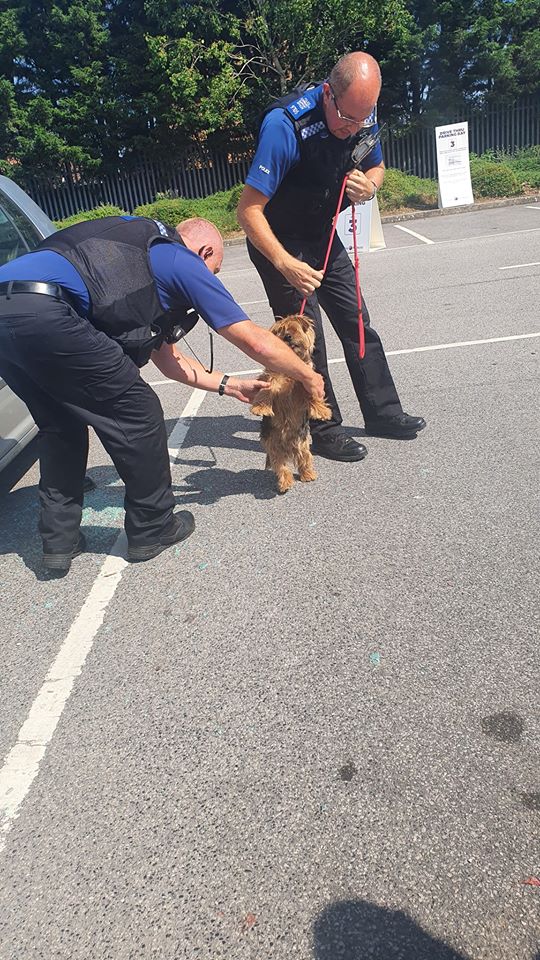 Image Credits: Samantha Heaver
Bill who is being celebrated all over the country for his heroic acts has no regrets over the situation admitting that  'If I was in the same situation tomorrow I would do exactly the same thing' the humble hero has also encouraged the hundreds of people who have offered to buy him a pint to instead donate Battersea Dogs home or a dog's charity instead. He's a Good'un!
Watch the incredible video:
Please SHARE this story with your friends and family!