<!– 336×280 ad unit –>
A heroic Miami firefighter saved a senior dog from drowning in Biscayne Bay after a passerby spotted the struggling pooch. And to the rescue came hunky Miami firefighter, Emilio Sanchez who arrived just in time to help Junior, the 12-year-old brown Chinese Shar Pei and Rottweiler mix.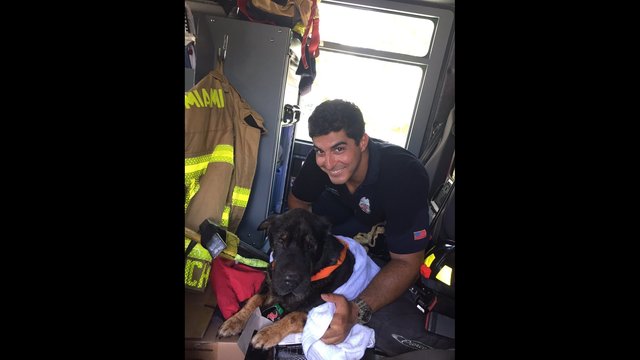 It was at that moment that Sanchez stripped out of his clothes and swam towards the struggling pooch. Two other firefighters were able to help Sanchez, as he swam back to shore with Junior safely in his arms. Once at the edge of the bulk heading, the men lowered an orange stretcher as Sanchez gently pushed the dog to be pulled up.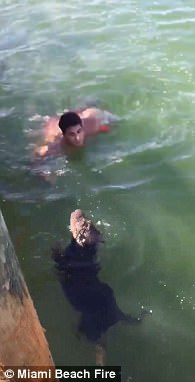 Once on land, Junior shook himself off and seemed to be delighted with all of the attention. Who doesn't appreciate being fussed over? Within a half-hour, Junior's owner arrived at the scene – all too happy to have been reunited with his best friend.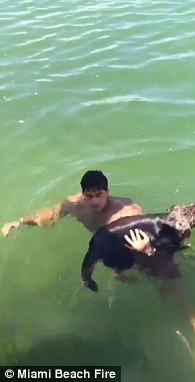 When Junior's owner, Jose Ruiz walks towards his dog, both display ear to ear grins.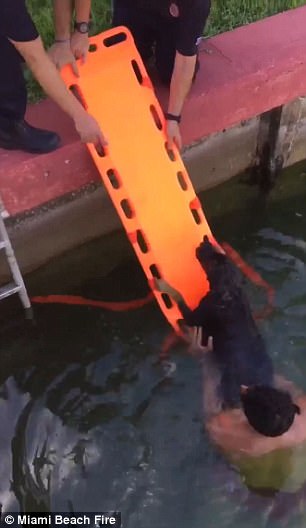 "WHAT A BABY. HE IS FAMILY. HE IS MY BABY. I CONSIDER HIM MY SON," OWNER JOSE RUIZ TOLD THE NEWS STATION.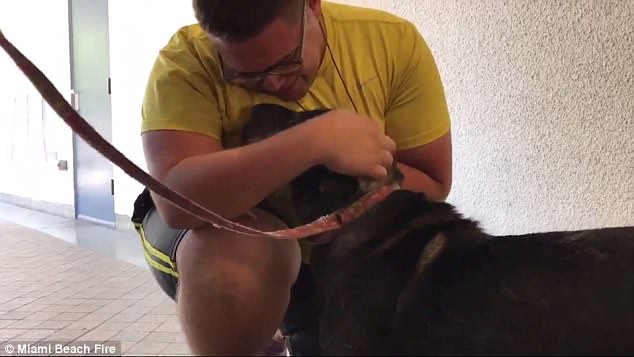 (Photos and video of Miami firefighter saves senior dog via FB)
Follow the National Pet Rescue on Facebook.
Check out the video: