<!– 336×280 ad unit –>
Lana is a 1.5 year old Labrador mix who is looking for a home, and is currently housed in a boarding kennel and not doing well. She is depressed and will only come out of her kennel for two people, who make sure she gets walked, fed, and has some time to de-stress every day.
Lana was recently adopted by a family but she had to be returned because of her guarding issue with her food. She snapped at the mom, and because there were kids in the house, Lana returned to Rescue Dogs Match and Mighty Mutts, who had rescued her as a puppy.
"Although Lana was returned to our program, her family tried their hardest to work with her," writes Mighty Mutts. "Because there were children in the family it was decided that it would be best for Lana to come back to our rescue so that we could find an adult only home with an experienced handler."
Latest updates at the end of this article.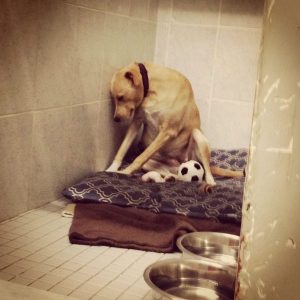 Lana in her kennel. Photo credit: Mighty Mutts / Facebook
Lana has been fostered since she was rescued as a puppy. "Lana did come from a very bad place when we first rescued her. She came to us with some fear issues and guarding issues," Mighty Mutts explains. "Although her guarding issues were non-existent when she was adopted, they did recently begin to surface."
Lana and her siblings were rescued from Mexico and flown to Ontario, Canada. The litter of pups were took young to be taken from their mothers, and they were put in a pile to die. From this large litter, Lana and two other puppies were taken in by Rescue Dogs Match with the help of Mighty Mutts. The rest of the puppies found rescue too.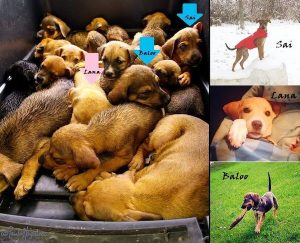 Photo credit: Mighty Mutts / Facebook
"Often, when three are so many pups in a litter, they learn to compete for their food. Its the only way to survive when food is scarce," Lana's rescuers explain. "Lana came to us with some guarding issues that were worked on, however, a year later she is exhibiting those guarding behaviours around food with people she is not completely familiar with."
Aside from this issue, Lana is completely housebroken, fine left alone and not destructive. She can be shy meeting new people and other dogs, but when she gets to know someone she is "silly and sweet".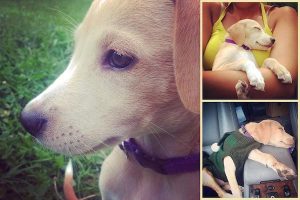 Photo credit: Mighty Mutts / Facebook
"She is happy to follow her owner anywhere (even off leash) and has such a great temperament – lazy when you want to be and fun when its time to be! Lana would do best in a home with another social dog who she can learn from. She is great with children but does get very scared when approached inappropriately," they say, when describing Lana's temperament. "She LOVES to go hiking and is pretty very good on leash. She also likes car rides…well, she will still fall asleep almost as soon as the car begins to move, just like when she was a tiny pup."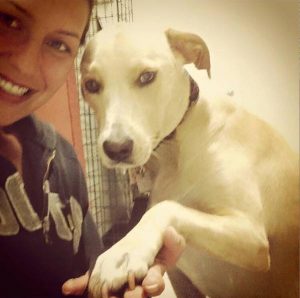 Photo credit: Mighty Mutts / Facebook
Given Lana's situation, Mighty Mutts and Rescue Dogs Match are urgently looking for a foster home with no children and has experience dealing with guarding behaviors. Rescue Dogs Match or Mighty Mutts will continue to work with her and find her a placement in an environment that suits her best.
Here's an update as of November 3, 2015: Lana has found a foster home.
"Here she is! Happy as can be! Lana has finally come out of her shell and settled in with her new foster mom," Mighty Mutts writes. "This is a photo I snapped of her, yesterday, when I popped by to see how she was doing. It always amazes us to see how well such heartbroken animals can bounce back!"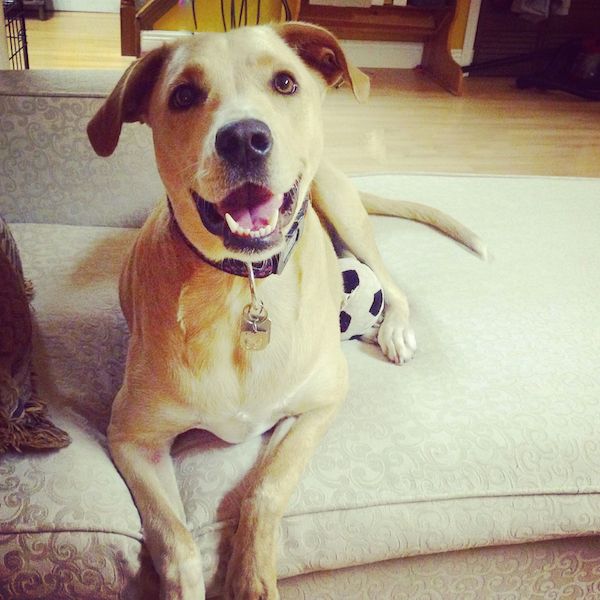 Photo credit: Mighty Mutts / Facebook
Lana went through some training to work on her guarding behaviors and Mighty Mutts' plan of action for Lana's training paid off and a few months later Lana found a forever home!
As of February 2016, Lana was adopted!
"We couldn't be more happy with her placement," Mighty Mutts writes. "After all Lana has been through, her new family was determined to make sure that the transition was as smooth as possible for her. Lana took to her new family so well that she was already in routine by her second day."
They shared an update from her new family, who says:
"I am amazed by her sweetness. She loves when I rub her ears or under her chin. She is extremely happy when we get up in the morning…she greets me as if she hasn't seen me in ages…I should mention that her bed is right next to mine! We walk first thing in the morning, at lunch and twice at night. When I get home at lunch and again at night she greets me, again, like she hasn't seen me in ages 'crying/moaning' and goes on her back for me to rub her tummy. I can't say enough about Lana. I am so thankful and blessed that she is in my life."
As of May 10, 2017 – Lana is looking for a forever home, again.
Despite everyone's best intentions, it appears that Lana's adoption did not work out and she is again looking for a forever home. However, there is an urgency to finding her a new home as she is currently staying in a rural boarding facility but she can only stay until May 20, 2017. Lana is now 2 years old.
"Lana's adoption did not work out because people want a dog they can pet and play with," Brenda Dobranski, founder of Rescue Dogs Match, told The Dodo. "Lana is a silly fun girl but she is not the type of dog that will let you give belly rubs to and sleep in bed with. She loves to have a job."
The best environment for Lana would be a farm or a home with acreage where she can be outside most of the time. "She LOVES to be outside no matter what the weather," Rescue Dogs Match wrote on Facebook. "Lana loves to be part of whatever is going on but not in 'tight' quarters."
"The best family for her would be a mature couple or person that has the time, patience, determination and commitment to help her become more confident," the rescue wrote. "She is sweet and silly, that is hard-wired into her character. She is timid, wary of strangers only at first. When she is not around the people she trusts, she has the tendency to shut down or become very hesitant."
Although they are reluctant to think about it, euthanasia may become an option if they don't find her a home. "I am not sure what will happen to Lana on [May 20]," Dobranski said. "Unfortunately, euthanasia is an option, but with all the time and support and money that has been offered to Lana I don't even want to think about it."
Contact Rescue Dogs Match if you are interested in fostering or adopting Lana. They will consider people from Canada and the United States.
Please share Lana's story and remember to support your local rescues and their fosters!