<!– 336×280 ad unit –>
There's not enough love in the world to shower on dogs, and yet we can never possibly love them as much as they do us. One man who very well knows that is Grga Brkić.
The Croatian was staring at death after fracturing his leg while climbing the highest peak of the Velebit mountain range. He was immobile in the freezing cold and it seemed inevitable that he was going to die from hypothermia.
However, thankfully for him, he was accompanied by his canine companion, North, an eight-month-old Alaskan malamute. North climbed on top of him to keep him warm until help arrived.
The incident happened on the Velebit mountain range, roughly 5,800 feet above Croatia's Adriatic coastline, reported PEOPLE.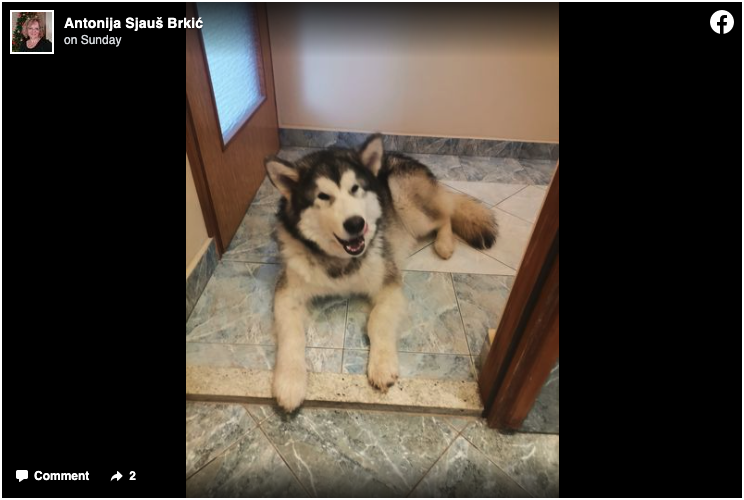 He was climbing the peak when he suddenly fell nearly 500 feet down a snowy slope. Brkić fractured his lower leg and couldn't move. Two hikers spotted Brkić and his dog at the bottom of the embankment.
They soon realized it was impossible to actually lift him and get him out of there. They sent for rescuers. North snuggled on top of Brkić, allowing him to derive heat and stay warm.
Alaskan Malamutes can withstand temperatures as low as -20°F and also have thick, waterproof double coats that can keep them warm even in the frozen Arctic.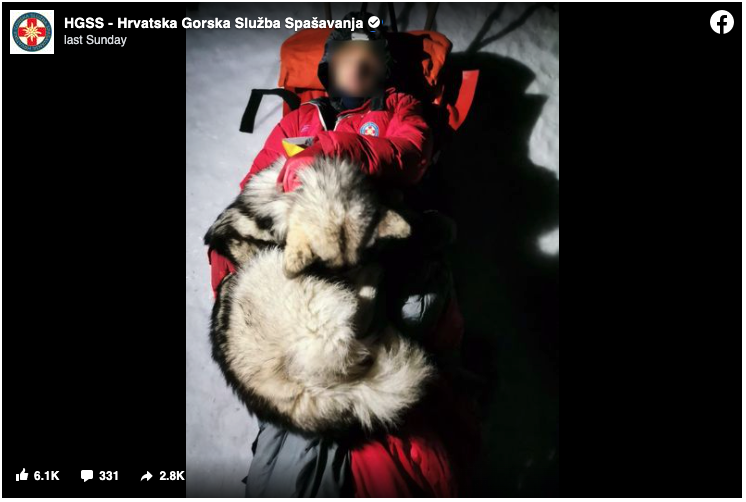 It would be 13 hours until help arrived. The wait was agonizing but for Brkić, he knew North was by his side, giving him hope of survival. After 13 hours, a dozen first responders arrived and were stunned to see the dog had "curled around [Brkić] and warmed him."
Croatian emergency mountaineers, Hrvatska Gorska Služba Spašavanja, worked to get Brkić and North to safety. They were a team of 27 first responders and the rescue faced obstacles in the form of snow, ice, and broken trees.
They described it as "one of the most difficult rescue operations" they had ever attempted. The dog didn't leave Brkić's side at any point.
They were eventually airlifted by helicopter to a nearby hospital. Brkić had to undergo an emergency operation but recovered completely. The dog was unharmed in the incident.
"The dog was curled up next to the owner in the pit the entire time; he warmed his owner with his body, thus preventing the mountaineer's significant hypothermia who suffered a severe fracture of the lower leg and ankle when he fell," said Josip Brozičević, head of the Croatian mountain rescue services.
Later, Brkić spoke to the Croatian media and said he wouldn't be alive if it weren't for North. "The minutes and seconds before they arrived were so slow" but "this little dog is a real miracle," said Brkić.
After the Croatian emergency mountaineers posted about the incident, Brkić's family shared an update on him and North, confirming that they were doing just fine.
Antonija Sjauš Brkić commented on the post and shared an image of North. "North is home, saying hello and relaxing. HGSS … we have no words … thank you!!!"
The emergency rescuers wrote that we could all take away a lesson in bravery and compassion from the dog.
"Friendship and love between man and dog have no boundaries," wrote the rescuers. "His loyalty did not stop even from the arrival of the savior … From this example, we can all learn about caring for one another."
Cover image source:
Left: Alaskan Malamute in the snow/Getty Images
Right: Facebook/HrvatskaGSS