<!– 336×280 ad unit –>
Celebrities love their pets just like the rest of us, and it's always inspiring to see celebrities choose to adopt pets from shelters, setting a good example for their fans.
Recently, one of the biggest pop stars in the world announced she has two new pets — and they're rescues.
Mariah Carey has two adorable new family members: on Sunday, the legendary pop diva announced in a social media post that her family has adopted two new cats named Nacho and Rocky Jr.
Photos show the "Fantasy" singer with her children, 12-year-old twins Monroe and Moroccan, holding the adorable kittens.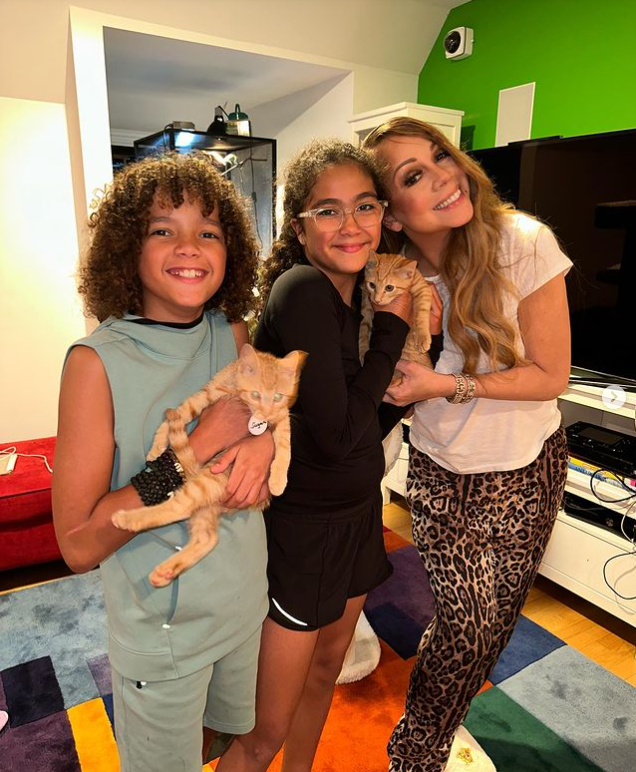 In addition to the kitten news, the post also included photos of Mariah and her family enjoying the end of summer: "Summer prolonged… even though I try, I can't let go!" the singer captioned her post, referencing the lyrics to her song "Can't Let Go."
The news of Mariah Carey adopting kittens drew a lot of excitement from fans. They were not only won over by the adorable animals, but also praised the pop star for promoting adoption.
"By choosing adoption, you're not only changing their lives but also advocating for the countless shelter animals in need," animal welfare group PETA wrote in the comments. "Your influence reaches far beyond the stage, and it's heartwarming to see you use it to promote the importance of adopting rescue animals!"
According to Celebrity Pets, Mariah Carey also has six dogs, all of whom are rescued Jack Russell Terriers. The dogs get quite the royal treatment from their celebrity owner: it was once reported that Carey spends a whopping $46,000 a year on spa treatments for her dogs.
The dogs share some of Carey's musical talent, too: in a viral video, the dogs help her finish the chorus to her perennial Christmas classic "All I Want for Christmas is You." (Will Nacho and Ricky Jr. meow along with the family, too? We'll find out this holiday.)
In 2017, Carey also narrated an animated film based on the song, which is about young Mariah wanting a puppy for Christmas. The project drew cheers from PETA for promoting the adoption of homeless animals during the holiday season and showing how it is a lifelong commitment.
The group gave Carey their "Angel for Animals Award" for the film: "Mariah Carey is PETA's hero for homeless animals for encouraging families to adopt from their local shelter," PETA Senior Vice President Lisa Lange wrote. "Her holiday film reminds us all that caring for an animal is a responsibility, not just a fantasy—but the one sweet day when you meet the dog who will always be your baby and you know that you belong together."
We're so glad these two beautiful kittens have a home — we know they'll be in good hands with Mariah Carey and her family! Thank you to Mariah for promoting adoption!
Please share this inspiring news!
READ MORE: