<!– 336×280 ad unit –>
A search is on to reunite a distressed mother donkey with her baby, who was recently stolen from a farm.
According to a Facebook post from Miller's Ark, in Hampshire, England, a two-month-old donkey foal named Moon was stolen from their field. The staff said they were "completely devastated and incredibly concerned."
Because she's still so young, Moon won't be able to survive long without her mother, Astra. They also say that Moon needs to wear a coat.
With her baby missing, Astra is reportedly "very distressed," and Moon is likely scared and missing her mom: "This little donkey will be braying loudly tonight," the farm wrote.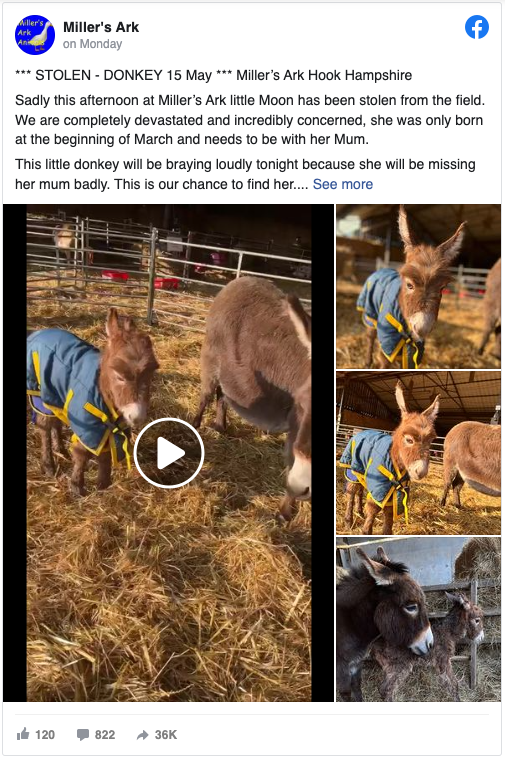 "Astra has been just completely devastated, just really stressed, pacing up and down the fence line, braying," owner Elizabeth Miller told ITV.
"She doesn't know what to do with herself because all of her natural instincts are to find the foal."
Miller suspects thieves snatched the little donkey from the farm: the animals' gentle nature makes them an easy target.
"We feel she may have been lifted over the fence and taken away. They're very small and they're very friendly, so we think that's what has happened," she said. "They don't have fear of people, they assume people will be loving and caring because that's what they have here both from ourselves as a team and the visitors."
But hope is not yet lost: the staff at Miller's Ark are still hoping to locate little Moon and reunite her with her mom before it is too late. Their appeal went viral and has been shared thousands of times on social media.
Supporters raised over £2,000 to help the owners install security cameras, and a £10,000 reward is being offered for Moon's return, thanks to Hampshire and IoW News.
"Sadly still no good news regarding Moon but we have been really touched by all the support shown to us," the farm wrote on Facebook yesterday, thanking the fundraising efforts.
How heartbreaking — we really hope Moon is found soon and can be reunited with her worried mother 💔😢 Shame on people who steal animals like this.
Please share this news to spread the word about the search for Moon!