<!– 336×280 ad unit –>
Obesity is a phenomenon that's taking over not only in prosperous Western countries, but all over the world.
Your weight, BMI or how your clothes fit are all good ways of noticing whether you've put on a few pounds recently.
But how can an animal know that they are obese or overweight?
Of course, dogs are very intelligent and they no doubt notice that something doesn't feel right – but we all know it can be hard to take matters into our own hands (or paws) when it comes to weight.
For poor little Kale Chips, an 8 year old Beagle, it was obvious that something needed to change.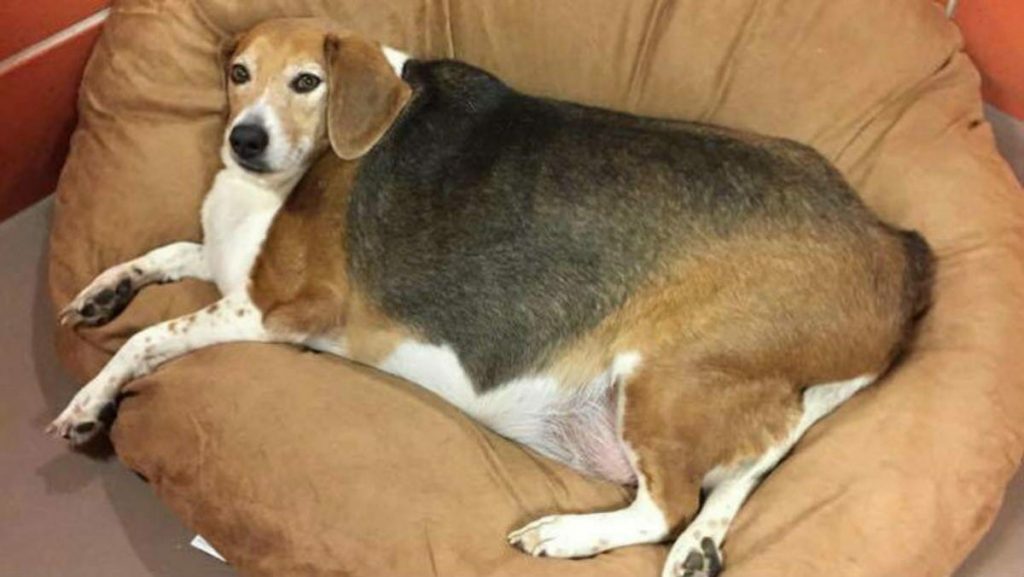 Kale Chip's weight was life threatening: He was in a lot of pain and could hardly move.
The beagle weighed 88 pounds when he was found. An adult Beagle should weigh around 22-23 pounds.
Beagles are known for being obsessed with food and for being very fast eaters who often don't chew properly. This causes them to easily gain a lot of weight.
Sadly, Kale's previous owner had developed dementia and frequently forgot how much he had fed the dog during the day, which caused Kale to gain lots of fat.
The sickly dog ended up at an animal shelter in Chicago.
Local animal rights activists were disturbed by Kale's predicament, and the dog's story gained a lot of attention.
Worried volunteers hoped that they would soon be able to turn his health around so they could find him an adoptive home.
Many people online were concerned about Kale's fate. Animal lovers around the world decided to come together to help Kale.
It didn't take long before he had a new set of foster parents welcoming him to a new home. And best of all? Kale's new owners were experts in dog care, diets and training.
As the owners of bakery Happy Dog Barkery, Kale's foster family was his perfect match.
His new owners soon put together the perfect diet for the Beagle.
Thanks to Happy Dog Barkery, Kale Chips started a strict diet that helped him return to a normal weight.
And soon enough, things began to change…
Alongside daily walks and swimming, the combination of training and diet worked wonders for Kale Chips.
The extra pounds melted away in record time, and Kale lost half of his body weight.
He's definitely happy with the results! ⬇️
Thanks to his new lifestyle, Kale Chips is now unrecognizable compared to what he looked like just months ago.
His kind-hearted foster family shows that with the right diet and exercise routine, any dog can achieve their target weight.
Now Kale is everything a Beagle should be – happy, lively and full of energy.
Kale's foster parents of so proud of his journey! Thanks to their love and support, Kale is now living a happy life.
Kale's transformation is an inspiration to humans and animals alike. He shows us that with determination – and lots of support – we can overcome any obstacle!
Share this story if you think all of your animal loving friends should see Kale's incredible transformation!