<!– 336×280 ad unit –>
A voluntary recall has been announced by Against The Grain Pet Food, pertaining to a certain lot of Pulled Beef with Gravy Dinner for Dogs canned food, which was manufactured and distributed in 2015.
The reason for the recall is the potential presence of pentobarbital. According to Dog Food Advisor:
Oral exposure to pentobarbital can cause side effects such as drowsiness, dizziness, excitement, loss of balance, nausea nystagmus (eyes moving back and forth in a jerky manner), inability to stand and coma.

To date, no complaints have been reported to Against the Grain for this single lot number nor any of Against the Grain's pet foods.
Although this lot is no longer be on pet store shelves, the food's expiration date is December 2019, and some consumers may have some stocked in their pantries.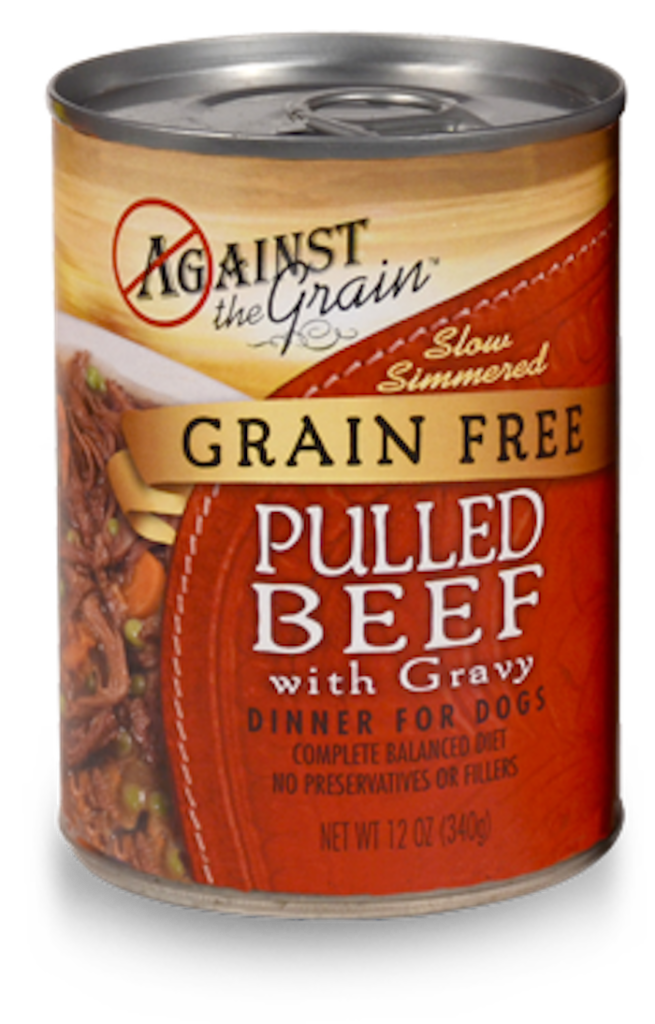 About the recalled lot:
As posted on Dog Food Advisor, the information on the recalled lot is as follows:
Against the Grain Pulled Beef with Gravy Dinner for Dogs
12 ounce can
Lot Number: 2415E01ATB12
UPC Code (second half): 80001
Expiration Date: December 2019
The recalled product was distributed (in 2015) to independent pet retail stores in the following states: Maryland and Washington
If you have the product, what should you do?
Consumers can return their affected cans to the retailer of purchase and will receive a full case of Against The Grain food in return for the inconvenience.
Customers can also contact the company at: 800-288-6796 between 11 AM and 4 PM Central Time, Monday through Friday.
U.S. Citizens can call their local consumer complaint coordinator, or submit a complaint through the FDA by clicking here.
Canadian customers can fill out a complaint form here.
About pentobarbital:
Wondering what this contaminant is, in the first place? Pentobarbital is a sedative that can be used in human and animal treatments, but is also used for animal euthanasia. According to a report by the FDA, small amounts of this drug do not have adverse affects on pets.
So how can pentobarbital find its way in pet foods? Certain foods contain ingredients called by-products (this includes ingredients listed as: animal by-products, chicken by-products, poultry by-products,by-product meals, etc.). By-products are made through a process called rendering in which animal corpses are boiled down, then dried into a concentrated powder. The FDA explains that some of these rendered animals could have been euthanized, with the presence of pentobarbital coming from "rendered cattle or even horses."