<!– 336×280 ad unit –>
Life isn't always like it is on Sex and the City, but Sarah Jessica Parker has at least one thing in common with her character Carrie Bradshaw: they're both the new owners of an adorable cat.
If you've been watching HBO's And Just Like That, the sequel series to Sex and the City, you know that season 2 ended with Carrie becoming the new caretaker of a stray cat named "Shoe."
If you thought the cat and Sarah Jessica Parker had good on-screen chemistry, there's a reason: it turns out that Parker adopted the cat in real life!
In an Instagram post, the Emmy-winning star explained that the cat's real name is Lotus. He and his siblings were rescued by the Connecticut Humane Society as kittens. Parker and husband Matthew Broderick adopted him in April.
"He joins Rémy and Smila whom we adopted in May 2022," Parker wrote.
Fans and animal lovers were thrilled by the news that the feline star has a new Hollywood home.
"Aww! Lotus is precious," wrote the animal rights group PETA on Instagram. "Thank you for welcoming him into your family and making a difference for homeless animals everywhere by promoting adoption!"
"Those eyes! I can't even take the surfeit of cuteness!" one user wrote.
"And just like cat," another user joked.
The Connecticut Humane Society wrote about Lotus on Facebook, saying that he appeared on the show while in foster care before Parker adopted him for good. "Lotus liked the spotlight so much, he's decided to stay on the show!" the shelter wrote.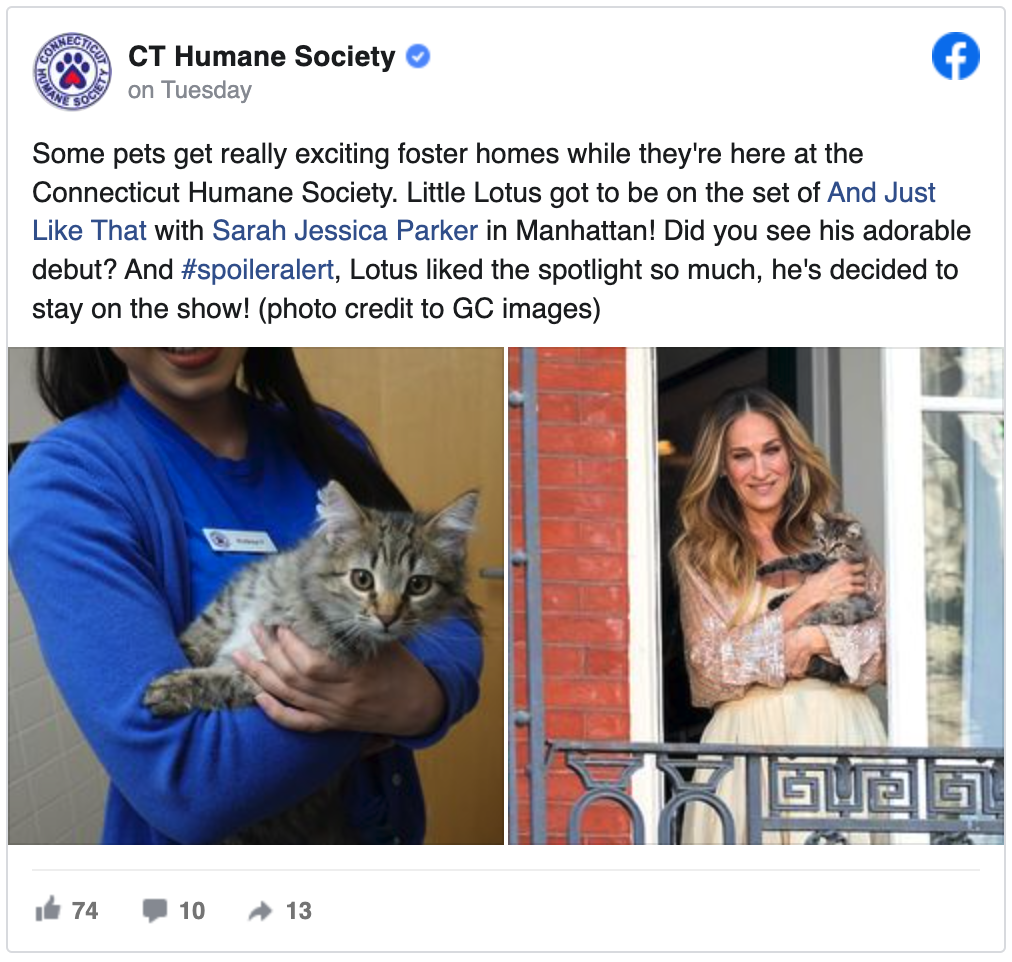 Parker isn't the only celebrity to adopt a pet from a film/TV project. Chris Evans met his beloved dog Dodger while filming the movie Gifted at a real animal kennel. Other examples include Viggo Mortensen adopting his horses from Hidalgo and Sophie Turner adopting her "direwolf" from Game of Thrones.
Thank you to Sarah Jessica Parker for adopting her adorable co-star! We know Lotus will be very happy in his new home!
Please share this heartwarming news!
READ MORE: