<!– 336×280 ad unit –>
Smokey is a very cute and somewhat shy dog, but he has been suffering from a depression ever since was placed in an animal shelter on Valentines Day in Ohio.
Life in an animal shelter is loud and very confusing, and Smokey wasn't able to adapt to his new environment. Luckily, he had the support of his elephant pet toy – Smokey wouldn't want to anywhere without his little elephant.
The information tag in the animal shelter even had a separate line: "Keep my elephant with me".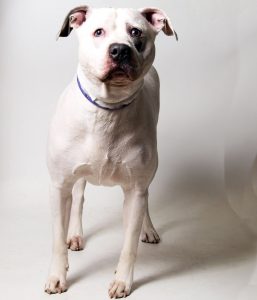 Source: Franklin County Dog Shelter & Adoption Center
The family that took care of Smokey lost heir home due to a fire, and Smokey was brought to the Franklin County Dog Shelter & Adoption Center. When Smokey was taken away from 'his' family, his smile was taken away as well.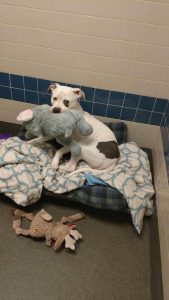 Source: Doreen Buchler, Facebook
Smokey no longer had a calm environment he was used to and also didn't have anyone that could caress him anymore. He was stressed out, depressed and even seemed a little bit scared. Because he was constantly growling, the shelter didn't put Smokey up for adoption to the general public. Instead, they decided that it would be best that Smokey was to be transferred to a foster home to reduce his stress levels.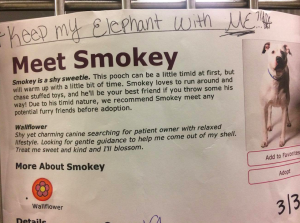 Source: I Have A Dream Rescue Organization
Luckily, Smokey quickly regained his smile and joyful attitude. A couple of volunteers from I Have A Dream Rescue Organization happened to stop by the shelter to evaluate another dog, but they fell in love with Smokey who was cuddling his elephant toy.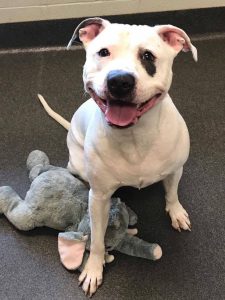 Source: I Have A Dream Rescue Organization
Because Smokey was unhappy in the animal shelter, the organization has decided to take in Smokey for the moment. They'll keep him (and his elephant) until the original family who've lost their home will be able to take him back. If that wouldn't be possible, he can stay there for as long as necessary and will be placed up for adoption.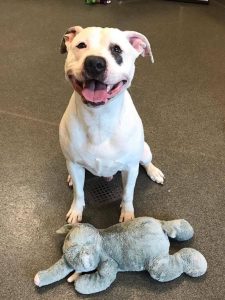 Source: I Have A Dream Rescue Organization
The story of I Have A Dream Rescue Organization quickly received much attention, and the owners of the animal shelter hope that this story motivates people to adopt other dogs in animal shelters.
It's truly amazing how giving a dog the attention and love it deserves can affect its happiness. Both the animal shelter and the non-profit organization are very happy to see that Smokey has regained his joyful smile.
Please SHARE this with your friends and family.