<!– 336×280 ad unit –>
When an emaciated, sickly stray found his way to a front porch, he had no idea that it would lead him into the lives of a dog lover and his vet tech girlfriend!
"George showed up on our neighbor's porch a couple months ago," wrote dinoduckasaurus on a post on Imgur.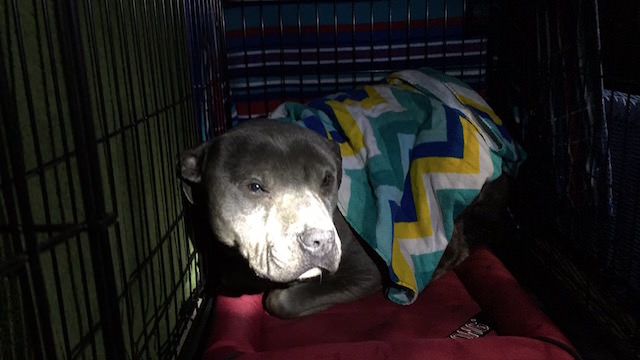 SOURCE: DINODUCKASAURUS VIA IMGUR
The sickly pup was trembling, and he was so skinny that his bones were protruding – yet he refused to eat. Wondering if he belonged to someone (perhaps he had been lost for a few weeks), the couple called animal control and tried to comfort the pup as they waited for them to pick him up.
But somehow, they knew that the dog would come back to them.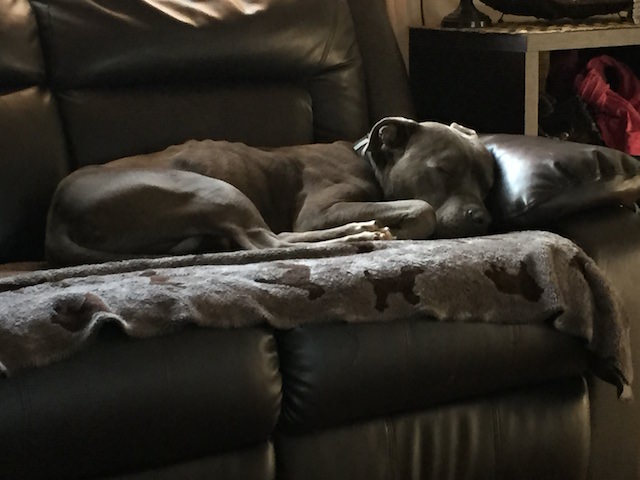 SOURCE: DINODUCKASAURUS VIA IMGUR
The pooch was held for a week, but no one claimed him. So after he was neutered and treated for a hernia and for four types of worms, the couple picked him up. They decided that they'd foster him and help him get healthy before he found his forever home….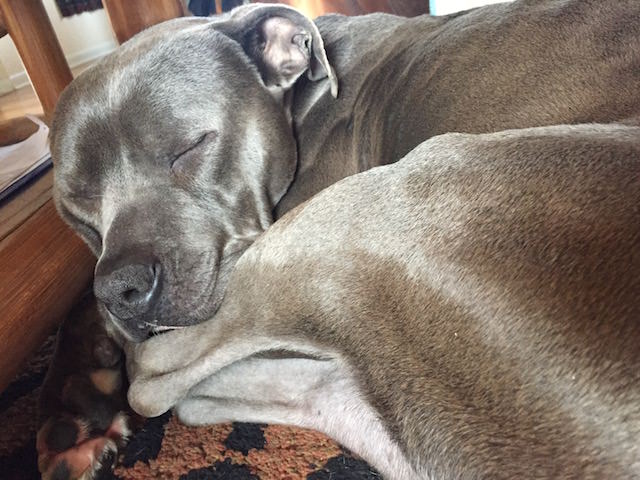 SOURCE: DINODUCKASAURUS VIA IMGUR
But it wasn't long before they knew that the handsome dog — who was named George Clooney for his good looks — was meant to stay with them.
"At this point I knew I'd been suckered and we were going to end up keeping George," the poster wrote.
The George's new parents worked with the 4-year-old pup to get him acclimated to his new surroundings. This includes two canine siblings named Gabby Gabs and Pepper Dog… they're also rescues!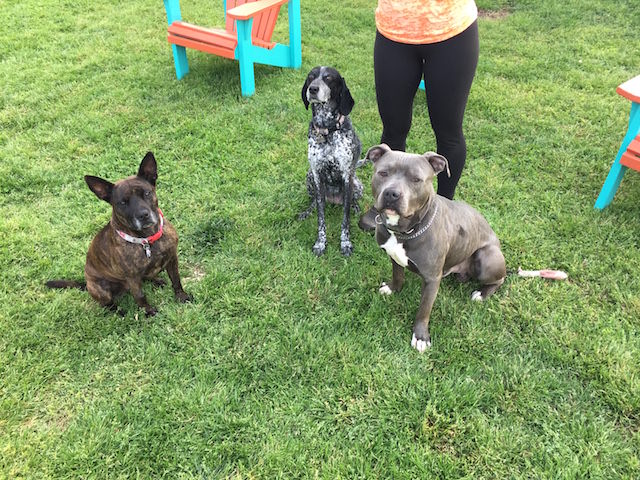 SOURCE: DINODUCKASAURUS VIA IMGUR
The post reads:
George has SLOWLY been learning the rules and how to be a good boy. It's hard to be angry at him when he doesn't listen or does something wrong. It was obvious he [wasn't] ever really trained so he really just doesn't know any better. He is now sharing his toys (kind of), responding to basic commands and starting to get "fetch" down.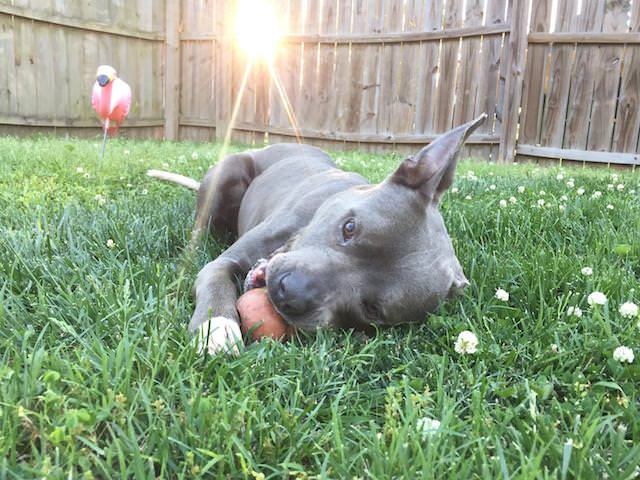 SOURCE: DINODUCKASAURUS VIA IMGUR
Always nice to have a vet tech on hand. He's getting used to his monthly bath, teeth brushing and nail clipping. This is my girlfriend checking him out. He's very submissive so it's easy for her to get him down on the ground which is nice since George is now over 70 pounds.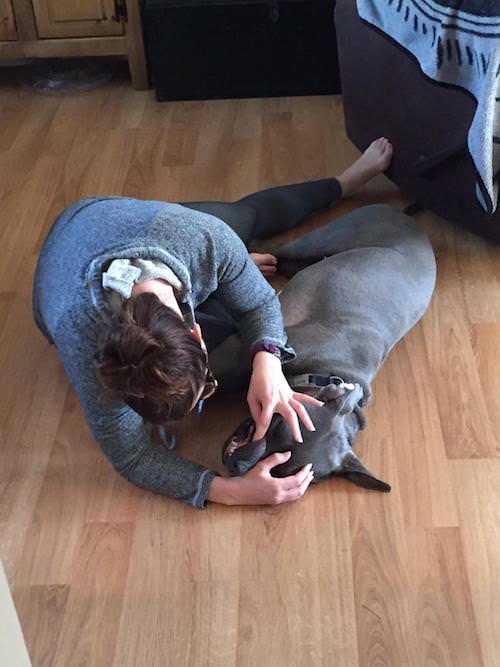 SOURCE: DINODUCKASAURUS VIA IMGUR
So now we have 3 dogs and less money, but it's worth it when we see him now and remember how he was when we first met him.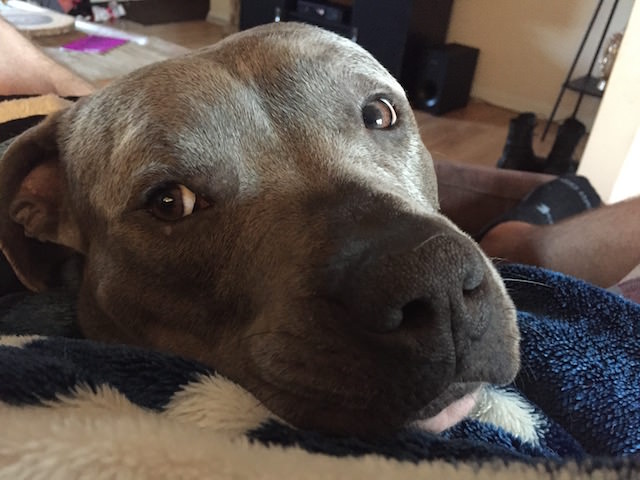 SOURCE: DINODUCKASAURUS VIA IMGUR
I do miss my recliner though…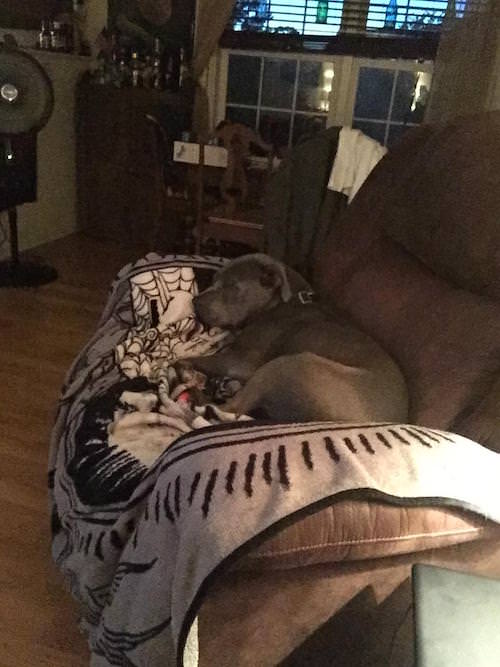 SOURCE: DINODUCKASAURUS VIA IMGUR
We're so glad that this beautiful boy is in a forever home where he gets all the love and care that he deserves! There's no doubt that this lucky pup will be living the good life forever.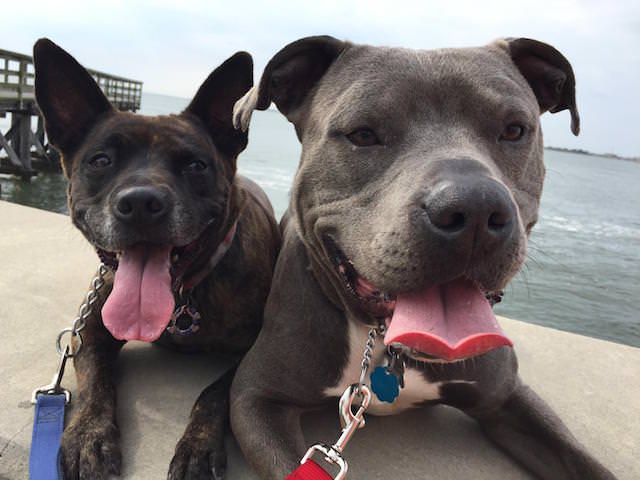 SOURCE: DINODUCKASAURUS VIA IMGUR
(h/t: dinoduckasaurus via Imgur)