<!– 336×280 ad unit –>
Lt. Dan, a nine-week-old white German Shepherd puppy, was the only pup in a litter of nine who was born missing a front paw.
When breeders suggested he be euthanized, his owner Karen Riddle refused to give up on him.
Instead, she decided to search for a special child or wounded veteran who Lt. Dan would be a perfect fit for. She decided to call Shriners Hospital, where she learned about Sapphyre Johnson, a three-year-old girl who was born without feet, along with missing fingers.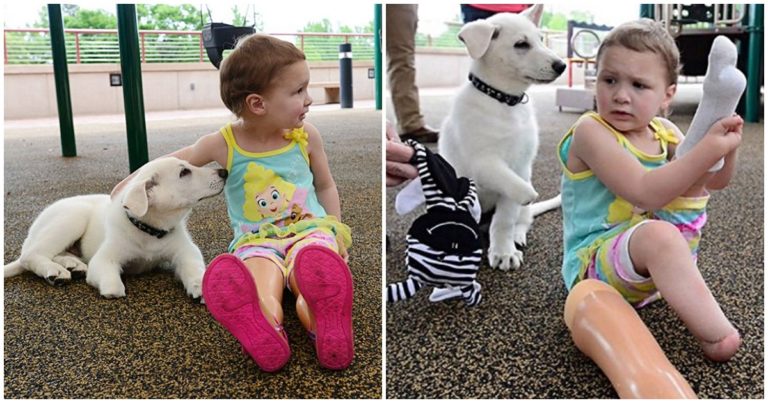 humankind/youtube
Riddle knew that Lt. Dan would have a great home with Sapphyre and would serve his special purpose there. The Johnson family also agreed that the two of them would be a perfect match.
"The first time I showed her a picture of the dog, she looked at it for a moment, and she said, 'That's my puppy. He's just like me,'" Elaine Hardin, Shriners child life specialist told USA Today. "He's a special dog and he's going to a special child."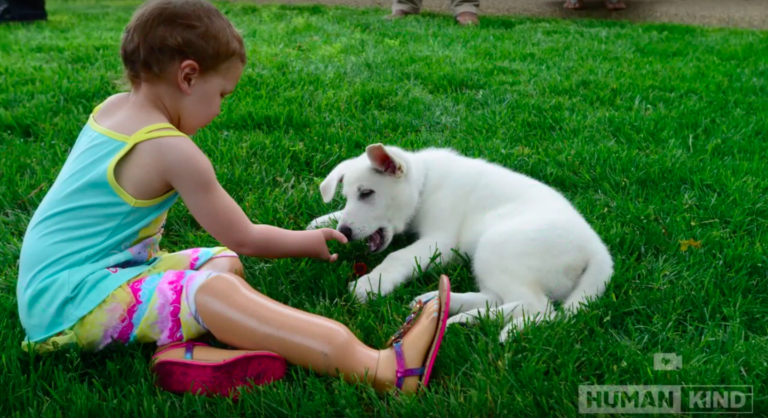 humankind/youtube
When the two of them met, they bonded instantly. Sapphyre's father lit up with joy as he watched his little girl toss a toy to the puppy.
Fate definitely brought these two together, and Lt. Dan will help Sapphyre make friends and feel more confident with her disability.
Shriners has even offered to make Lt. Dan a prosthetic paw to match Sappyhyre's prophetic legs.
Please 'SHARE' to pass on this story to a friend or family member