<!– 336×280 ad unit –>
1. Bulldog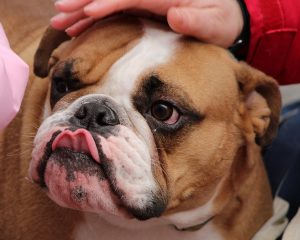 The bulldog has a sturdy build that is perfect for kids who like to roughhouse. Only between 12 and 16 inches in height and weighing about 50 pounds, the bulldog is comfortable living in large houses as well as apartments. However, he won't win any awards for most energetic dog. A docile, friendly and loyal dog, he gets along well with dogs and other pets too.
More: Top 10 Reasons Why Owning An English Bulldog Is The COOLEST Thing Ever
But their temperament with kids is all but famous. As intimidating as they look, they're friendly and gentle with kids and known for their guarding capabilities and courage.
Next Up: Boxer