<!– 336×280 ad unit –>
Recently, a visitor on a hike at Mount Apo learned what can happen when you treat wild animals like domesticated ones.
Mount Apo is Philippines' tallest mountain at 9,692 feet.
The hiker was part of one of several groups at the mountain that decided to approach the wild pig to give it food and take pictures.
However, the hungry animal had enough after a point and reacted. The incident was caught on video and shared on The Strolling Mind Facebook page, owned by video creator Kim dela Calzada.
"Out of the many, one curious hiker tried to touch it, slowly, like any other animal you want to pet on your first encounter. However, the wild pig, as its nature, attacked him 'after feeling threatened,'" she said in her post.
She added that the hiker was entirely safe and just had some rips in his jacket after the attack.
del Calzada followed up with a second post containing a screenshot of a message from the man in the video, Rivera Ronel, who tried to explain that he had only been trying to pick up trash near the hungry pig when it turned on him.
Ronel also apologized for his action.
"Sana maging aral ito sa akin at sa iba pang kasamahan ko sa larangan ng mountaineering at maging aware sa lahat ng bagay pag nasa ganitong sitwasyon," he said.
When translated, his message reads, "I hope this would be a lesson to me and my fellow mountaineers to be aware in these situations."
In a Facebook post, DENR-Davao–the Department of Environment and Natural Resources-Davao Region–reminded hikers to act carefully and to respect the wild. They especially reminded visitors to avoid provoking wildlife.
"Once again, we are reminding everyone, especially trekkers and climbers, to keep your distance from wild animals and refrain from provoking them," the agency said in a post.
"Much more, DO NOT FEED them so they wouldn't lose their instinct to independently hunt for food," the agency also said, adding "If you see them, let them be."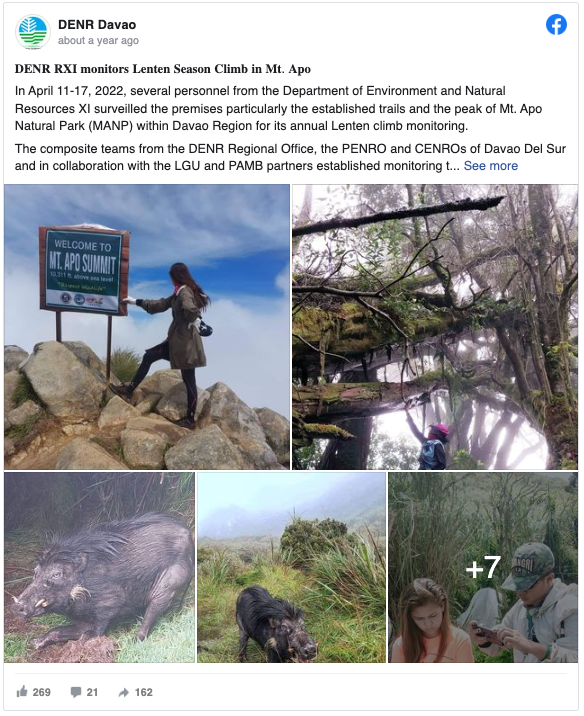 READ MORE