<!– 336×280 ad unit –>
(WARNING: GRAPHIC CONTENT)
UPDATE:
Charges have been filed by the District Attorney's Office against Elaine Rosa, who was accused of dragging a dog behind her on a scooter until his paws bled.
Rosa has been booked for one felony charge of cruelty to an animal and one misdemeanor charge of failing to provide animal care. The felony carries a maximum jail sentence of three years, as well as a $20,000 fine.
Rosa's Attorney, Bo Koenig, released the following statement:
"We were recently advised by law enforcement that official charges have been filed against my client. I've reached out to my client and we plan on cooperating with law enforcement 100 percent. She is in the process of turning herself over to the authorities this evening."
As of February 16 at 8am, Rosa has posted bail and is no longer in custody.
Rosa has also since lost her job as a contracted psychologist at Kern Valley State Prison. She had been in that job for just over a year.
Original story:
A woman in Bakersfield, California was caught on surveillance video riding at least 15 mph on an electric scooter, dragging a dog behind her on a leash until his paws bled.
The surveillance system that captured the horrific scene belonged to James Dowell, who posted the video on his Facebook page. The video quickly went viral, causing an uproar from people all over the country.
The woman stopped her scooter when she was confronted by two cyclists, one of whom was Brandon Sanders. Sanders described the incident and confrontation on his Facebook page, saying he watched the woman drag the dog, who was lying on his side, at least 100 yards.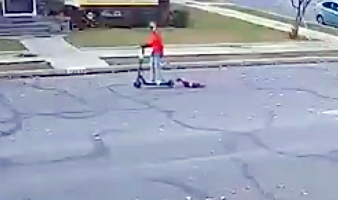 Facebook/James Dowell
Sanders followed the woman all the way back to an apartment and confronted her. She responded with "Sh*t happens, just like with kids!" Then she posed for a picture, sporting a big smile while holding the bloody dog.
She then told Sanders that she was going to call the police on him for harassment, but Sanders called the police first.
The little mixed-breed pup, named Zebra, was picked up by Animal Control Services and has received medical attention for his injuries. He's expected to make a full recovery.
Upon further investigation, the Bakersfield police learned that the woman in the video is not the owner of the dog. With that being said, Zebra will remain in the care of the legal owner.
According to Bakersfield Now, the woman with the scooter has hired an attorney who issued a statement: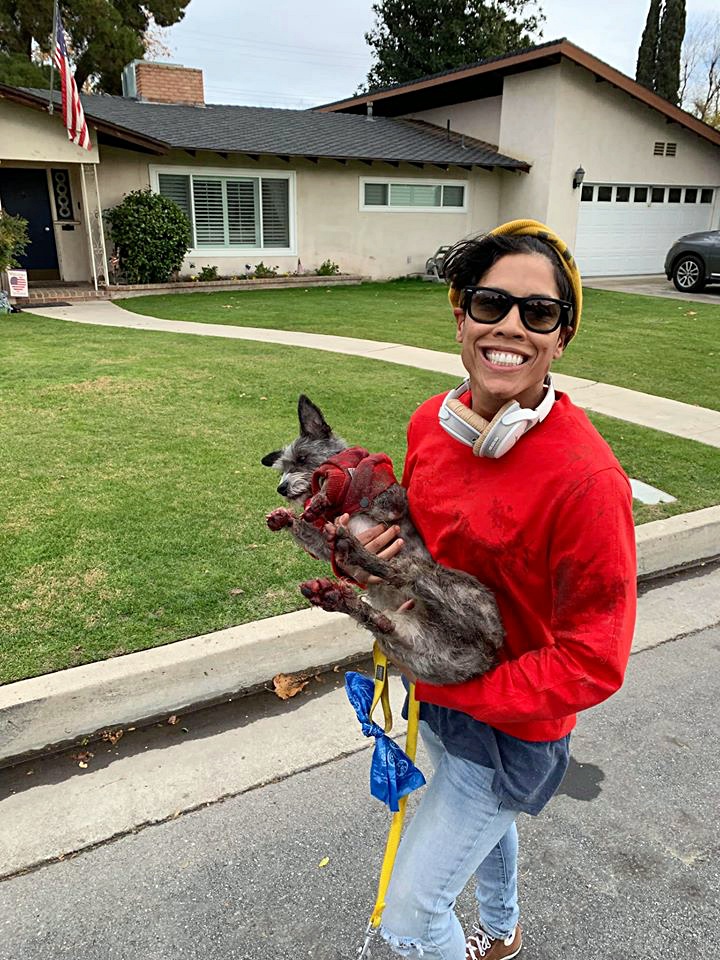 Facebook/Brandon Sanders
"We have been 100% cooperative with the Bakersfield Police Department and their investigation. My client loves animals, especially Zebra, the dog who was shown in the video. We are confident that once law enforcement has concluded their investigation that this will be ruled an isolated incident. The dog is doing great and expected to have a full and short recovery."
Sanders hopes his post will bring awareness to others about these types of actions. "We need to be more aware of what we expose our pets to and do our best to always keep them safe," he wrote.
According to the Bakersfield Police Department's news release, the authorities have completed their investigation into the report of animal cruelty that was received on January 6.
"Today, a criminal complaint was submitted to the Kern County District Attorney's Office against Elaine Rosa, 39, of Bakersfield, who was identified as the suspect in this case, requesting a charge of PC 597(b) Animal Cruelty," police said.
Please 'SHARE' to pass on this story to a friend or family member