Many of us forget to count our blessings. We go about our day, often forgetting that we have much more than many others. Some people can barely afford their next meal, much less a roof over their heads.
This is the story of Mark Spencer, a homeless man from Huntsville, Alabama, who had nothing in the world but his best friend, Wilbur, a three-year-old mixed breed.
But on October 14th, he found himself left without even his best friend.
The authorities took Wilbur, and kept him at the local pound. Spencer had neither the resources nor the funds to meet the bail set.
With no options left, he used his limited resources to the best of his ability.
He fashioned a cardboard sign, on which he wrote, "Dog in pound. Need help."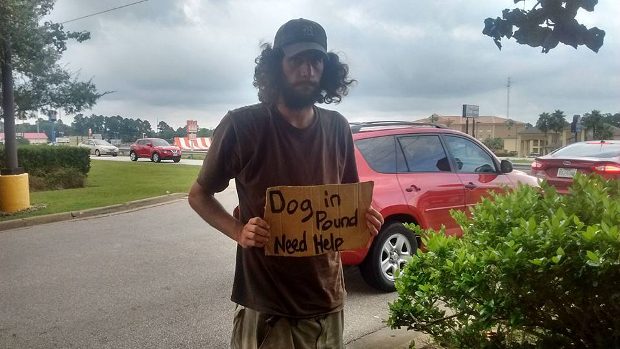 Source: yourdailydish.com
It was enough to touch the kind heart of Elizabeth Masterson.
A 29-year-old from Huntsville, Masterson happened to be driving out of the parking lot where Spencer was holding his sign. Herself a dog lover, she knew she had to help.
She stopped and ask him if he needed help. Tearfully, Spencer told her the story about Wilbur, and the fees that he could not possibly afford to meet.
Masterson didn't even hesitate.
"No problem. I'm happy to help if I can." She thought to herself, how much could it really be to get a dog released from the pound?
That's when Spencer broke the rest of the bad news. Wilbur's bail was set at $120. Not only did Wilbur have base impound fees, but he also required a full flee wash and shots before the authorities were allowed to release him. Both of which cost extra.
Having just been laid off from a job, Masterson was in no position to help him pay Wilbur's fees. In fact, she only had $20 on her. But she knew that she had promised to help.
She asked him to wait, saying she would be back to help. She first called the pound, to confirm his story, then went to some friends for a loan.
Two hours later, she returned to the lot, picked up Spencer, and drove to the pound to get Wilbur.
He cried tears of joy the whole way.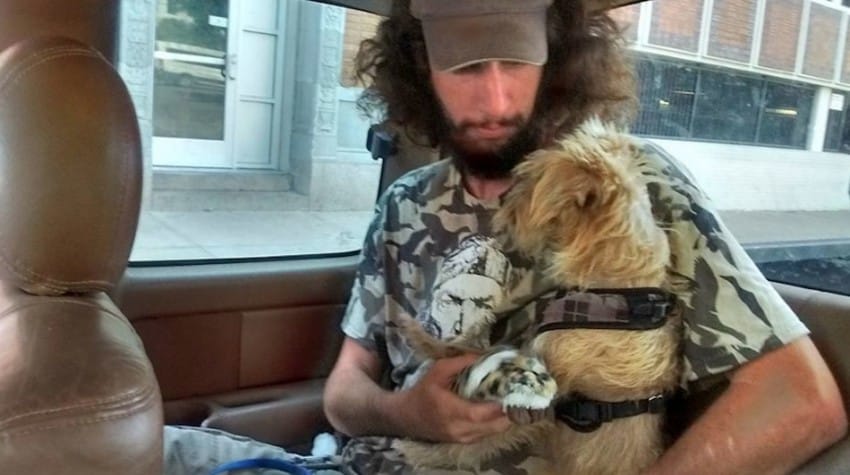 Upon seeing Wilbur again, Spencer "raced in there and scooped [Wilbur] up in a big bear hug." He was overjoyed to see his best friend again.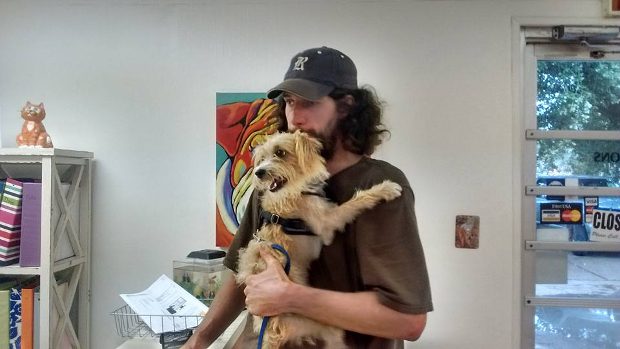 Source: yourdailydish.com
But his luck didn't end there. Spencer also learned that there was a job opening at the pound, and applied. If he gets it, he hopes that he can finally get a home and get off the streets that he and Wilbur have been living on.
As for Elizabeth Masterson, she refuses to take any credit for what she did for him.
"At the end of the day, you can't put a price on a loved pet, and I'm happy I could help Mark and Wilbur."
Please SHARE this incredible story with your Facebook friends.