Columbus Fire Lieutenant John Wisenbarger was in the middle of his shift in Franklinton, Ohio, when someone began pounding on the station's door around 11:30 pm.
It was a woman named April Speakman who was pleading for help and was holding what Wisenbarger thought was a baby wrapped in a blanket.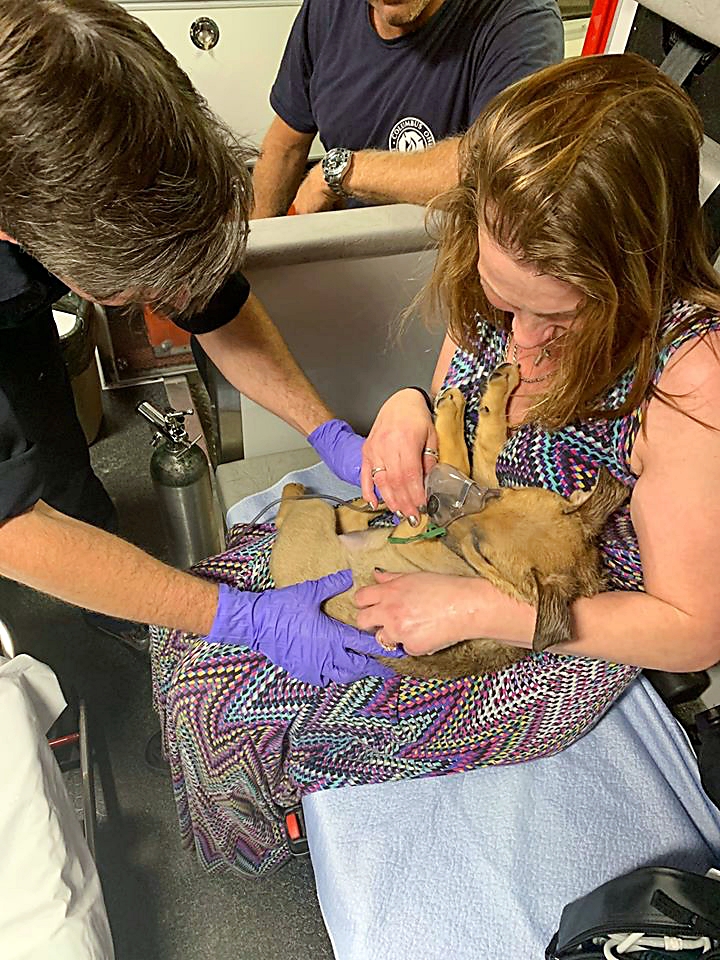 Columbia Division of Fire/Facebook
He told her to quickly head to the medic truck around the corner, where medics John Hagan and Mike Canter were working.
Medics discovered that inside the blanket was not a child, but instead a puppy who was in dire need of medical attention.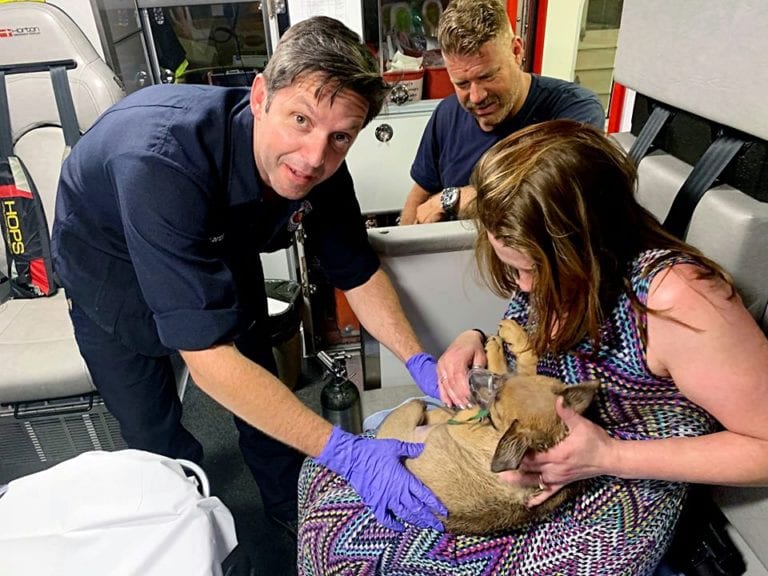 Columbia Division of Fire/Facebook
Speakman and her puppy, a 12-week-old German Shepherd-Bull Mastiff mix named Elo, were out on a walk when Elo picked up a piece of plastic that was on the ground. Speakman quickly took the plastic out of his mouth, and they continued on their walk.
But when they got home, Elo wasn't himself. He began acting weird and then all of a sudden passed out and went totally limp. He was hardly breathing and Speakman knew something was wrong.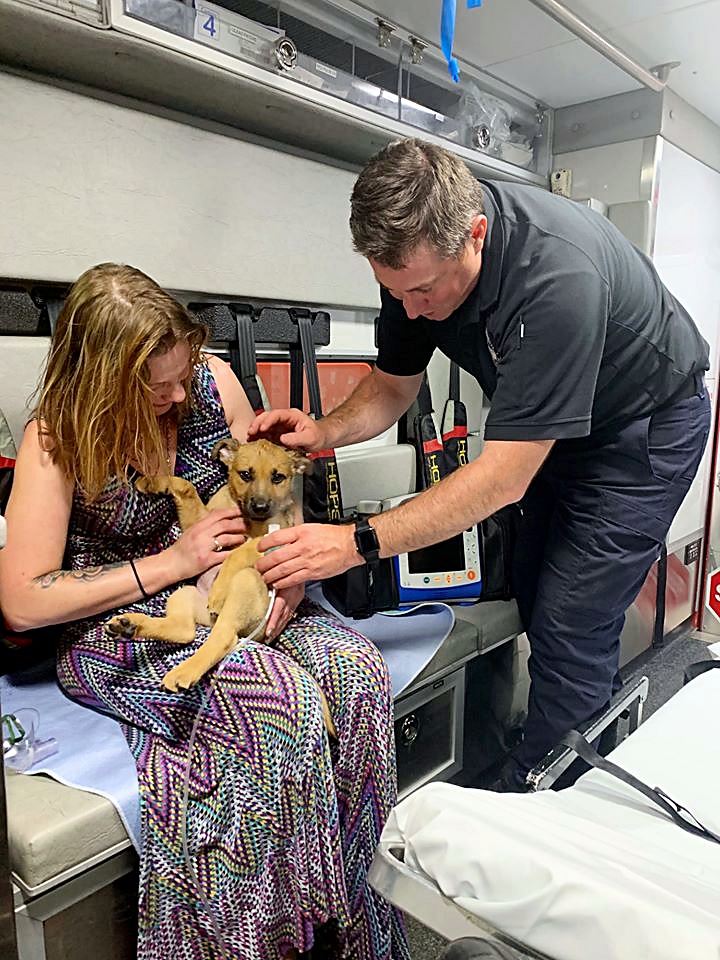 Columbia Division of Fire/Facebook
She brought him across the street where her friends worked, and they tried splashing water on him but it didn't help. His breathing then stopped, and his tongue was hanging from his mouth.
That's when Speakman ran to the Fire Station up the street.
Elo had respiratory depression, which is better known has shallow breathing. The medics used their prior training and quickly used assessed the situation.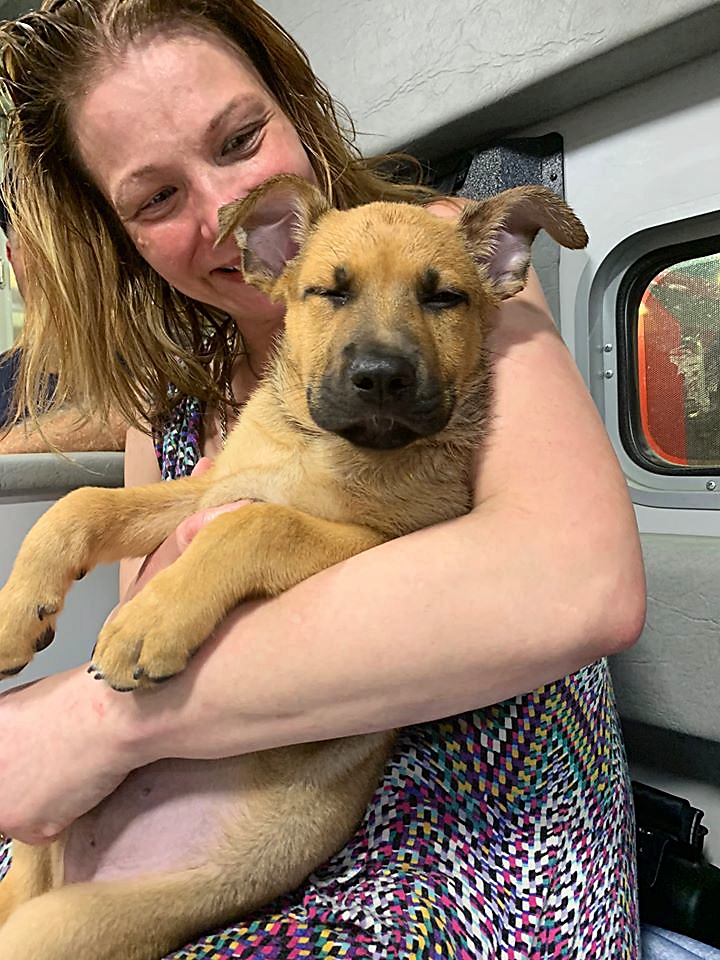 Columbia Division of Fire/Facebook
"The puppy's pupils were also non-reactive and somewhat contracted considering the time of night," Medic John Hagan said. "Given the symptoms and the fact the puppy was non-responsive to both verbal and physical stimuli, these are class signs of an opioid overdose."
Medics used a pediatric nebulizer mask to administer the overdose reversal drug Narcan to the puppy, which is safe and effective for dogs. They also gave him oxygen.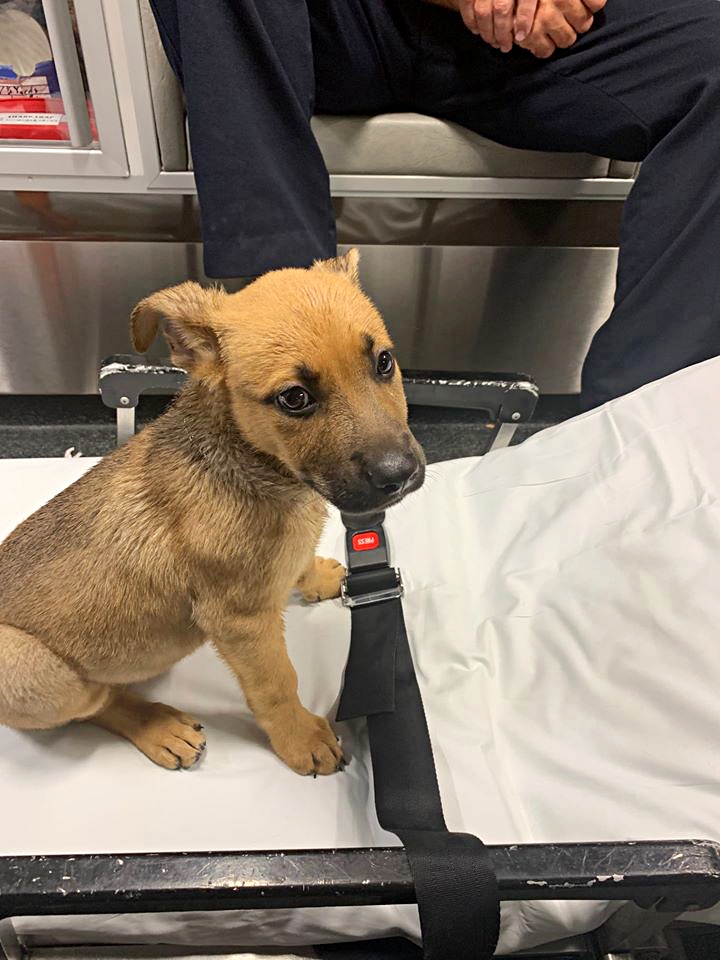 Columbia Division of Fire/Facebook
Four minutes later, Elo's breathing began to improve and he opened his eyes and started looking around. Once he grew playful with the crew, everyone exhaled. They were relieved that the revival was a success.
Thankfully, Elo is doing great and will enter service dog training in a few weeks.
Speakman hopes this story will bring awareness to the current drug epidemic, and will encourage pet owners to be aware of debris outside that their dogs may get into.
H/T to NBC 4 & Columbus Division of Fire.
Please 'SHARE' to pass on this story to a friend or family member