<!– 336×280 ad unit –>
2. Yawning when you yawn.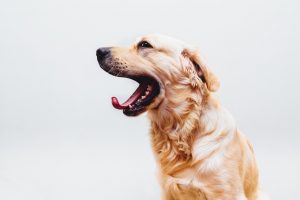 Yawning is contagious. But did you know this impulse isn't limited to just humans?
Dogs, because they've been bred to read humans, also yawn when someone they love yawns.
A study found that when humans echo another's yawn, it's because they're empathetic, like sympathy pains. It's impossible to measure if dogs are empathetic, but it's possible that a dog yawning the same time as a human happens because the dog has bonded with that person.
The study also found that dogs were more likely to yawn when their owners yawned, as opposed to a stranger.
Move on to the next page to learn how else your dog shows love!