<!– 336×280 ad unit –>
For many people, retirement is a golden opportunity to finally pursue long-held interests they never had time to fully explore. And this was no different for Eugene Bostick.
Not long after retiring, he began following a new lifelong career, as a train conductor for rescued stray dogs.
Bostick, an 80-year-old senior citizen from Texas, spent his days operating one of the coolest trains in the world. His homemade train would take rescued stray dogs out for rides around the neighborhood.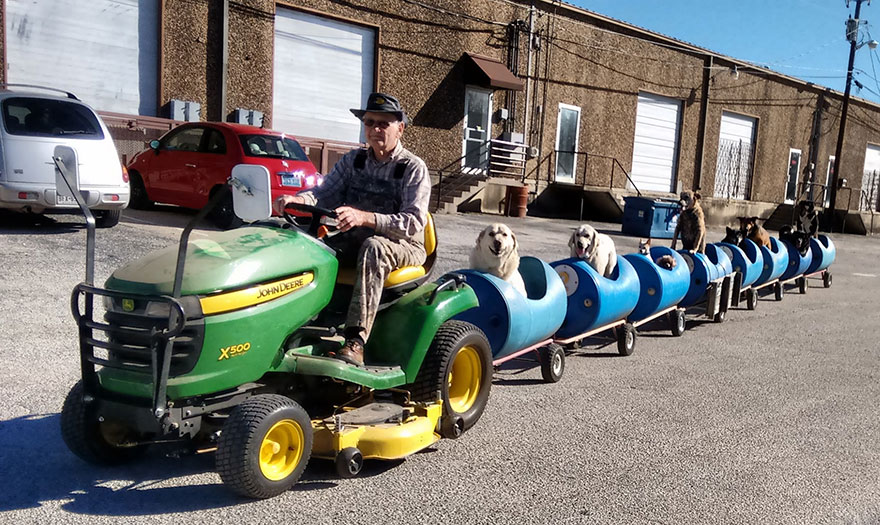 Image Credits: unknown
Bostick told The Dodo that he never actually planned on dedicating his golden years to saving needy dogs.
But rather, it started in response to the heartlessness of other people that forced him to take on the duty of helping needy pets as he couldn't bear to see abandoned dogs being left to starve on the streets.

Image credits: Satci
"We live down on a dead-end street, where me and my brother have a horse barn," "People sometimes come by and dump dogs out here, leaving them to starve. So, we started feeding them, letting them in, taking them to the vet to get them spayed and neutered. We made a place for them to live.", Bostick told The Dodo.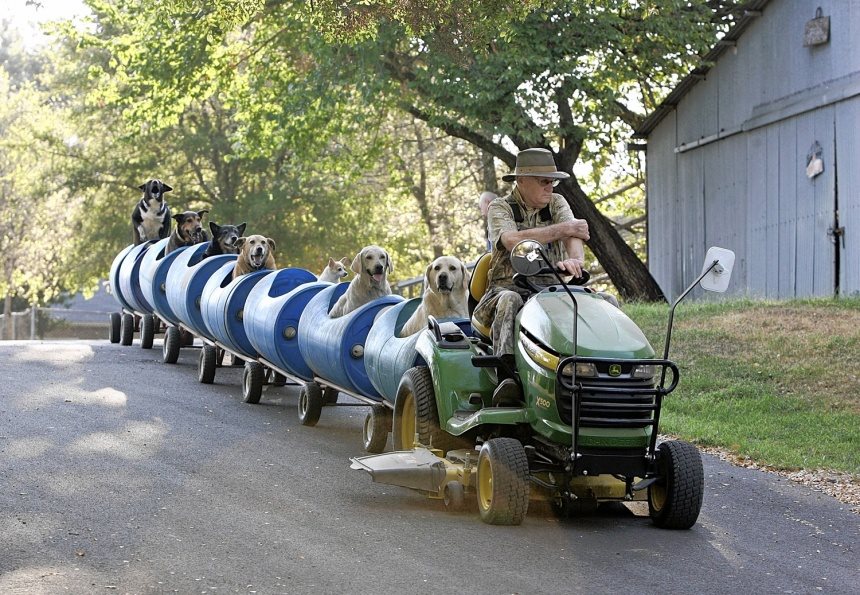 Over the years, Bostick took in hundreds of abandoned stray dogs. He gave them a place to live, with more than enough food and care, but best of all — he found the most adorable way to keep them happy.
Even though the dogs had plenty of room to roam freely around Bostick's farm, he still thought it would be nice to be able to take them out on little excursions.
However, he quickly realized walking several dogs at once is no easy feat. That is when he was inspired to build a canine-specific form of transportation just for them.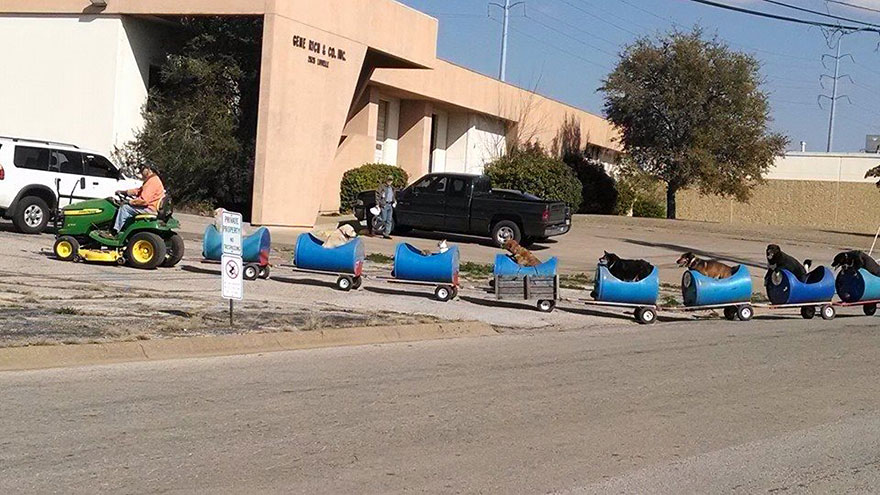 "One day I was out and I seen this guy with a tractor who attached these carts to pull rocks. I thought, 'Dang, that would do for a dog train,'" "I'm a pretty good welder, so I took these plastic barrels with holes cut in them, and put wheels under them and tied them together.", he told The Dodo.
And just like that, it was all aboard dog train.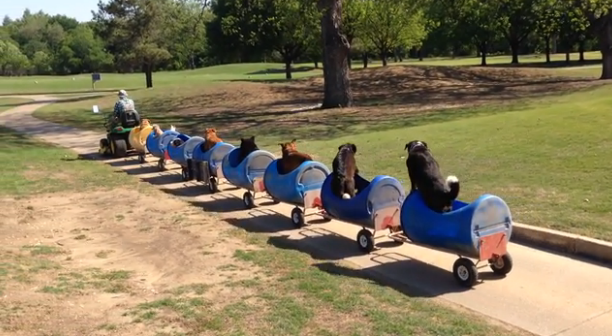 Once or twice a week, Bostick would take the dogs under his care around the quiet streets of the town or through the surrounding woods close to his home.
It's something the formerly unloved dogs have come to relish in their happy new lives.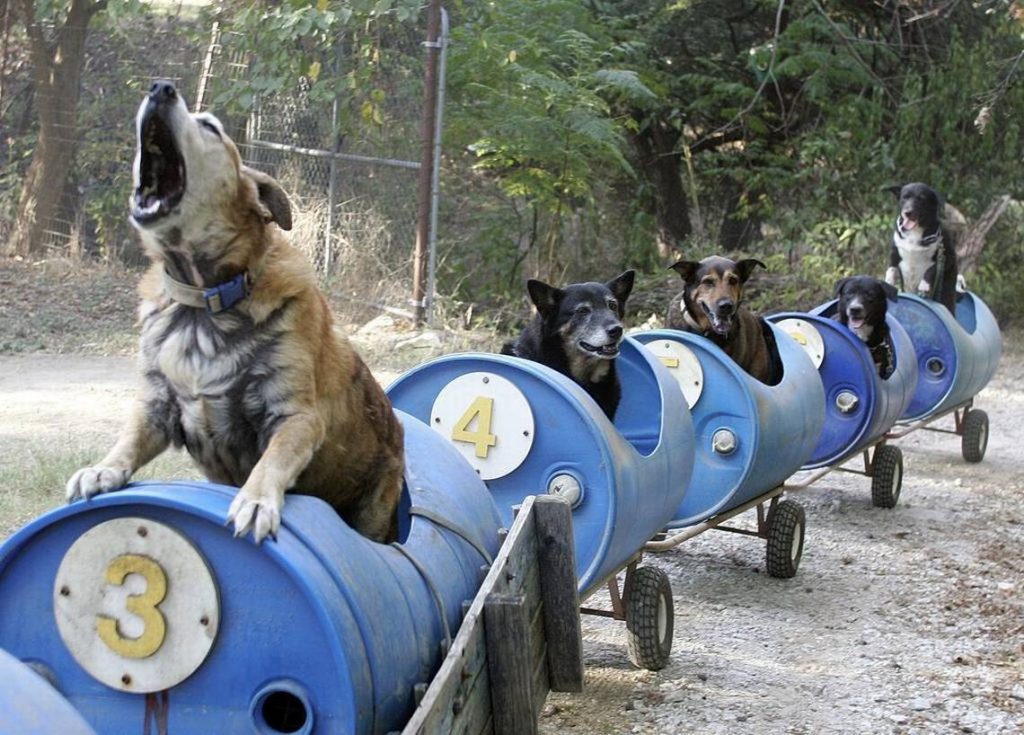 "I'm getting up in age. I'm 80 now, so I suppose it can't last too much longer, but I'll keep it going as long as I can, "The dogs have a great time. They just really enjoy it."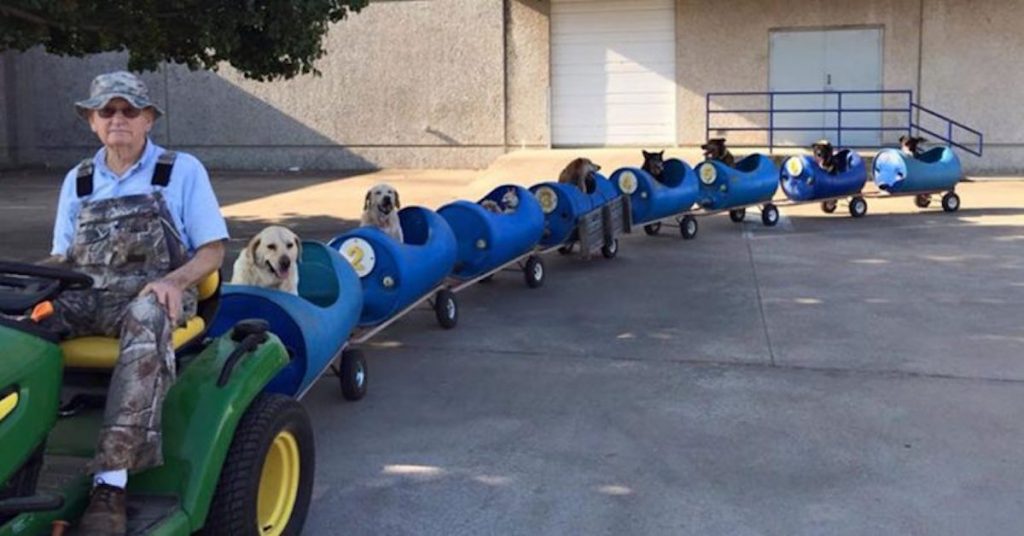 Image credits: Tiffany Johnson
Please SHARE this story with your friends and family!
Scroll down for a video about their heart-warming dog train: