<!– 336×280 ad unit –>
Bart and Babs are two dogs who are the best of friends. Not only are they inseparable, but Babs depends on Bart to get around.
When DFW Rescue Me took in these sweet pups a year ago, Babs had glaucoma. It got so bad and became very painful, so she had to have both of her eyes removed. Ever since then, Bart has been a 'seeing-eye dog' for Babs.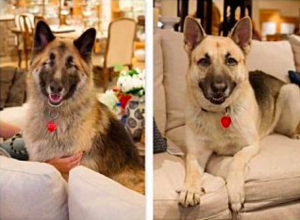 DFW Rescue Me
Babs follows Bart's lead, doing whatever he does and going wherever he goes. If Bart goes into a room, Babs follows. If Bart goes on the couch, Babs goes on the couch too. Watching Babs, you wouldn't even know she doesn't have eyes!
These two best friends are available for adoption, and must stay together of course! But the rescue knows finding them the perfect home won't be easy.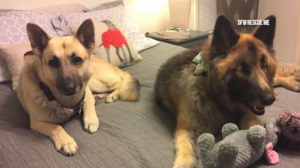 DFW Rescue Me
"The difficult thing on finding them homes is they really need to be the only dogs in the house, because Bart is a little protective of Babs and wants to be sure that she's all right. And that's a little difficult, because not all homes are ready to go from zero dogs to two," Jim Wenger, of DFW Rescue Me, told Fox 8 Cleveland.
Hopefully this dynamic duo will find a loving home together as soon as possible. They deserve the best care and all the love in the world. At least no matter where they end up, they will always have each other! Babs is definitely grateful to have Bart to lead the way in life!

DFW Rescue Me
Babs is estimated to be about four years old, while they believe Bart to be around three. If you're interested in giving this pair a home, visit AdoptAPet for their adoption listing.