<!– 336×280 ad unit –>
Cynthia Bennett, an avid hiker, knew her adventurous world would be much more complete with a furry friend at her side.
She and her boyfriend came across Henry at an adoption event. He was only 14 weeks old but was already MUCH larger than the other puppies around the same age.
Bennett made her way inside his pen and that was when Henry made his way over to her, flipped onto his back and laid his head right onto Bennett's lap. Henry made it very clear who he wanted to go home with!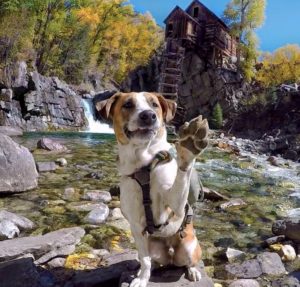 After only having Henry a few days, the family went on their first hike. Henry found the steepest little rock to climb, scrambled to the top and looked over at his new world. Seemed Henry would fit in with his new family just fine!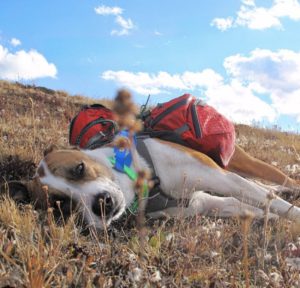 Just a few months ago, the family decided they wanted to adopt another rescue pet to join in on their adventures. Bennett decided a little rescue kitten would make Henry really happy. After searching the shelters, she came across a little Siamese mix named Baloo.
Henry and Baloo pretty much fell in love right away. While cats don't traditionally go on hiking adventures, it seemed Baloo was made for the great outdoors! As soon as the family gets ready to go and picks up Henry's leash, Baloo cries to go with them!
As soon as Baloo showed interest to come along with his new family, Bennett started harness training. It didn't take long for the little cat to catch on— he was completely motivated to be outside, experiencing the great outdoors with his parents and best friend, Henry.
Their adventure photos are so sweet to look at, that your teeth may actually ache at the mere sight of their adorable bond!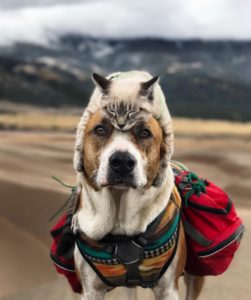 "Henry has become the best big brother and always checks on him to make sure he is doing okay," Bennett wrote in an Instagram post. "He couldn't be fitting into our little family any better and we just love him to the moon and back."
It doesn't get more paw-recious than this!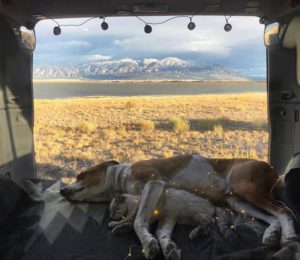 Here's to a life full of adventures!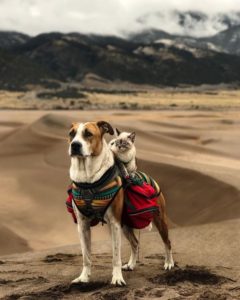 https://www.instagram.com/p/BcBQAW0B456/?utm_source=ig_embed
Photos and video courtesy of their paw-parents, via Instagram
h/t The Dodo
Please 'SHARE' to pass on this story to a friend or family member