<!– 336×280 ad unit –>
This story is unlike any we've heard and it simply goes to show that dogs are MUCH smarter than we give them credit for. This stunning greyhound, found by Lianne Powell, was painfully wandering the streets of southern Spain.
She was quickly taken to a local veterinary hospital. There, vet Ellen Sobry treated her for a badly broken leg. They also noticed she was severely malnourished and she was producing milk. That could only mean one thing: she had very recently given birth.
Powell and Sobry instantly began the hunt for these missing puppies, but sadly came up short. There were no puppies nearby, and that was heartbreaking.
Sobry came back to the mama dog and put a collar and leash on her. She instantly began walking to the best of her abilities. They knew that this mama might be able to show them right where her babies were.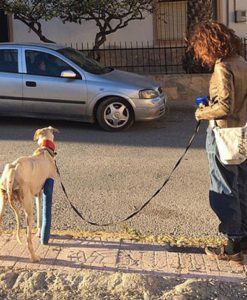 "She knew where she was going," Sobry said. Sure enough, the mama dog lead them with determination for TWO MILES. Remember, this mama is limping on a broken leg still.
"Limping and at times dragging her cast, she led us along the back streets and main roads, over the fields and along muddy tracks," Powell said.
The two women soon became concerned that the greyhound was simply wandering around trying to find her home. Suddenly, they came upon an abandoned house and car. From the look of the greyhound's face, they knew they had arrived.
MOVE ON TO THE "NEXT PAGE" TO READ THE REST OF THE STORY…