<!– 336×280 ad unit –>
Hunting practices have always been a divisive topic in the US and its impact on our wildlife has been contested heavily between the two parties that sit on either side of the fence. Agendas aside, what can be agreed upon is that the methods in which these killings are carried out make a huge difference and that certain laws exist to protect animals and ensure that the practice is not abused.
The U.S. Senate have voted 52-47 to permit savage and barbaric hunting tactics on Alaskan federal wildlife refuges and overturn existing regulations put in place to protect our wildlife.
Now under these new laws, killing hibernating bears and wolves in their dens will be legal, as will luring grizzly bears with food and shooting them and point-blank range. Hunters will legally be allowed to shoot bears from airplanes and steel-jawed leg hold traps will be allowed on these lands.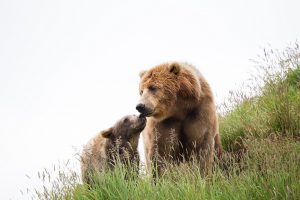 This places the lives of an innumerable amount of animals across the 76 million acres of Alaskan federal wildlife refuges in the hands of President Donald Trump.
Prior to the vote, U.S Senator Cory Booker warned that this bill contained cruel, savage and inhumane practices for killing animals. The resolution was introduced by U.S. House Representative Don Young – a former trapper himself.
A poll conducted in Alaska showed that most people agree that these practices should be banned – and yet here we are.
"What the Senate did today should outrage the conscience of every animal lover in America," Wayne Pacelle, president and CEO of The Humane Society of the United States (HSUS), said on Tuesday after the Senate passed the resolution.
"Inhumane hunting methods have caused the overkilling of native Alaskan predators; this rule takes a balanced approach allowing for traditional, permit-based hunting," then-Representative Mike Fitzpatrick (R-PA) said last year after the cruel practices were banned.
Special interest groups have been fighting tirelessly to strip the federal government of its authority over these lands. "Special interest groups are quietly working at the federal and state level to lay the groundwork for federally managed lands to be handed over wholesale to state or even private ownership," Dan Ashe, then-FWS director.
"Unfortunately, without the protections of federal law and the public engagement it ensures, this heritage is incredibly vulnerable." he said.
These new laws have deeply concerned animal lovers worldwide. Overturning existing regulations that protect predatory wildlife in Alaska, and introducing these new unfathomably barbaric laws is entirely unnecessary and immoral.
Please SHARE this with your friends and family.