<!– 336×280 ad unit –>
Is it a cloud? A ball of fluff? Some cushion filling? A cotton ball? No, it's just Tori, the fluffiest, most adorable puppy you may have every seen.
The dog, which is a Bichon Frise, lives in Daegu, South Korea with her owners, who post incredibly cute photos of the dog to their Instagram account.
Like many other Bichon, Tori has soft white fur. But unlike her canine counterparts, Tori also has a huge head of perfectly spherical hair.
Scroll down for video.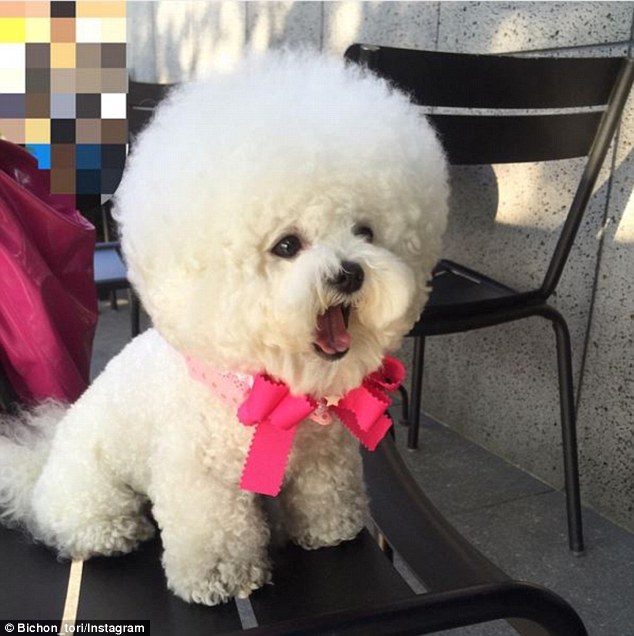 Little Tori the bichon frise may be one of the cutest doggies we've ever seen.Unlike other dogs of her breed, she has a perfectly round hairdo.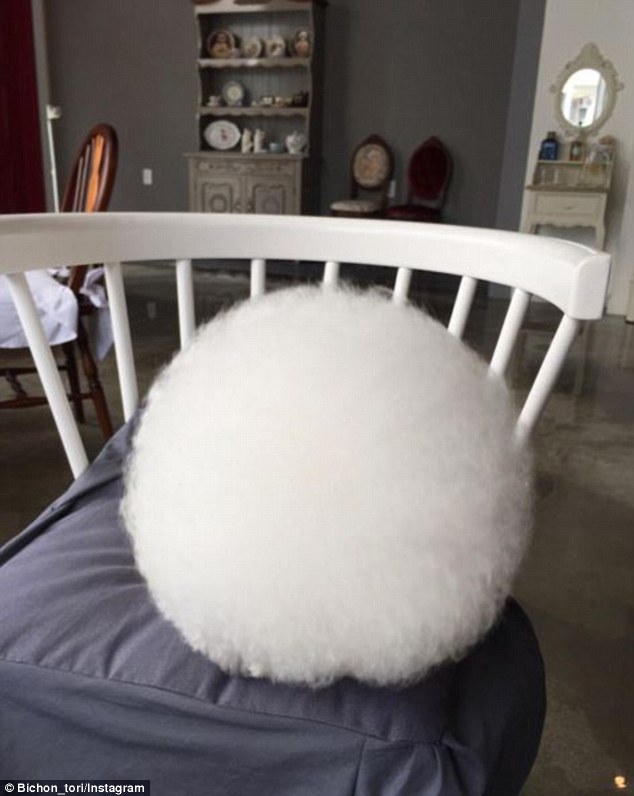 It is so circular that, when she sleeps, she looks like a giant cotton ball taking a snooze!
The hair is so perfectly groomed to look like an afro that when Tori is sleeping the dog appears to be nothing but a giant ball.
The breed of dog is known for its short, curly hair that is similar to that of a poodle's. Bichon's tails are often left to grow long and groomed carefully.
However it's not often the dogs are seen with such copious amounts of hair on their head, especially hair that is so well-groomed.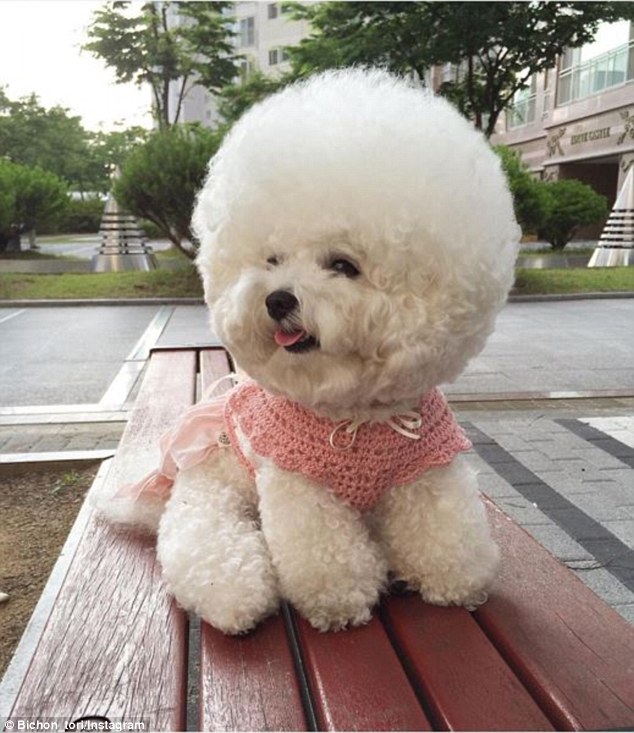 Where as other bichon frises have tight curls that are usually kept very short, Tori's tresses are thick and puffy.
She lives in Daegu, South Korea, with parents who clearly love to take photos of their fluffy little baby.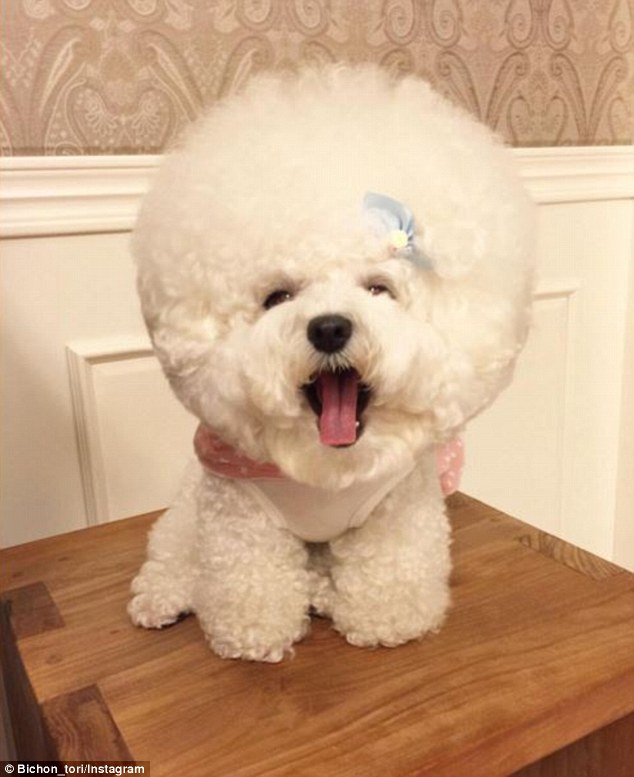 Some of Tori's Instagram followers have compared the dog's do to an afro.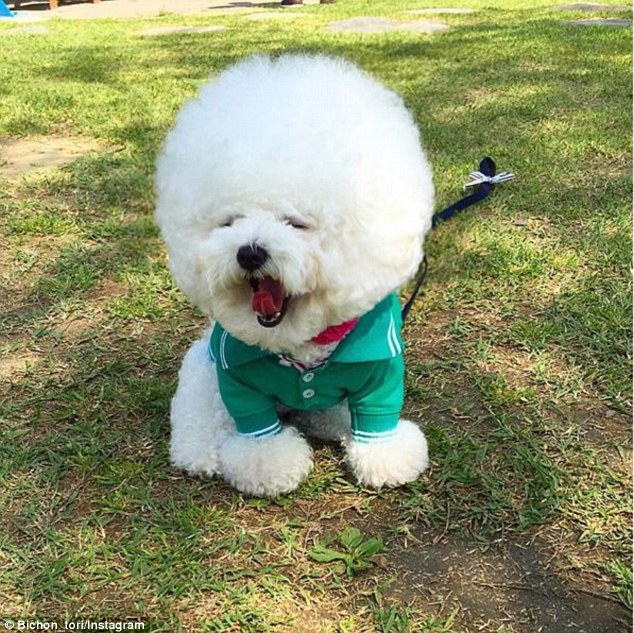 Tori's owners also dress their dog up in numerous outfits, like polo shirts (above), dresses and jumpers.
Tori has gained a large and dedicated following on Instagram, with strangers from all over the world in love with the adorable dog.
The dog has more than 93,000 followers, all of whom are amazed by Tori's hair.
'When ya hairs lookin super flyyyyy cause you got a date and ppl to see!!' one commenter wrote.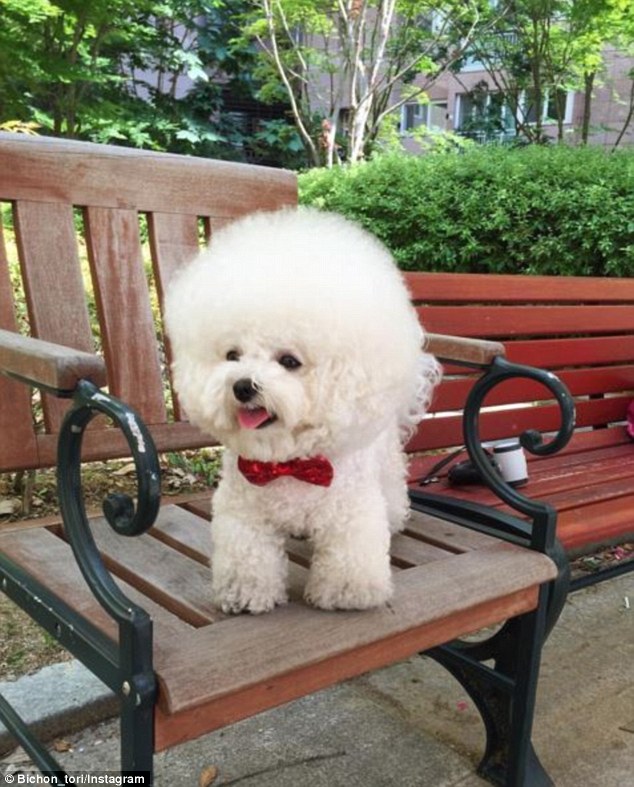 Dressed to impress: Tori also often rocks accessories like bow ties, hair bows and ribbons.