<!– 336×280 ad unit –>
Anyone who is lucky enough to be loved by a dog is living a pretty darned good life. Nick Kime knows this and never takes a moment of time spent with his dog, Riley, for granted. The two have been inseparable since Riley entered Nick's life at the tender age of six weeks. Fast forward a bit and Riley is now six years old, but his bond with his dad has grown stronger with each passing year.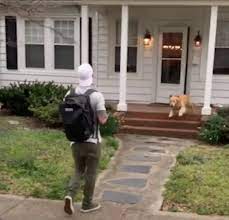 Nick started posting videos of Riley's reaction to seeing him come home every day. The dog would wait at the door, see Nick walk up the sidewalk, and run into his arms as if he hadn't seen his dad in decades. Not only does Riley greet his dad with mega love and snuggles, but the duo has a routine that includes watching television, sharing popcorn, reading bedtime stories, and wearing pajamas.
"A lot of people think that was trained but honestly, the second he was old enough and big enough to spring and jump that high, he started doing it on his own," Nick said.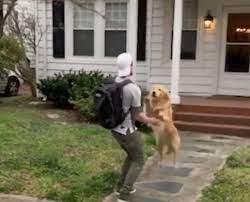 When Nick started Riley's social media account in 2016, people started to notice the adorable doggo and his dad. Riley has been on commercials, national television shows, but most of all, he is the keeper of his dad's heart.
Press play on the video below to see this dynamic duo in action.