<!– 336×280 ad unit –>
Dr. Andy Mathis became media famous one year ago when he did something pretty amazing. A sweet but timid homeless Pit Bull, named Graycie, was brought into his clinic. She was refusing to come out from the corner of her cage, and she had not eaten a bite of food.
So, Dr. Mathis went inside her cage with his food and ate next to her until she felt comfortable enough to eat. And… it worked!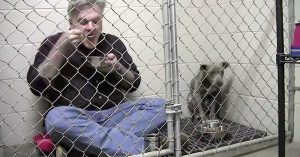 The video went viral for good reason! We often see rescuers and their sympathy but we don't often see what happens next. We also don't have the chance to honor all the veterinarians and their hard work that so many do on a volunteer basis.
Being in a strange place with strange people can be so overwhelming but Dr. Mathis made it his mission to help Graycie. Their bond was one that the media loved, for sure, but it was also completely genuine. Dr. Mathis adopted Graycie and they haven't been apart since!
Now, the heroic doctor and his sidekick celebrate their one year anniversary in a very special way! And it's totally "awwww" worthy!
Check out the video on the next page to see their sweet one year anniversary celebration!