<!– 336×280 ad unit –>
Michael McCarthy, who owns See Through Canoe Company, regularly canoes through the Intercoastal Waterway near St. Petersburg, Florida. So, he is familiar with the sea life often sees dolphins during his expeditions.
He knew exactly what he was looking at when he spotted a flash of silver swimming near his canoe.
When he got a closer look, he realized it was a sight he had never seen before. It was a dolphin that was cradling a small lifeless body. At first, McCarthy thought this was the dolphin's dinner. But then he realized it was a much more solemn scenario.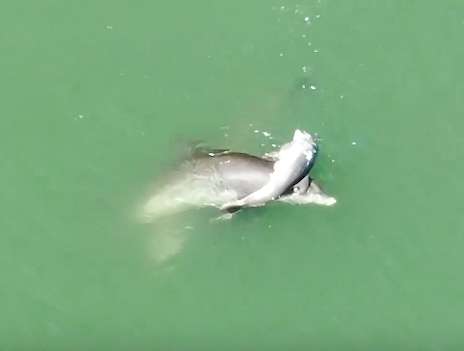 "It took me a minute to accept what I was seeing when I first spotted the dolphin," McCarthy told The Dodo. "I wanted to believe it was a large redfish or something, but it quickly became apparent that it was a dead calf."
What he was witnessing was the dolphin mother's funeral procession for her child. She was nuzzling and caressing her baby as she carried it through the salty waters.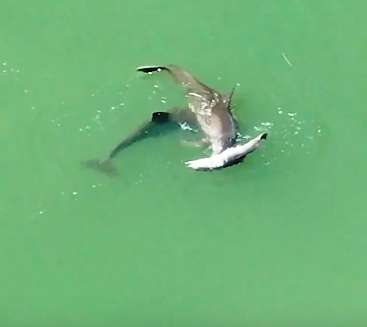 But she wasn't alone in her grief. There was a second dolphin was swam alongside her to help share her burden.
Other dolphins also joined in to share their condolences.
"As the mother made her way north through the Intracoastal Waterway, other dolphins joined her for short distances and then went on their way, except for one dolphin that stayed with the mother the whole time," McCarthy said.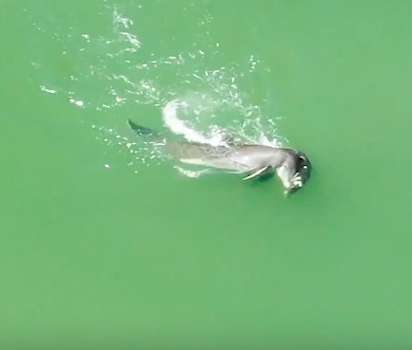 McCarthy assessed that the calf was run over by a motorboat. Something he frequently sees happening.
"Judging by the scar patterns on the calf it was likely hit by a boat propeller," McCarthy said. "I've spent most of my life on the water and a lot of time around manatees and dolphins so, unfortunately, I'm very familiar with what propeller wounds look like."
Mother #dolphin not ready to let go of her dead calf and pushing it through the intracoastal waterway.
It's hard to say for sure without examination, but the calf may have been hit by a boat. Please don't assume that because #dolphins are fast that you won't hit them. #sad pic.twitter.com/Le2MAwvPIB

— See Through Canoe (@SeeThroughCanoe) June 3, 2019
McCarthy decided to whip out his camera and film this mother's grief to "help raise awareness to a problem I see all the time."
McCarthy says that most boaters think that dolphins are too fast to get hit, but this just isn't the case.
"The calves are even more vulnerable because they can't swim as fast and have to surface much more frequently for air," he added.
Sometimes the dolphins will have too much energy and will recklessly zoom about the water. That's why it's so important for boaters to slow down and stay alert.
This dolphin calf has the zoomies, in other words, he's got too much energy & needs to get rid of some. Also called Frenetic Random Activity Periods or FRAP. #Dogs regularly get #zoomies but so do other animals, like this #dolphin calf. #cute #nature #animals #florida #outdoors pic.twitter.com/uvUV8mh22R

— See Through Canoe (@SeeThroughCanoe) June 13, 2019
Science shows that it's not uncommon for cetaceans, dolphins and whales, to grieve the loss of their loved ones. This is especially true for female cetaceans who've lost their children.
McCarthy's video has been viewed 78,000 times since he posted it on Twitter.
"It was really hard to watch," McCarthy wrote on Twitter. "That image is going to be stuck in my head for a while."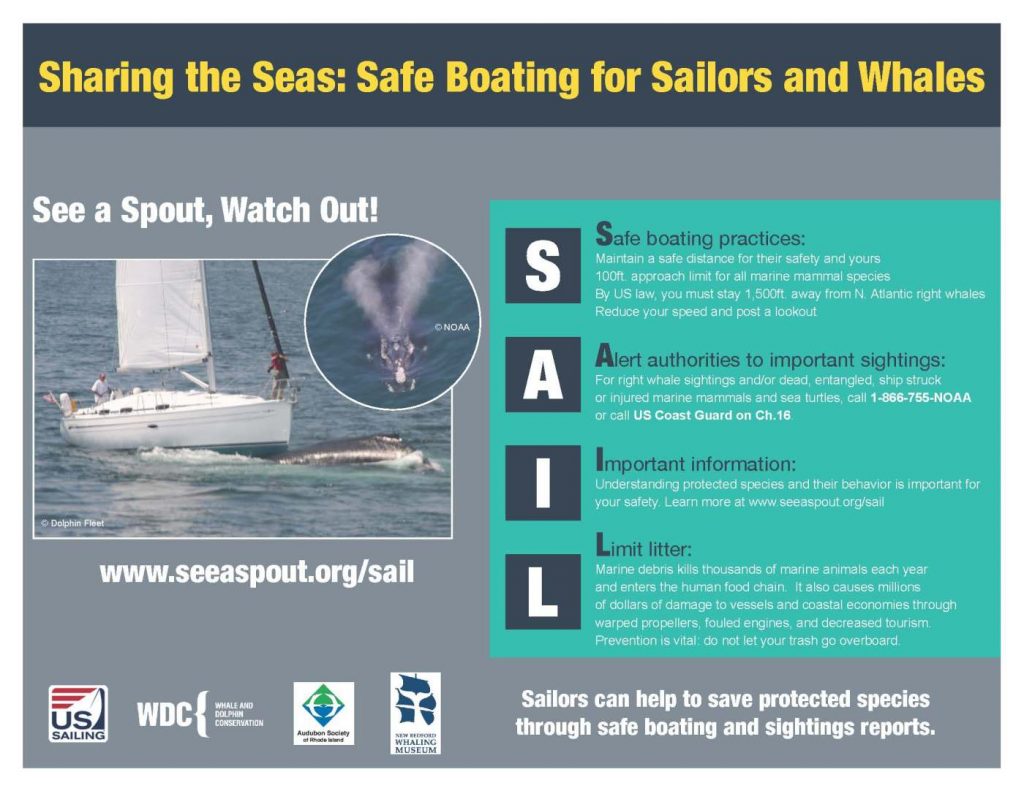 Source: seeaspout.org
The See A Spout whale protection program's website offers tips to boaters on how they can safely share the seas with whales and dolphins.
Boaters should maintain safe distances for the animal's safety and boaters' safety. This should be about 100 feet for all marine species or 1,500 feet from North Atlantic right whales. Always reduce your speed and post a lookout.
It's also important for boaters to know about local protected species and make sure that they do not litter. Boaters should also get a map of the area they will boat in and chart their course ahead of time. Following these rules can help ensure that both boaters and sea life are protected.
Please SHARE this with your friends and family.