<!– 336×280 ad unit –>
It was a photo that broke the internet's heart: a dog waiting heartbroken by his deceased owner's bedside. But what started as an image of tragedy turned into a story of hope and second chances for this dog.
Life has never been easy for Moose, a three-year-old lab mix. He was first found tied to a railroad crossing sign in Georgia, and taken to an animal shelter in August 2017.
Moose waited for a family to adopt him, but had no luck. As he got older, it seemed less and less likely he'd be adopted, and he was at risk to be euthanized by the overcrowded shelter.
However, he was transferred to Eleventh Hour Rescue, a no-kill shelter in New Jersey.
"While at our rescue, Moose made lots of friends with the volunteers," Eleventh Hour Rescue wrote in a Facebook post. "We were won over by his happy personality and his love for life."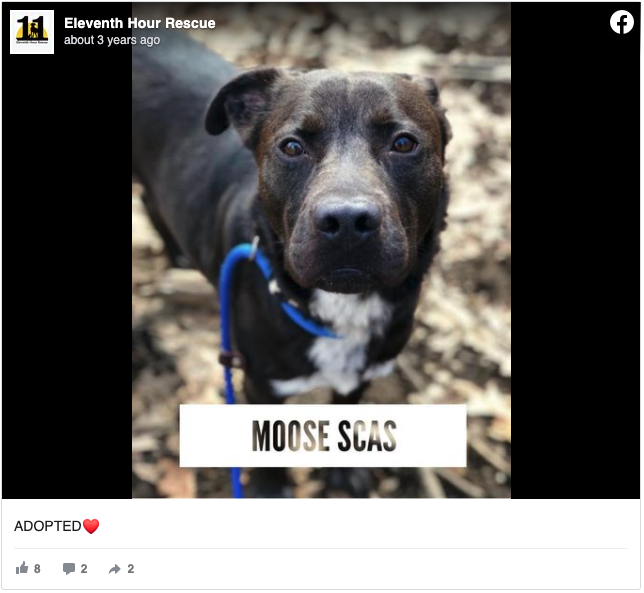 After getting a second chance at life, his ship finally came in: a man came into the shelter and formed an instant, loving bond with Moose. It seemed like the dog had finally found his "forever home."
Tragically, it was not to be. His owner died from cancer just a year later.
Moose was left heartbroken and wondering when his master would return.
"Moose saw that his owner wasn't in the hospital bed and was waiting for him to come home," Linda Barish, a member of Eleventh Hour's executive committee, told Today.
His deceased owner's caretaker tried to take care of the dog, but was unable to console him—so Moose ended up back with his old friends at Eleventh Hour Rescue.
"When the owner passes away, Eleventh Hour's policy is we take the dogs back no matter what," Barish told Good Morning America.
The shelter posted the heartbreaking photo of Moose waiting by the hospital bed on Facebook on June 21—and it quickly went viral.
Suddenly, the dog who couldn't find a family was now getting adoption offers from around the world: families as far as Australia were offering to give him a home.
"We never in a million years thought that this would happen," Barish says. "So many were willing to step up to help this grieving, homeless dog."
Moose eventually went to a New Jersey family, who was one of the first to contact the shelter before the photo blew up—and, it turns out, was grieving just like Moose: their dog of 14 years had recently died.
"We look for the best match for our dogs," Barish told Today. "The family is a friend of a volunteer, so we know, kind of third-party, that he's doing well." The family shared photos of Moose in his new home: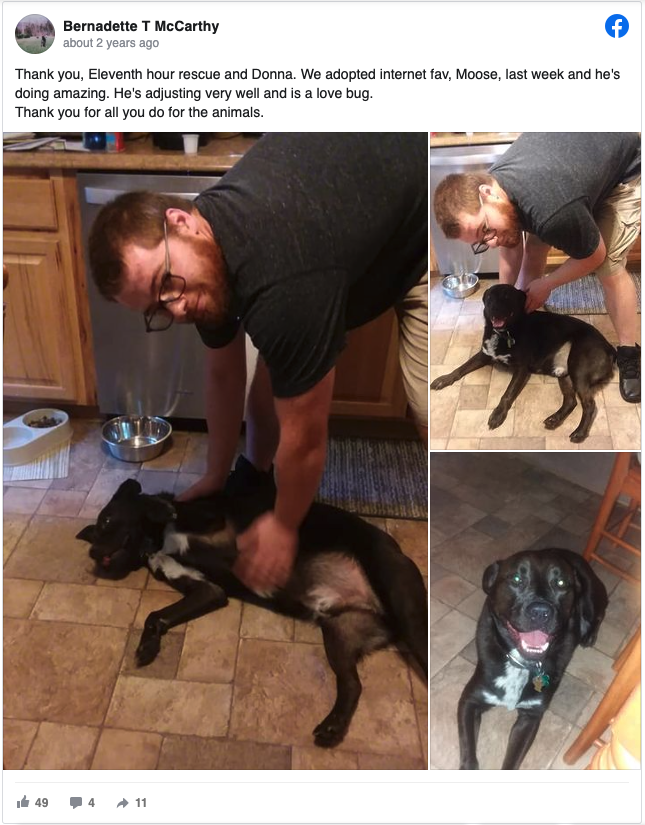 "He's doing amazing," Bernadette McCarthy wrote on Facebook. "He's adjusting very well and is a love bug."
What was spread as a heartbreaking story ended up with a very happy ending for Moose. Barish, meanwhile, hopes that the story will remind people of the many dogs in need of saving.
"So many dogs are euthanized that need a home everyday that are perfectly wonderful dogs," Barish told Good Morning America. "What I hope is that it brings awareness to rescues and people will commit to adopting and not shopping."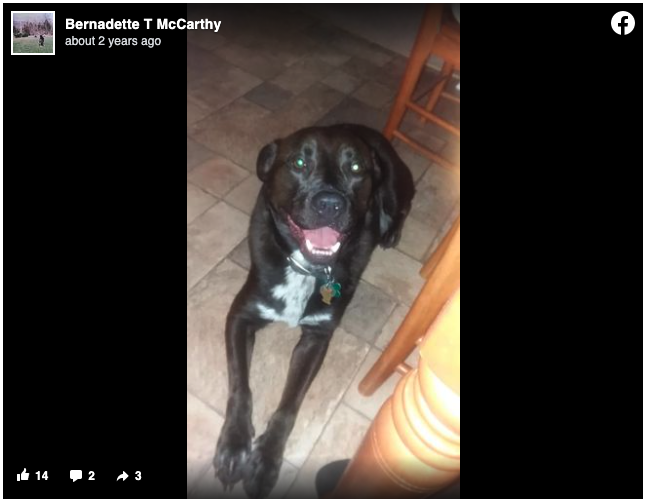 Share this heartwarming story!