<!– 336×280 ad unit –>
25. Weimaraner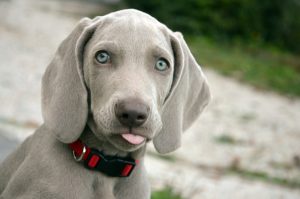 Often referred to as the "gray ghost" because of the distinctive color of its short, sleek coat, the Weimaraner is a graceful dog with aristocratic features. Bred for speed, good scenting ability, courage and intelligence, he remains an excellent game hunter and active participant in other dog sports.
Lauded for his ability to work with great speed, fearlessness and endurance when on the hunt, the Weimaraner is also known for being an easily trainable, friendly and obedient member of the family. This is a breed that loves children and enjoys being part of his family's "pack.ʺ A well-trained Weimaraner is a delight to live with, but an untrained one is akin to a canine demolition derby. Puppies should be started in classes at an early age.
So now that you know a thing or two about kid-friendly dogs, choosing one for your home and your family should be a little bit simpler. Remember, highly-strung small dogs are usually not the best choice for children, though there are some to choose from if you have a small apartment. Also, keep in mind that mutts from the pound are a fantastic option, as they are often more docile and well-tempered.
Good luck finding the best dog for your family!